Health officials confirmed that a man in Texas contracted the Zika virus through sexual transmission in the first case the U.S. has seen on its shores since the virus recently began to sweep across continents at an alarming rate, according to an announcement Tuesday.
Previously, the Zika virus had been spread predominantly via mosquito bites, although researchers had been studying the possibility that it could be spread through sexual intercourse.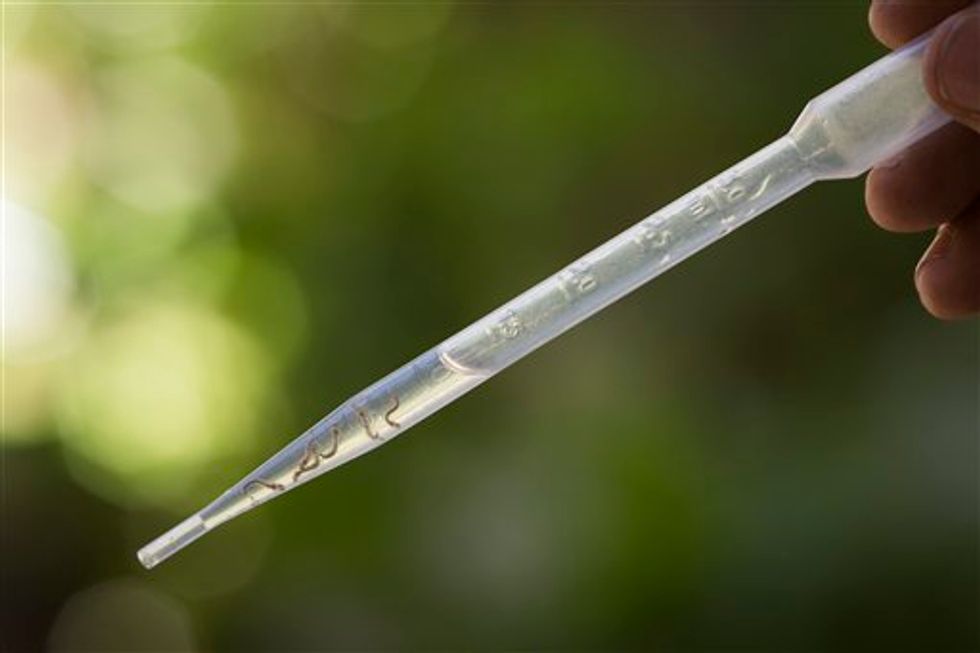 A health worker shows larvae of the Aedes aegypti mosquitoes found inside a warehouse during an operation to combat the mosquitoes that transmits the Zika virus in Brazil Jan. 26. (AP Photo/Felipe Dana)
The Dallas County Health and Human Services confirmed the U.S. man's condition after it received a report from the U.S. Centers for Disease Control and Prevention saying that the man had been infected with the virus after engaging in sexual conduct with a person who had just returned from a country where the Zika virus was present, according to the AP. There are currently no reports of the Zika virus being spread via mosquito bites in Dallas or elsewhere in the U.S.
Previously, there had been reports that the Zika virus had been discovered in a man's semen in Tahiti, and there had also been an earlier report that a researcher from Colorado who had contracted the virus overseas may have spread it to his wife in 2008, the AP noted.
Brazil, especially, has been severely struck by the Zika virus and its links to to cases of microcephaly, in which babies are born with underdeveloped brains and skulls, according to the BBC. Since October 2015, more than 4,000 cases of microcephaly have been diagnosed in Brazil alone with likely links to the pandemic spread of the Zika virus.
(H/T: The Associated Press)
—
Follow Kathryn Blackhurst (@kablackhurst) on Twitter