A patron at a Utah McDonald's drive-thru was apparently so upset over his order that he pulled a gun.
Caught on cell phone video, the irate customer initially drove away from the drive-thru window at around 2:30 a.m. Sunday in Murray, Utah. But the vehicle came to a stop approximately 40 feet from the window, according to KSTU-TV, and a man got out of the car, arms outstretched.
Then the customer walked back to the drive-thru and pointed his gun at the service window.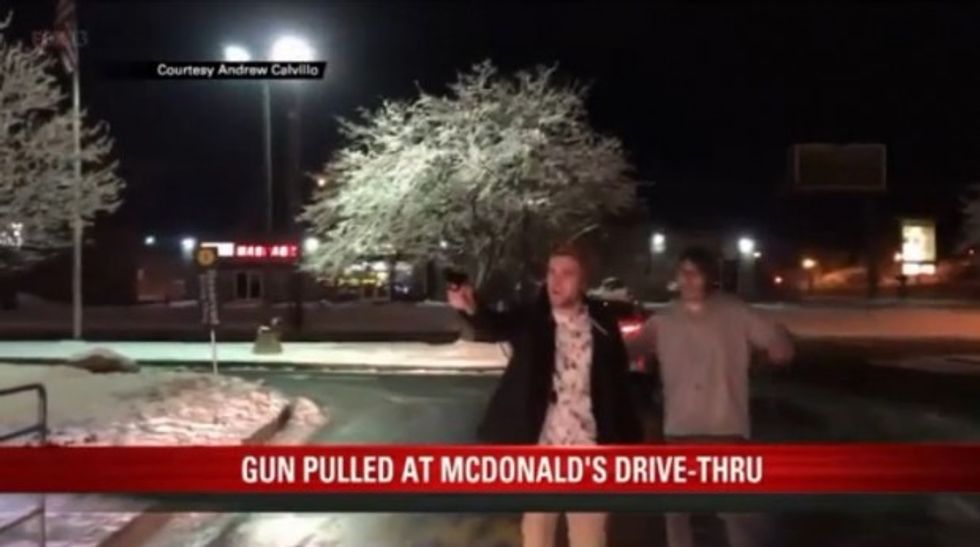 Image source: KTSU-TV
"Right there looks like he was actually serious about to do something," Michela Spikes, a McDonald's employee who was working in the kitchen at the time of the incident, told KSTU while reviewing the video footage.
Another man in a gray sweatshirt exited the vehicle and restrained the customer with the firearm as another person can be seen in the background jumping up and down near their white Subaru Outback.
"It makes you think, if he was going to shoot one person, how do we know he wasn't going to jump through and do the rest," Spikes said. "I've got a 15-month-old son I got to think about."
According to KSTU, Murray police are investigating, but no arrests have been made thus far.