For GOP presidential hopeful Rick Santorum, Monday's Iowa caucuses proved to be far different from 2012, when he was declared the winner.
Instead, the former Pennsylvania senator found himself last among the candidates who had been invited to participate in all seven Republican debates. Former Virginia Gov. Jim Gilmore was the only candidate who trailed Santorum.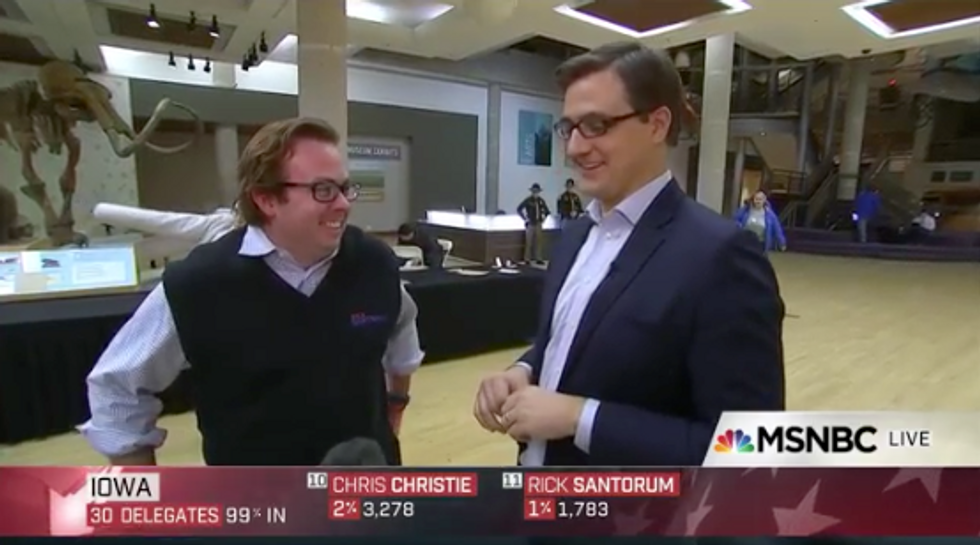 Image via Twitter/OliverDarcy
The night was so bad for the previous Iowa winner that even one of his precinct captains didn't cast a ballot for him. MSNBC host Chris Haynes caught the admission on live television.
The Iowan, who was adorned in the classic Santorum sweater-vest, pulled out his cellphone to show Hayes the official precinct tally sheet. Hayes was quick to spot the "x" for Santorum, meaning no one caucused for him.
"Uh, Santorum, there's an 'X' next to him," Hayes pointed out to the precinct captain. "What? You didn't vote for him?"
"As I was writing down, my pen ran out of ink, and I was like 'I can't just ask somebody for a new pen while I'm doing this,'" the man said.
The two then exchanged an awkward laugh about the incident.
Here's why Rick Santorum got zero votes at the GOP caucus we were at tonight. https://t.co/8J8SJMcRFi

— All In w/Chris Hayes (@allinwithchris) February 2, 2016
"Buddy, you're the Santorum dude!" Hayes shot back, still laughing.
Both of the men conceded that it was a "failure to launch" on Santorum's part.
—
Follow the author of this story on Twitter and Facebook:
[facebook //www.facebook.com/plugins/like.php?href=