A new photo of galaxy NGC 4889 reveals the biggest black hole that astronomers have ever discovered. The famous Hubble Space Telescope helped scientists capture photos of the galaxy that sits nearly 300 million lightyears away in the Coma Cluster. The photo of the supermassive black hole appears placid and ethereal at first glance, and even though the black hole is dormant, it's broken all types of records, according to the Hubble website.
Astronomers have estimated the mass of the hole to be 21 billion times the mass of the sun, and its event horizon (a surface so dense that even light can't escape its gravitational grip) has a diameter of approximately 130 billion kilometers, or about 15 times the diameter of Neptune's orbit around the sun.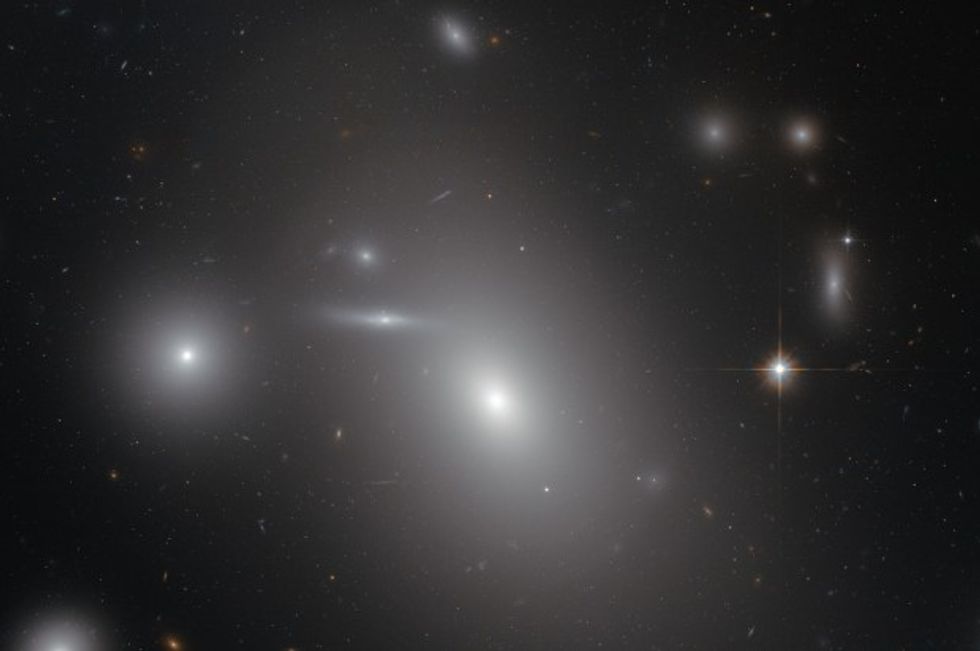 This image shows the elliptical galaxy NGC 4889 in front of hundreds of background galaxies and deeply embedded within the Coma galaxy cluster. Well-hidden from human eyes, there is a gigantic supermassive black hole at the centre of the galaxy. (Image source: NASA/ESA)
The black hole was once building mass via a process called hot accretion — gases, dust and space debris suctioning into the black hole, creating an accretion disk. The spinning disk then accelerated so rapidly that it released massive spurts of energy into the galaxy.
"The accretion disk sustained the supermassive black hole's appetite until the nearby supply of galactic material was exhausted. Now, napping quietly as it waits for its next celestial snack, the supermassive black hole is dormant," the Hubble website said.
The announcement posted with new photos of the NGC 4889 galaxy on the Hubble website notes that the pictures don't come close to representing the extent of the black hole, which is impossible for the human eye to observe directly, but scientists have been able to identify what could seemingly only be a black hole by analyzing the way celestial objects interact with an invisible force. For this particular case, scientists used instruments on the Keck II Observatory and the Gemini North Telescope to determine the velocity of stars moving around the center point of the galaxy. The stars' specific velocities enabled scientists to calculate the unbelievable size of NGC 4889's black hole.