ALTOONA, Pa. (AP) — A new grand jury report claims two Roman Catholic bishops in a central Pennsylvania diocese helped cover up the sexual abuse of hundreds of children by over 50 priests or religious leaders over a 40-year period.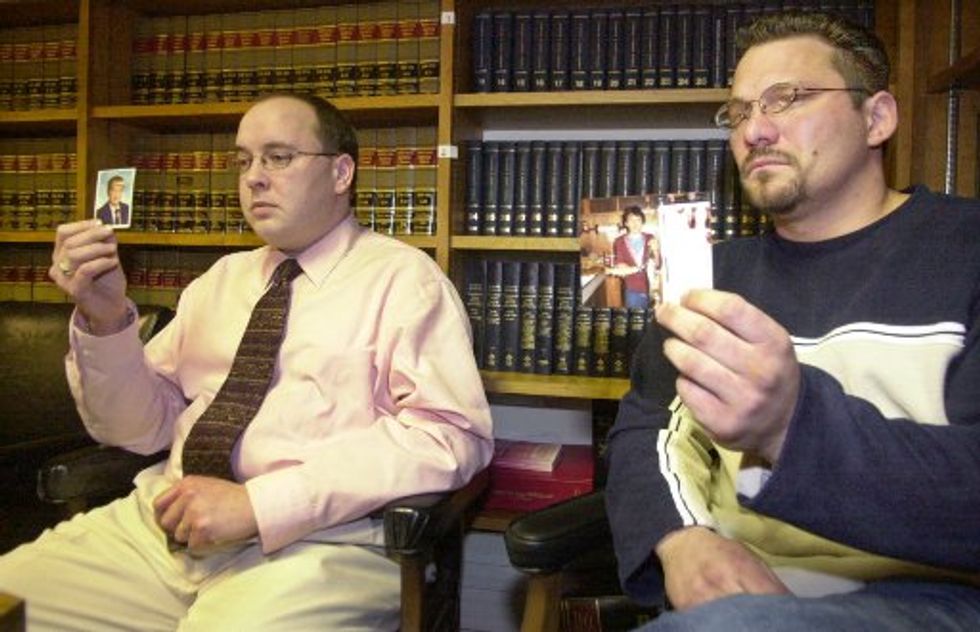 Brian Gergely, 33, right, and Kevin Hoover, 30, show old photographs of themselves during a news conference in Altoona, Pa., Thursday, Feb. 6, 2003. They said the pictures were taken during the time they allege a Roman Catholic priest sexually abused them while they were altar boys. The men, along with three others, are suing the Altoona-Johnstown diocese, about 80 miles east of Pittsburgh, Bishop Joseph Adamec, and former Bishop Joseph Hogan, claiming the church should have known about the abuse and was negligent. (AP Photo/Keith Srakocic)
The 147-page report on sexual abuse in the Altoona-Johnstown Diocese was made public Tuesday by Pennsylvania Attorney General Kathleen Kane.
Kane says none of the alleged criminal acts can be prosecuted because some abusers have died, statutes of limitations have run their course and victims are too traumatized to testify.
The findings are based partly on evidence from a once-secret diocesan archive.
The report is critical of Bishop James Hogan and his successor, Joseph Adamec. Hogan died in 2005 and Adamec retired in 2011. Adamec's attorney says the accusations against the bishop are unfounded.