A death penalty indictment has been filed against a convicted cocaine dealer after police say he murdered his ex-girlfriend and her two children after having been granted an early prison release.
Wendell Callahan, 35, is charged with the triple-murder of Erveena Hammonds, 32, and her two young daughters, Anaesia Green, 10, and Breya Hammonds, 7. Police said that Callahan brutally stabbed the three victims to death inside of their home in north Columbus, Ohio, in January.
Franklin County Prosecutor Ron O'Brien said in a press release Tuesday that the Franklin County Grand Jury has returned a 10-count death penalty indictment on Callahan.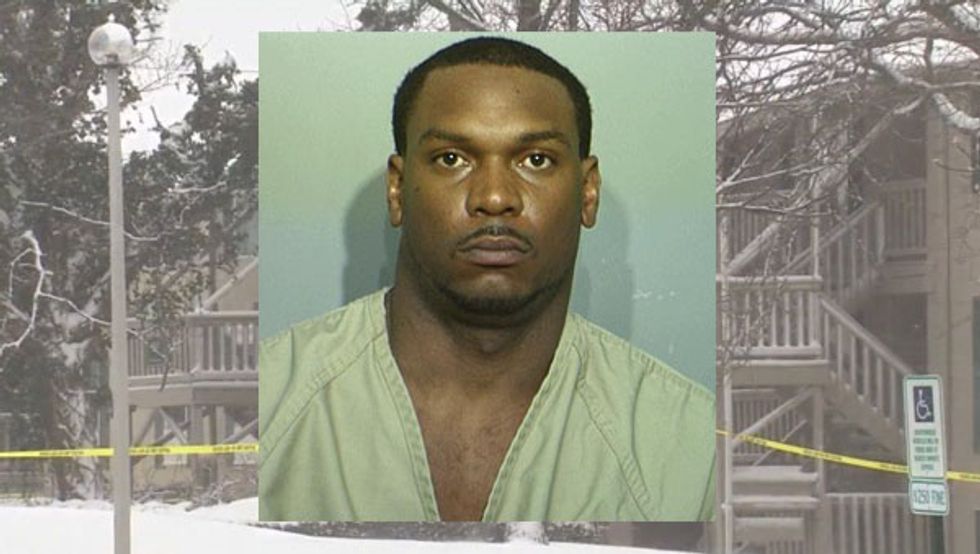 Image source: WBNS-TV
"There are multiple charges regarding the three victim deaths because there are different methods to commit the crime of murder and the Prosecutor's Office typically charges all methods," O'Brien said.
Callahan would have been still serving a nearly 13-year federal prison sentence at the time of the murders if he had not been released early due to a change in sentencing guidelines. As Judicial Watch noted, the change occurred as part of President Barack Obama's criminal justice reform efforts and an attempt to end racial discrimination.
The conservative watchdog group asserted that Obama's initiative was launched in 2010 when he signed a measure that relaxed drug-crime sentences that purportedly discriminated against minority and low-income offenders. With that measure, the U.S. Sentencing Commission was able to lower the maximum sentence for drug offenders, which led to the early release of thousands of inmates — including Callahan.
The Columbus Dispatch reported in January that Callahan was granted an early release as the U.S. Sentencing Commission worked to alleviate disparities between dealers who sold crack and those who dealt powdered cocaine. During the 2011 motion for his last reduction, Callahan's lawyer argued that federal prosecutors had agreed that as Callahan's behavior in prison had been satisfactory, both sides had concluded that "his early release did not present a danger to the safety of the public."
Callahan was subsequently released from prison in August 2014. Had those new guidelines not gone through, the Dispatch reported that Callahan would have still been serving time in prison at least until late 2016 — even if he had been granted time off for good behavior.
Callahan's alleged triple murder shocked Hammonds' friends and those in the neighborhood as well as police officers who arrived at the scene.
According to WBNS-TV, Callahan was arrested and charged with violence against Hammonds in the past. Hammonds called police in 2006 and said that Callahan "grabbed her by her throat, picked her up off the ground with her feet dangling in the air and threw her on the car," court records described.
Hammonds said Callahan then "threw her on the ground where he began kicking, stomping and punching" her until she was able to get the attention of a passing motorist. She said at the time that she believed Callahan "would have killed her if the Good Samaritan didn't pass by."
As for her death in January, Columbus Police Sgt. Rich Weiner said at the time that it "was obvious this was a brutal attack."
Hammonds' boyfriend, Curtis Miller, discovered the horrific scene when he walked into the house and allegedly caught Callahan in the act.
According to Miller, he initially knocked on the door and windows when he arrived at the home in an attempt to be let. When he didn't receive an answer, he said he yelled from the doorstep for someone to open the door.
Miller said that's when he heard one of the daughters yell out, "He's in here killing us."
Miller said when he entered the apartment, he saw Callahan attempting to run away, carrying a gun and a knife. The two men briefly fought and both sustained non-life-threatening stab wounds, according to police.
"My only regret at this point is I [didn't] kill him," Miller told WBNS-TV the day after the attack.
Neighbors described the scene in harrowing 911 calls as they implored emergency personnel to hurry. "There's children with their throats slit," one neighbor said.