MANKATO, Minn. (TheBlaze/AP) — One dog apparently has learned a new trick: how to drive a semi-truck.
Customers at a Minnesota gas station saw a golden Labrador retriever appear to drive the semi across a road Friday.
Mankato police say the idling truck apparently was put into gear, then went through a parking lot, across the street and over a curb.
The Free Press of Mankato reports a passer-by discovered the dog sitting in the driver's seat when he jumped into the truck to stop it.
David Stegora was at the store when he heard the truck smash into a tree and a parked car near Kwik Trip's gas pumps. He couldn't see the driver, but saw the dog climb up near the driver's side.
"I heard the tree snap and I thought somebody decided to turn around, but then it just kept going forward," Stegora told the Free Press.
Cathy Dahl, the woman whose parked car was hit, told KMSP-TV, "I thought you'd like to see another shot taken by my husband that shows the dog has remorse! It was my car!"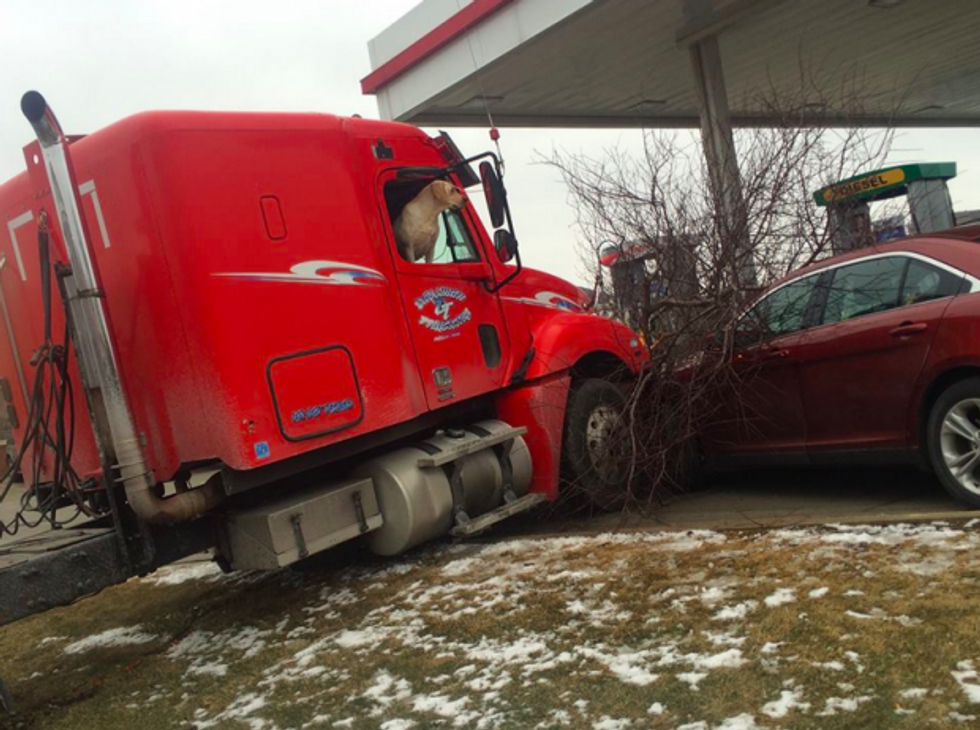 (Image source: KMSP-TV)
"Russ [Cathy's husband] said when they were all standing there, the truck driver went into the truck and rolled up both windows. After he left, the dog rolled them back down,"  Dahl said, according to KMSP.
Police say the truck was taken off the road. The driver had left the unoccupied truck running in a nearby parking lot. Nobody was hurt during the incident, including the dog. No citations were issued.