UPDATE (4/12/18): Lauren Houston contacted TheBlaze to offer her side of the story.
Houston did not deny making the comments in question that led to her firing; however, she did state that the online confrontation she engaged in came about when she was "attacked and bullied" by Instagram users.
Houston told TheBlaze in an email:
My business partner at the time was Mexican and I have many friends from all walks of life. I have attached the screen shots [of some Instagram comments] to this email so you can see the other side of the story. They were saying very hurtful things to me and I was responding back to them. Sometimes you say things when you're angry, but you don't mean them. It has been two years and it has taken a toll on me emotionally.
Below are the two screenshots Houston sent TheBlaze. (Content warning: Colorful language):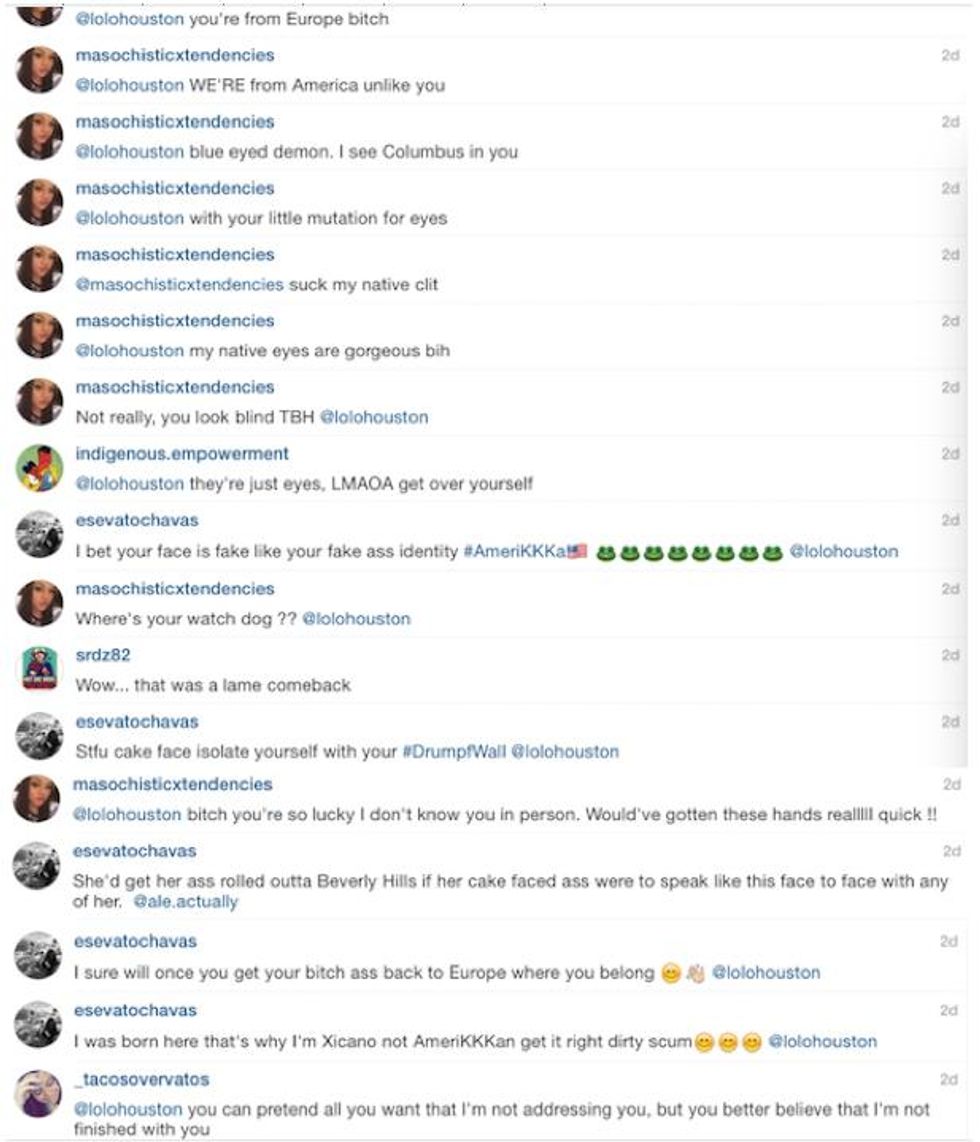 Image source: Lauren Houston

Image source: Lauren Houston
Original report below:
The firing of a Beverly Hills realtor for posting "racist" comments in support of Republican presidential candidate Donald Trump on social media this week has prompted Americans to further consider what kinds of consequences people should suffer for their behavior on social media.
Alexander Juarez told WVAH-TV that his wife was scrolling through some comments on an Instagram post Monday when she came across some "disturbing" remarks from local Beverly Hills realtor Lauren Houston.
"My wife shared with me a couple of messages that were a little disturbing," Juarez told WVAH.
Houston, who went by the screen username of "lolohouston," had been responding on Instagram to the activist group "Black and Brown United for Change." In her comments, Houston allegedly wrote, "Get these thugs out of our country ... we need a wall ... are you kidding!!! Go Trump," according to WVAH.
Although these sentiments were "disturbing" enough to Juarez, he said that even more "offensive" comments followed.
Houston allegedly wrote, "Her thing on her head ... Ew," in an apparent response to an African-American woman's hairstyle, before reportedly later stating in another comment, "well they are dirty Mexicans."
Houston's Internet activities immediately sparked outrage across social media as several Instagram users who had identified Houston as a realtor for the Sam Real Group notified her employer of her actions, according to WVAH. Her employer took swift actions before releasing this statement:
At the Sam Real Group, we believe that every individual no matter what their skin color, race or ethnicity is equal in every way.  We do not tolerate hateful or racist speech in regards to the comments made by a member employed by Sam Real Group. The employee in question has been terminated from the group. Again, on our behalf please accept our apologies.
Juarez believes that Real did the right thing in immediately firing Houston for her irresponsible social media behavior.
"Again, hateful messages and racism is not going to be tolerated," Juarez told WVAH.
—
Follow Kathryn Blackhurst (@kablackhurst) on Twitter