Republican presidential candidate Sen. Ted Cruz today issued his strongest denial yet of allegations that he's had extramarital affairs, saying: "I have always been faithful to my wife."
The Texas senator was the focus of an unverified report in the tabloid The National Enquirer on March 23 alleging that he has had affairs with as many as five women.
At a town hall in Wisconsin on Monday, Fox News' Megyn Kelly asked Cruz: "Have you committed adultery in your marriage?"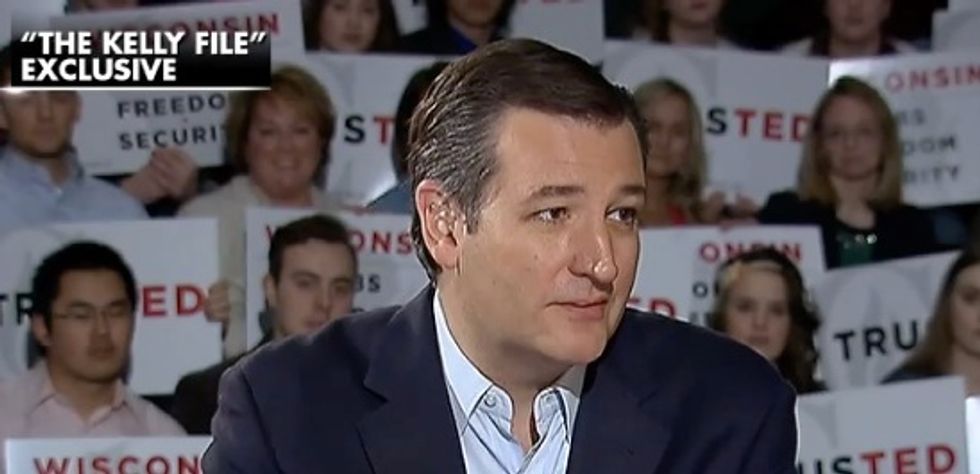 Image source: Fox News
"I have not," he replied. "That attack was complete and utter garbage. It was complete lies. And it came from Donald Trump and his henchmen. Those reports, they're not a little bit true, not slightly true."
Trump has denied that he was the source of the story. The CEO of the National Enquirer, David Pecker, is friends with Trump, and the publication has endorsed Trump.
Cruz has denied the allegations before, but offered his strongest defense yet during the Fox News town hall, which airs tonight.
"It's completely made-up nonsense," Cruz said. "It's simply not true. I have always been faithful to my wife. I love my wife. She's my best friend in the world. This is the kind of garbage the Trump campaign engages in. You know why? Because they can't debate substance."
Asked if a presidential candidate's indiscretions are fair game, Cruz replied, "I don't think it is a state secret that Donald's personal life hasn't been immaculate but I have no interest in going there."
Cruz also addressed Trump's attacks towards his wife, Heidi Cruz, arguing that his rival "seems to have a problem with strong women."
Trump said recently that his retweet of an image containing an unflattering picture of Heidi Cruz was a mistake.
"Donald saying he made a mistake, I suppose miracles can happen," Cruz said. "But, to be honest, it's gotten to the point, as this campaign's gone on, the silliness, the personal attacks, the nastiness, the cursing from Donald. My reaction is, 'Who cares?'"
"His response whenever he gets upset is he yells and screams and curses and he insults people," Cruz added. "That's his natural safe zone. You know something about that personally, Megyn, but that's how he treats everybody. When he's nervous, when he's scared, his security blanket is to insult people."
.@MegynKelly: "Have you committed adultery in your marriage?"

Watch the video below to find out @TedCruz's answer.https://t.co/7OX51iggm5

— Fox News (@FoxNews) April 4, 2016