The campaigns of Texas Sen. Ted Cruz and businessman Donald Trump are looking to alter the Republican National Convention's rules to require all candidates to achieve a minimum amount of support in the primaries to be on the convention ballot, according to a report from MSNBC.
The rule change would only work if the convention becomes contested, meaning that no candidate reaches the delegate threshold of 1,237 prior to the convention in July.
The move would essentially bar Ohio Gov. John Kasich from appearing on the convention's ballot and therefore end his White House bid, given that he cannot mathematically win enough delegates to clinch the nomination outright.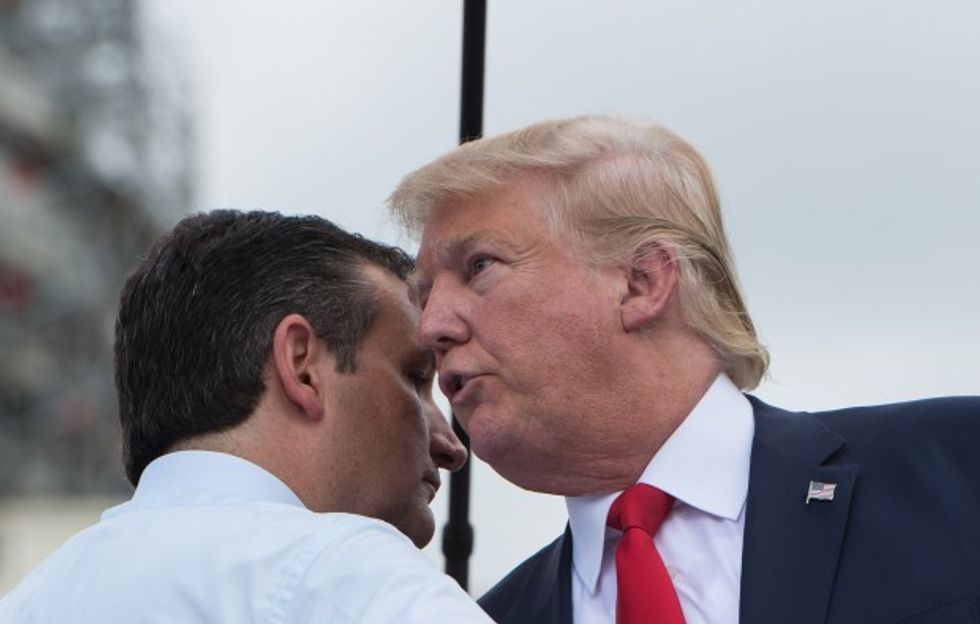 NICHOLAS KAMM/AFP/Getty Images
To make their plan work, the Cruz and Trump campaigns are maneuvering to stack the convention's rules committee with delegates that support their campaigns, rather than delegates that support Kasich. Having delegates that favor their campaigns on the committee is important because the rules committee will decide which rules the convention will operate by — a huge advantage in a contested or deadlocked convention.
"I expect the Rules Committee to require a level of support that would leave only two candidates on the ballot at the convention," a senior Cruz aide told MSNBC.
"[Kasich] will have no opportunity to even be voted on," a former Cruz aide added. "The rules will be written in such a way that they can't submit Kasich's name for nomination."
The campaigns are expected to lobby for a rule similar to what was implemented during the RNC convention in 2012.
At the time, delegates who supported eventual nominee Mitt Romney supported a rule that required a candidate to have the majority of support in at least eight states to appear on the convention's ballot.
Former RNC general counsel Ben Ginsberg, who wrote the infamous rule in 2012, said the same rule could also be used in 2016 to block Kasich from the convention. 
"If the campaigns can convince a majority of delegates on the Rules Committee and in the convention, then they can pass an eight-state rule," he said.
Morton Blackwell, a Cruz supporter who has served on the RNC's rules committee the last seven national conventions, said that if they pass that rule, it appears that Kasich can't meet the eight-state threshold.
RNC Chairman Reince Priebus said on NBC's "Meet the Press" Sunday that it is "unlikely" there will be any "major rule changes" at the convention. But Blackwell told MSNBC that Priebus' statement was made assuming 2012's rule change was already a precedent.
Despite pressure mounting against him, Kasich is showing no signs of relenting anytime soon. He has openly said he thinks this summer's convention will be contested — and he thinks he'll come out on top.
"There's two strong things I have going for me. Number one, I beat Hillary Clinton in virtually every poll," Kasich said Sunday on ABC's "This Week." "And, secondly, look at the record...I believe that a convention would look at somebody like me and that why I think I'm going to be the nominee."
Trump responded by calling on Kasich to drop from the race, accusing the Ohio governor of "taking" his "votes." Kasich was quick to fire back, writing in a tweet Sunday, "That's not how our republic works, Donald."
That's not how our republic works, Donald. We'll keep fighting until someone reaches a majority of delegates. https://t.co/I0YlmYfF79

— John Kasich (@John Kasich) 1459708543.0
—
Follow the author of this story on Twitter and Facebook:
[facebook //www.facebook.com/plugins/like.php?href=