Madeleine Albright — America's first woman to serve as secretary of state and a liberal heroine who fights tirelessly for women's rights and equality — was asked to give the address at next month's commencement ceremony at an all-women college in California.
What better match could graduating students ask for, right?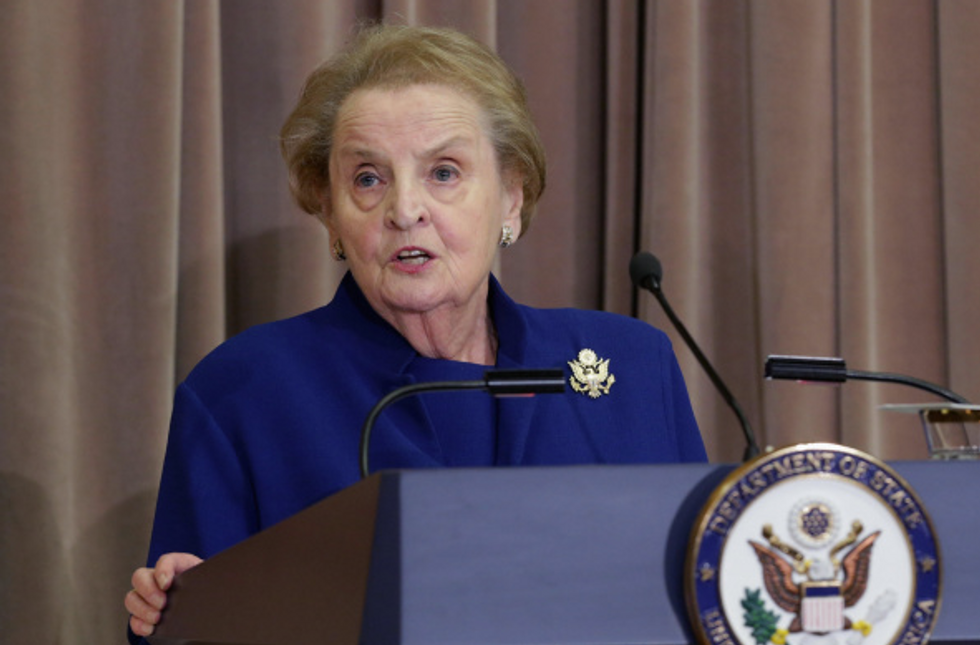 Secretary of State Madeleine Albright delivers remarks during the ceremonial groundbreaking of the future U.S. Diplomacy Center at the State Department's Harry S. Truman Building, September 3, 2014, in Washington, D.C. (Chip Somodevilla/Getty Images)
Well, not exactly.
Some students at Scripps College in Claremont are up in arms over Albright's scheduled appearance.
A "deeply disgusted" author of an opinion piece in The Student Life wrote that Albright is a "white feminist and repeated genocide enabler" and isn't at all happy that the 78-year-old is giving the address.
Other students made similar feelings known on social media, according to the Claremont Independent.
"2012 and like 2008 appeared to be people of color. but also SO MANY white women," one student stated, the Independent said.
"*Just out of curiosity* does anyone know how many POC we've had as guest commencement speakers at Scripps? 2…3?" another student inquired, according to the Independent.
Still another student, wondering if a protest was in the works, said she knew of some professors who wouldn't be on stage with Albright.
"With Madeline [sic] Albright being our commencement speaker (and a war criminal and a white feminist) I know some of our professors are refusing to be on stage," the student wrote, the Independent said. "I was wondering if any of the students were planning a protest or perhaps some sort of show of disagreement with Albright and what she stands for?"
One student — who isn't graduating next month — had no problem with Albright.
"Having the opportunity to listen to Madeleine Albright speak during commencement is something graduating students, and Scripps students in general, should be appreciative of," Olivia Wu (SC '19) told the Independent. "Seeing negative reactions about her visit just because of her race is honestly ridiculous when considering her achievements."
More from the Independent — but in regard to recent campus speaker Angela Davis:
Scripps students did not appear to protest when Angela Davis, a leader of the Communist Party USA and member of the Black Panther Party—who was on the FBI's Top Ten Most Wanted list for murder and kidnapping—spoke on campus earlier this year. The event, titled "Radical Acts: A Conversation with Angela Davis" described Davis as "a one-time Communist party candidate and champion for prison reform" who is "an outspoken advocate for the oppressed and exploited, writing on black liberation, prison abolition, the intersections of race, gender, and class, and international solidarity with Palestine."
Albright made headlines earlier this year when, campaigning for Hillary Clinton, she told an audience that "there's a special place in hell for women who don't help each other." She later apologized for the comment.