Donald Trump isn't swearing off a third party run if he isn't the Republican nominee, while movement conservatives are considering a third party challenge to a Trump nomination. Meanwhile, an existing third party candidate has polled in double digits in a hypothetical general election matchup.
"It's very possible that a third party could have a big impact in a year like this with two unpopular nominees," said Richard Perloff, political science professor at Cleveland State University. "But, third party success is rare when you look at Teddy Roosevelt, John Anderson, Ross Perot."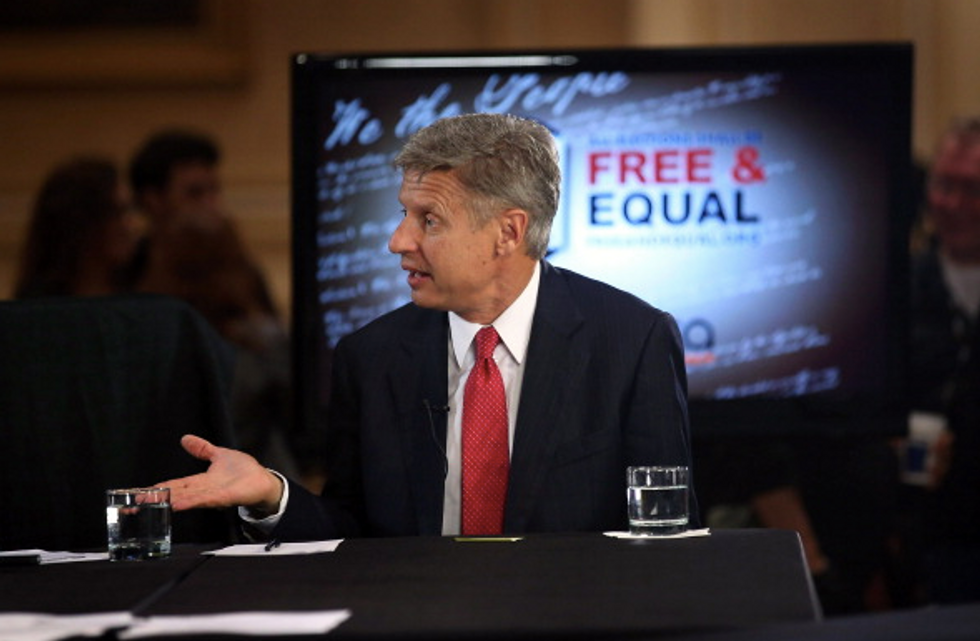 Libertarian Party candidate Gary Johnson is interviewed prior to a debate hosted by the Free and Equal Elections Foundation and moderated by former CNN talk-show host Larry King on October 23, 2012 in Chicago, Illinois. The 90-minute debate held at the Chicago Hilton featured presidential candidates from the Green Party, Libertarian Party, Constitution Party and Justice Party. (Scott Olson/Getty Images)
Trump, the Republican frontrunner, is expected to dampen turnout among the GOP's conservative base and establishment backers, two groups that don't always unite. Thus, a third party conservative candidate – while unlikely to win the presidency – could provide a means to increase turnout among base voters to save down ticket House and Senate seats.
"It makes a lot of sense if Trump is out of consideration for conservative voters to back a candidate with no chance of winning, but with coattails for down ticket races," Perloff told TheBlaze. "All of the Republican energy might go into preserving the House and Senate seats."
The third party option would likely only happen only if Trump appeared to be a lost cause against likely Democratic nominee Hillary Clinton in the fall. While it's still early in the year, data suggests Trump would have profound obstacles in winning either the popular vote or in the Electoral College in a general election.
In a hypothetical general election matchup, Libertarian presidential candidate Gary Johnson polls at 11 percent against Trump and Clinton. This prompts some libertarians to be hopeful since both Trump and Clinton high unfavorable ratings in most polls.
Further, some libertarians have argued that Johnson, the former governor of New Mexico who won 1 percent of the vote in 2012, could potentially carry a few small libertarian leaning states such as New Hampshire, Nevada and his home state of New Mexico. That could be just enough to deny Clinton or Trump a majority of Electoral College votes. Under this perhaps far-fetched scenario, the House of Representatives would pick the president.
"If Gary Johnson does well with the unpopularity of Trump and Hillary, it could go to the Republican-controlled House of Representatives," Roger Austin, an election law attorney and adjunct political science professor at the University of Florida, told TheBlaze. "There are Republicans in the House who would not vote for Trump and wouldn't vote for Hillary because they have to face their constituents at home."
Austin added, Johnson "would have to win some states," noting that polling in double digits for the popular vote is not enough, if he is going to be in the hypothetical top three candidates in electoral votes under the Twelfth Amendment to the Constitution if no candidate wins a majority.
Johnson, who is the leading candidate for the Libertarian party nomination, pointed out his party is the only only alternative to Democrats and Republicans so far on all 50 states ballots. However, that could change.
Ross Perot managed to get on 50 state ballots in an effort that began in late spring of 1992, so Florida political consultant Phillip Singleton believes there would be time for a viable third party candidate to qualify for 50 state ballots and raise enough money to be competitive.
"With a little more than seven months until the general election there is a small window to raise an adequate amount of money, the problem would still remain with building name recognition and trust within the voting blocks needed to win the election," Singleton told TheBlaze.
Singleton also said, "The 2016 presidential election cycle may be the only time in modern history where an independent candidate could actually win."
But, he doesn't believe the insurgent with the best change would come from the right. Rather, he said it would be Vermont Sen. Bernie Sanders, who is challenging Clinton for the Democratic party nomination.
"The only candidate who could possibly run as an independent and actually have chance to win would be Bernie Sanders or a successfully popular figure," Singleton said. "Although Mr. Sanders running for the Democratic nomination, and losing in the delegate battle, he's the only realistic option to run independent, relate to a base of voters and actually be competitive to win. For any other candidate, who doesn't a nationally recognizable name, policy and platform it would be extremely tough."