One Australian mother's emotional message about vaccinations is garnering widespread attention after she shared her story in a video that went viral since it was first posted to Facebook Monday.
Mother Cormit Avital from Queensland, Australia, felt compelled to share her story after her daughter, Eva, contracted the whooping cough, which is also known as pertussis, in utero. Avital says that doctors offered to administer the whooping cough vaccination to her in 2008, but she refused it then.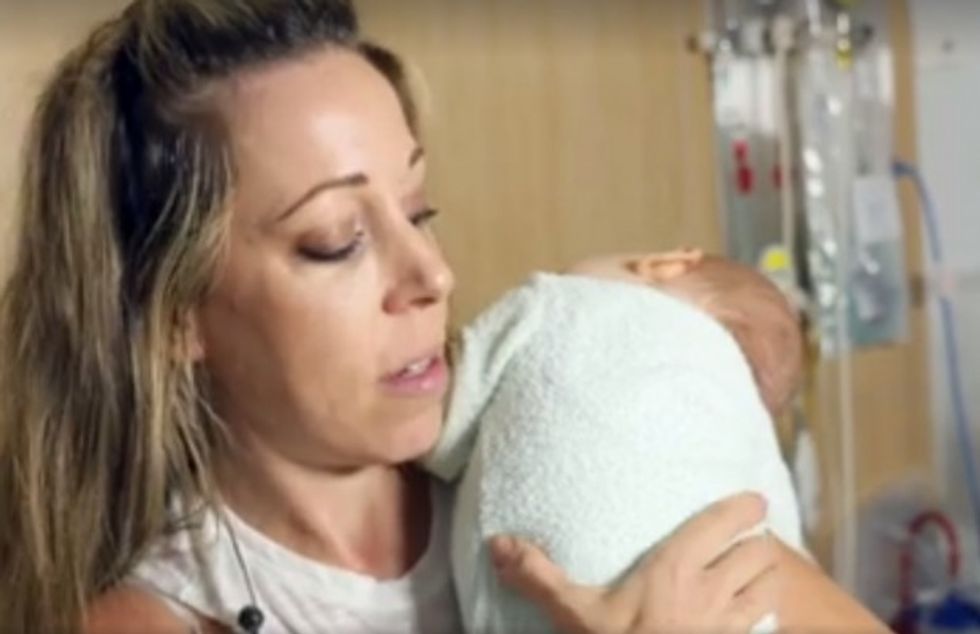 Image source: Gold Coast Health's Facebook page
"Being the healthy, fit organic woman that I am, I said, 'Leave me alone, I don't need this crap,'" Avital explained in the video that was posted to Facebook by Gold Coast Health, a company that provides care in hospital and community settings across the Gold Coast region in Queensland.
But everything changed when Avital contracted whooping cough herself during the last few weeks of her first pregnancy.
"...Even me, the bulletproof lady that's never been to a doctor, traveled the world and felt healthy, I got the whooping cough, and I got over it very quick — it was nothing for me," Avital said.
Although Avital recovered from the cough rather quickly, her daughter did not, and within two weeks, Eva struggled with a cough that Avital called "horror movie" scary. Avital spent a good portion of the video detailing what it was like for her to watch her only child struggle with the whooping cough.
"[Eva] coughing to the point of going blue, flopping in my hands, can't breathe, running to the hospital, she's then better and then a day later, back into the hospital again, a night later, another apnea which she is not breathing for three minutes," Avital said. "It's just so hard to watch — your little baby, just a tiny little thing. They go red, from red they go blue sometimes they go a bit black and for a moment you think they're dead in your hands. They flop. A lot of suffering for a little tiny little cute thing you love so much."
If she had the chance to do it all over again, Avital said that she would accept the vaccination for her daughter's sake.
"She's my only child, and my first, and if I could turn back time, I would have protected myself, so that's my message," Avital concluded.
Avital's video has since accrued more than 460,000 views, 7,200 shares and 600 comments on Facebook.
"It is a sad and true story, which will hopefully have a happy ending, when people realize that immunizations could have prevented this," wrote one person.
"This is even worse than fake, this is a worried mother, afraid for her sick child, being taken advantage of by health authorities," wrote another user. You just have to ask yourself one question, if vaccinations are so safe, why have thousands of families come forth with their vaccine injured children. The information is out there."
"What is it going to take for these people to stop 'playing chicken' with the lives of their own children and highly communicable, very deadly, but easily preventable diseases?" another person commented.
Cormit

'If I could turn back time I would protect myself.' Cormit's baby has contracted Whooping Cough. Watch this clip to hear the first-time mum bravely talk about her decision to opt out of vaccination during pregnancy and how hard it is now coping with her new baby being so unwell. For the facts on Immunisation go to http://bit.ly/1PJ6Cc0. #vaccinationmatters #immunisation #preventabledisease #GoldCoast #publichealth

Posted by Gold Coast Health on Monday, April 4, 2016
—
Follow Kathryn Blackhurst (@kablackhurst) on Twitter