Kappa Delta Epsilon's annual Kentucky Derby-themed party at Dartmouth College has been dubbed racist, so it has been cancelled.
The replacement theme: Woodstock.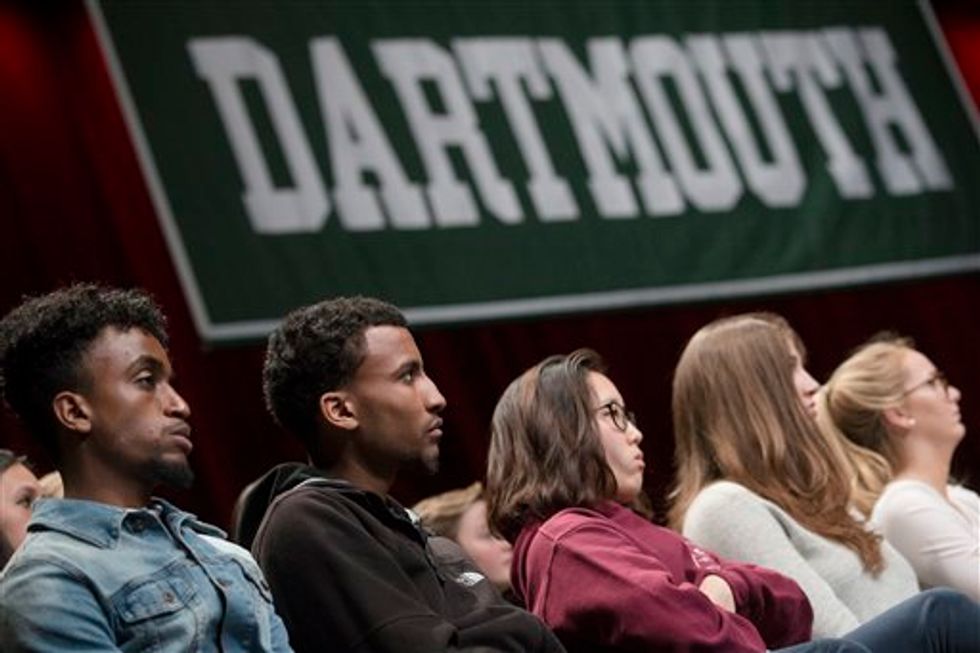 Students listen as Democratic presidential candidate, Sen. Bernie Sanders, I-Vt, speaks during a campaign stop at Dartmouth College, Thursday, Jan. 14, 2016, in Hanover, N.H. (AP Photo/John Minchillo)
The Kentucky Derby-style celebration, which was condemned by Black Lives Matter activists last year, gave students the opportunity to dress to the nines and sip on Mint Juleps, as if they were going to the infamous races but without having to actually travel to the Churchill Downs.
According to the school's newspaper, The Dartmouth, sororities like KDE are "part of the problem," and to host such an event is both racist and elitist, so it had to go.
After speaking with many of last year's protesters, KDE vice president Nikol Oydancich said the sorority voted by a 96-to-4-percent margin to switch the party's theme in order to eliminate its "racial connotations."
"[It is] related to pre-war southern culture," she said of the theme. "Derby was a party that had the power to upset a lot of our classmates."
However, that is not exactly true. The Kentucky Derby was not instituted until 10 years after the end of the Civil War. In fact, the sport was dominated by black jockeys from its founding until 1904, when African-Americans were banned from the event.
But, nevertheless, the new theme will be Woodstock, which Oydancich says was "overwhelmingly" supported because it is "more related to ideas of peace, music and love associated with its namesake festival."
Ironically, Woodstock, the 1969 festival known for its abundance of alcohol, will not receive the same treatment later this spring when the Dartmouth sorority hosts its party because the KDE is currently under social prohibition, so they are alcohol-free.
—
Follow the author of this story on Twitter: