Actor Hafþór Júlíus Björnsson revealed on Facebook Tuesday his diet ahead of the World's Strongest Man 20116 contest.
Björnsson, known for portraying "The Mountain" on "Game of Thrones," wrote in a post that he's often asked what he is eating in preparation for the fitness contest.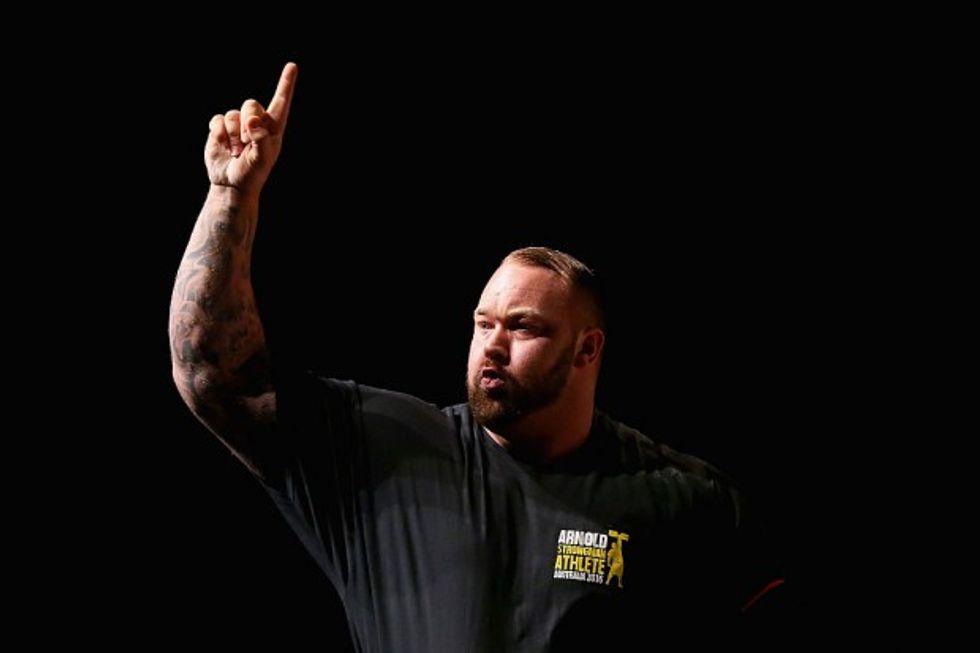 Hafthor Julius Bjornsson of Iceland celebrates winning the Arnold Classic Professional Strongman competition during the 2016 Arnold Classic on March 19, 2016 in Melbourne, Australia. (Photo by Quinn Rooney/Getty Images)
Here's his answer:
6:50 Morning workout! Cardio + CORE for 30min Bcca, Glutamine + handful of almonds

7:30 8 eggs + 200gr Oats + blueberries & strawberries + avocado

9:30 400gr Beef, 400gr Sweet potatoes, handful of spinach & greens

11:50 Bcca, glutamine,

12:00 400gr Chicken + 400gr potatoes, greens + some fruits

14:00 Blender = 150gr oats or sweet potatoes, 2 bananas 150gr kelloggs rice krispies, frozen berries, handful almonds, peanut butter and glutamine

14:30 Training strongman, Bcca, glutamine, Vitargo

17:30 60gr protein + 2 banans

18:00 500gr beef + potatoes, greens

20:30 500gr salmon + 500gr sweet potatoes

22:30 50gr casein protein or 6 eggs + avacado + 30gr almonds + 50gr peanut butter

Drink a lot of water throughout the day + Juices to get more calories!!
"Yes this is a lot & I don't recommend YOU to try this!!" Björnsson conceded in the Facebook post.
The World's Strongest Man 2016 contest is set to take place over the summer.
—
Follow the author of this story on Twitter and Facebook: