An atheist activist group has waged a discrimination complaint with the Wisconsin government against a Christian school that announced earlier this year that it reserves the right to punish students for transgender and homosexual behavior.
Freedom From Religion Foundation attorney Patrick Elliot filed the complaint with the Wisconsin Department of Public Instruction against St. John's Lutheran Church and School in Baraboo, Wisconsin, arguing that the institution "has implemented policies that discriminate against students on the basis of sexual orientation and gender identity," according to the Christian Post.
The argument is that the school is illegally discriminating due to its acceptance of federal funding for various student assistance programs.
"As these students are unable to attend the school, they are unable to participate in free and reduced price lunch programs," Elliot wrote in the official complaint, which was filed on May 6, going on to share the text of a letter that Principal Craig Breitkreutz recently wrote to parents.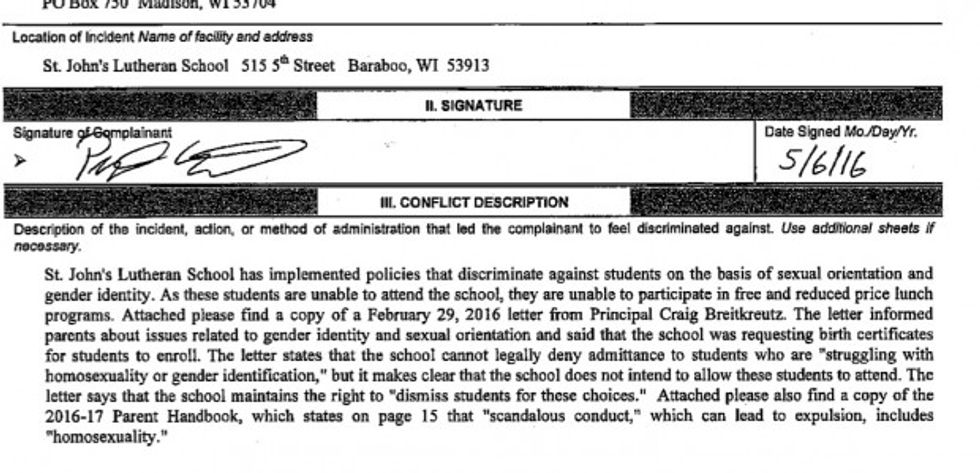 A screen shot from the official complaint
Breitkreutz's two-page letter back in February detailed some new policies that would be implemented at St. Johns Lutheran Church and School, with the principal proclaiming, "There are things that must be done at our school to make sure that things run well and to protect the truths of scripture we hold so dear."
Among the new policies outlined was a request for students' birth certificates when they register with the school, with Breitkreutz proclaiming that the institution plans to continue operating based on its sincerely held religious beliefs. That said, as a Title IX school that receives public money for lunches and bussing, he said that discriminating in the admissions processes is not permitted.
Still, the school is looking to operate with its religious values in mind.
"Although we do not have the right to refuse admittance to people choosing an outwardly sinful lifestule, we do maintain the right to discipline and dismiss students for these choices," the letter read.
The text later continued, "We must know the gender of your child. Although this last item should never be an issue, we must be aware to protect our religious freedom."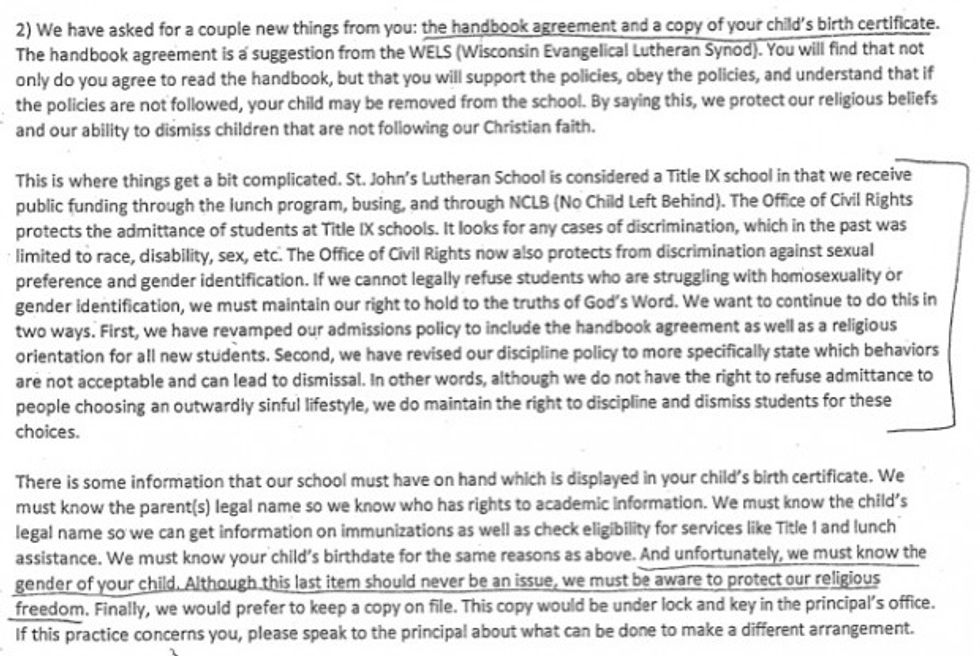 A screen shot from the principal's letter
As for Elliot's complaint, a representative for St. John's Lutheran Church and School told the Christian Post that the grievance holds no merit and that officials at the school are "confident that the government will recognize, as it always has, the church's constitutional right to teach and practice our beliefs without interference from the government."
"The federal funds we receive are designed to help children and families, not fund and operate our school," the emailed statement continued. "We will gladly cooperate with any investigation, and we want to continue to provide these government programs to our families."
St. John's Lutheran Church and School is affiliated with the Wisconsin Evangelical Lutheran Synod, which holds a traditional view on gender and sexuality.
(H/T: Christian Post)
--
Follow the author of this story on Twitter and Facebook and check out his new book "The Armageddon Code: One Journalist's Quest for End-Times Answers":