JERUSALEM (AP) — The Lebanese militant Hezbollah group has praised the deadly attack in Tel Aviv as a "heroic" act.
The Shiite militant group says in a statement issued on Thursday that the Palestinian people have reconfirmed through the operation their commitment to "resistance" as a way to liberate all Palestinian land from Israeli occupation.
Two Palestinian gunmen killed four Israelis in the shooting at a popular Tel Aviv tourist spot Wednesday night.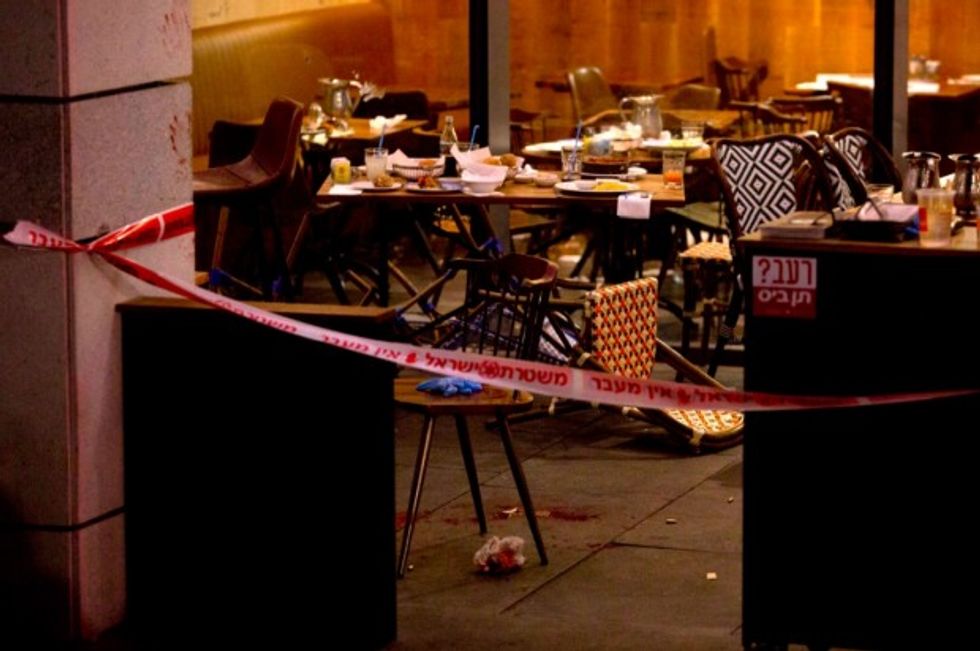 The scene of a shooting attack is seen in Tel Aviv, Israel, Wednesday, June 8, 2016. (AP Photo/Sebastian Scheiner)
Hezbollah has fought several wars with Israel including a month-long war in 2006.
Israeli police say thousands of officers will fan out across Jerusalem's Old City on Friday to keep the peace during Muslim prayers.
Thousands of Palestinians are expected to show up at Jerusalem's most sensitive holy site for the prayers on the first Friday in the Muslim holy month of Ramadan.
The site has been a flashpoint of violence in the past, and tensions are especially high after a pair of Palestinian gunmen killed four Israelis in a shooting at a popular Tel Aviv tourist spot on Wednesday.
The Palestinian president has issued a statement condemning violence against civilians, a day after a deadly attack in Tel Aviv.
In a statement, President Mahmoud Abbas' office said "it stands against attacks on civilians, regardless of its sources and justifications."
Thursday's statement did not explicitly mention the Tel Aviv shootings, though its timing made it clear that the attack was the reason behind it.