Presumptive Republican presidential nominee Donald Trump met with House and Senate Republicans Thursday at the Republican National Committee headquarters in Washington, D.C., and according to some elected Republicans, the meetings could have gone better.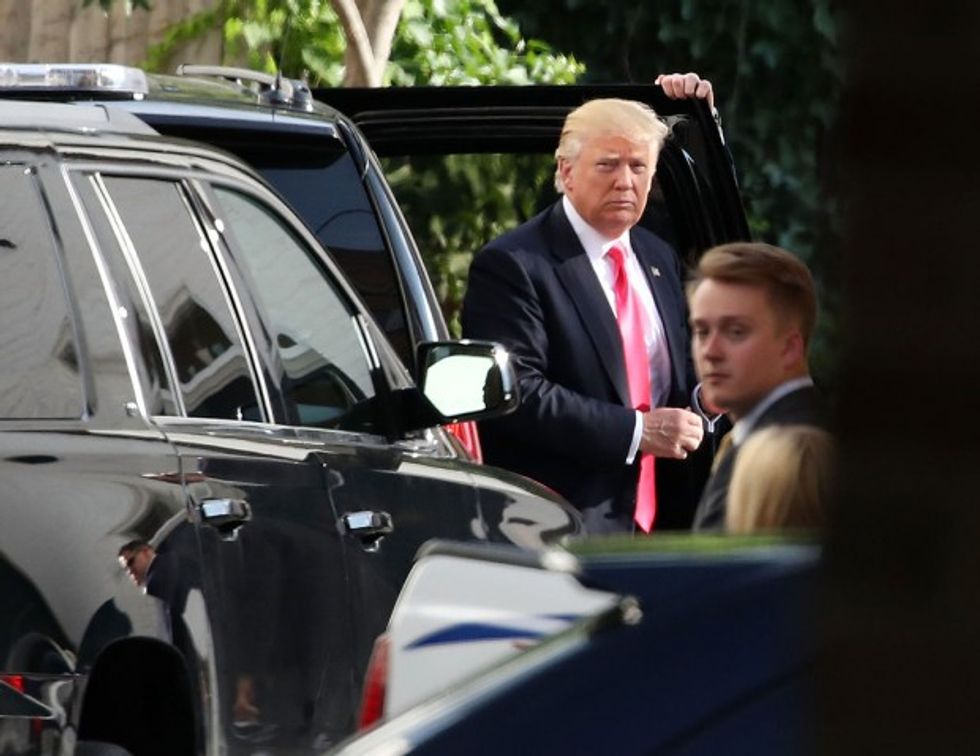 Donald Trump arrives at RNC headquarters for a meeting with House Speaker Paul Ryan (R-Wis.), and House Republicans Thursday in Washington, D.C. Trump later met with Senate Republicans. (Mark Wilson/Getty Images)
Rep. Mark Sanford (R-S.C.) told the Washington Post that Trump didn't display a familiarity with the Constitution.
"I wasn't particularly impressed," Sanford said. "It was the normal stream of consciousness that's long on hyperbole and short on facts. At one point, somebody asked about Article I powers: What will you do to protect them? I think his response was, 'I want to protect Article I, Article II, Article XII,' going down the list. There is no Article XII."
The U.S. Constitution is comprised of the Preamble and seven articles. It has 27 amendments.
According to the Washington Post, the most tense exchange Trump had with a member occurred with Sen. Jeff Flake (R-Ariz.).
Trump reportedly told Flake "You've been very critical of me."
Flake replied, "Yes, I'm the other senator from Arizona — the one who didn't get captured — and I want to talk to you about statements like that."
Flake's remarks were in reference to Trump's criticism of Sen. John McCain (R-Ariz.) last summer, when he questioned whether McCain was a war hero because he was captured while serving in Vietnam.
"I like people that weren't captured," Trump said at the time.
According to the Post's account of Thursday's meeting, Flake asked Trump to stop attacking Mexicans. Trump told Flake he would lose his re-election bid in the fall, but Flake informed him he is not up for re-election this year.
Flake later told reporters, "I want to support the nominee. I really do. I just can't support him given the things that he's said."
According to the Post, Trump "singled out" Sen. Ben Sasse (R-Neb.), who has called for a third-party candidate to enter the race as he says he is unable to support either Trump or presumptive Democratic nominee Hillary Clinton.
James Wegmann, Sasse's spokesperson, told the Post, "Mr. Sasse continues to believe that our country is in a bad place and, with these two candidates, this election remains a dumpster fire. Nothing has changed."
This post has been updated to include a quote from Rep. Mark Sanford.
—
Follow the author of this story on Twitter and Facebook: