The head of the Catholic League on Thursday slammed Philadelphia Mayor Jim Kenney as "un-American" for condemning guidelines on marriage from the Archdiocese of Philadelphia.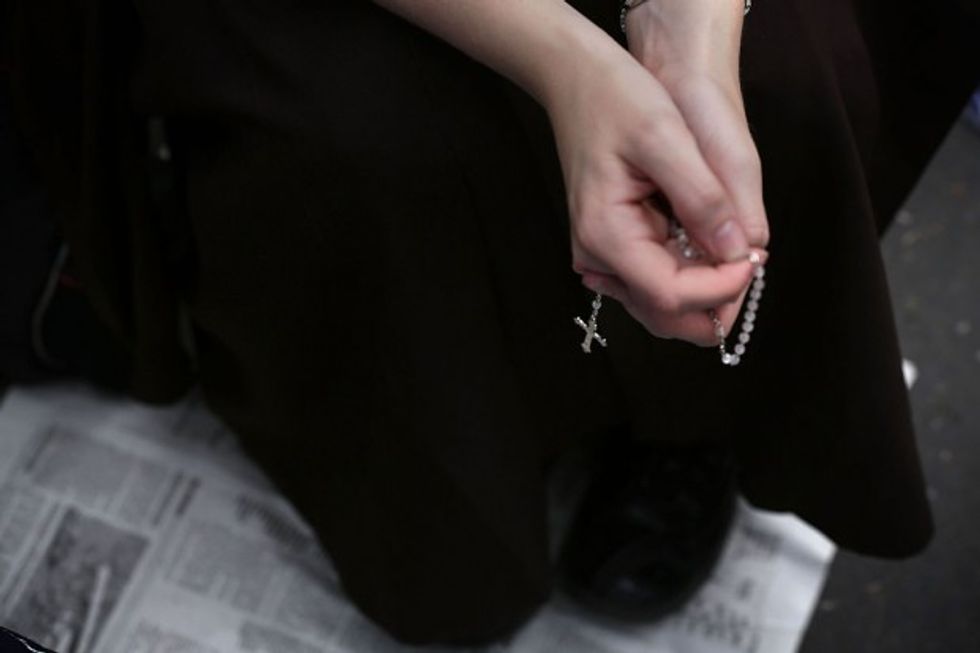 A Catholic nun of Sisters of St. Francis of Perpetual Adoration in Mishawaka, Indiana, holds a rosary and prays as she waits for the beginning of the Mass for the conclusion of the World Meeting of Families on Benjamin Franklin Parkway September 27, 2015 in Philadelphia, Pennsylvania. (Alex Wong/Getty Images)
The new guidelines reiterate Catholic teaching that those in relationships outside the sacrament of marriage — including those in same-sex relationships, the divorced, civilly remarried and unmarried couples living together — should abstain from sex in order to receive communion. The Catholic Church has long held that only those living according to church teaching are eligible to receive the sacraments, including the Eucharist.
"This is a hard teaching for many, but anything less misleads people about the nature of the Eucharist and the Church," the guidelines state.
Kenney, who was raised Catholic, took issue with the guidelines and Philadelphia Archbishop Charles Chaput on Twitter:
Jesus gave us gift of Holy Communion because he so loved us. All of us. Chaput's actions are not Christian. https://t.co/FXfC858EP6

— Jim Kenney (@JimFKenney) July 6, 2016
In a statement, Catholic League president Bill Donohue sharply criticized Kenny's remark.
"James Kenney was elected mayor of Philadelphia. He seems to think that gives him the authority, or qualifications, to run the Catholic Church in his city," Donohue said. "It does not."
Donohue continued:
Yesterday, Kenney ripped Philadelphia Archbishop Charles Chaput as "not Christian." The archbishop's offense? He issued pastoral guidelines reiterating Catholic teaching on marriage, family, and reception of the Eucharist. There is nothing new in Chaput's document. It merely calls — as the Church always has — for clergy to provide pastoral care for those living in relationships outside its teachings, while upholding the integrity of the sacraments. "Anything less," Chaput correctly observed, "misleads people about the nature of the Eucharist and the Church."

Kenney disagrees. Fine. But it is an abuse of his office to use his platform as mayor to publicly intrude on what is clearly an internal Church matter. And it is far from the first time he has used his position as a government official to attack the Catholic Church. [...]

Kenney labels Archbishop Chaput un-Christian for upholding Catholic teaching. The mayor is demonstrably un-American in misusing his public office to conduct his personal war on the Catholic Church.
The guidelines also call for "a sensitive pastoral approach in all such situations."
According to Catholic Philly, a Catholic newsletter in Philadelphia, the archdiocese issued the guidelines because "Pope Francis has urged that pastors and all Catholics strike a balance between teaching the truths of the permanence of marriage and the dignity of human sexuality with a merciful approach to people in broken marriages or with same-sex attraction."
—
Follow the author of this story on Twitter and Facebook: