Baton Rouge Police Chief Carl Dabadie said Tuesday that officers arrested three people whom they believe were plotting to murder police officers just days after five officers were fatally shot in Dallas.
Law enforcement officials, who spoke during a press conference Tuesday, said they believed the threat to be both credible and substantial.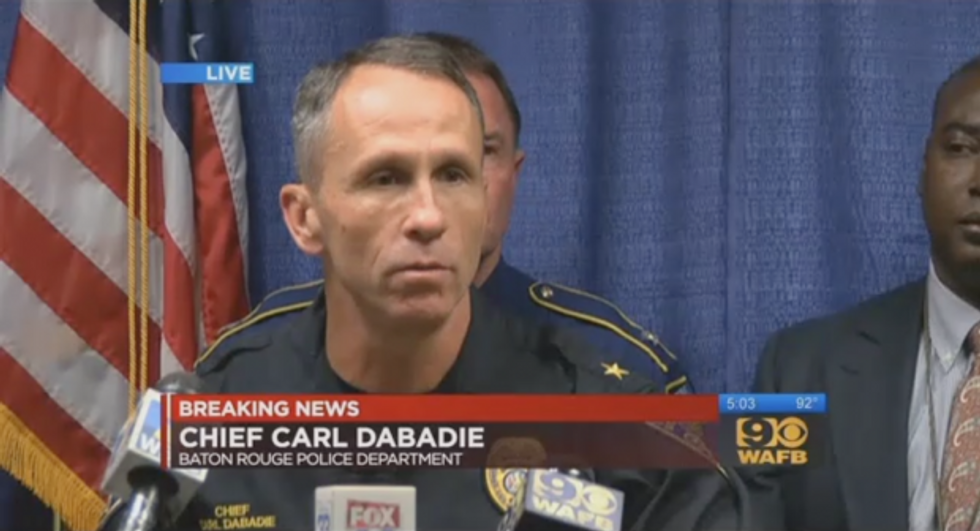 Image source: WAFB-TV screen grab
According to the police chief, one person was taken into custody during a weekend burglary at a pawn shop, where eight guns were stolen. Dabadie said a prisoner told investigators they were trying "to get bullets to harm police officers in the Baton Rouge police department."
Since the Saturday incident, detectives have arrested two others suspected to be involved in the situation. The suspects currently in police custody are 17-year-old Antonio Thomas, 20-year-old Malik Bridgewater and 23-year-old Trashone Coats, according to WAFB-TV. One 20-year-old suspect and one firearm, Dabadie said, remain at large.
Additionally, one 13-year-old boy was arrested Monday and charged with simple burglary and theft of a firearm.
The threat — the first credible one among many — is the reason officers did not hesitate to take aggressive action and arrest unruly protesters during demonstrations in Baton Rouge over the weekend following the police-related shooting of Alton Sterling last week, senior law enforcement officials and the chief indicated.
"We can't take anything for granted any more," East Baton Rouge Sheriff Sid Gautreaux said, according to CNN. "What you saw in the [law enforcement] response is because of the very real and viable threats against law enforcement.
"Look what happened in Dallas," he continued. "A very peaceful protest and then some crazy madman."
Sterling's death has sparked days of protests in Louisiana and led the Justice Department to open a federal civil rights investigation into the shooting.
Watch the press conference below, via WAFB-TV:
WAFB 9 News Baton Rouge, Louisiana News, Weather, Sports
–
Follow the author of this story on Twitter: