Republican Sen. John Cornyn (Texas) will introduce legislation Wednesday to shore up the protection of police by making killing a law enforcement officer a federal crime punishable by death.
The legislation, which comes days after the deadly police ambush in Dallas that left five officers dead, would also offer police several other protective measures.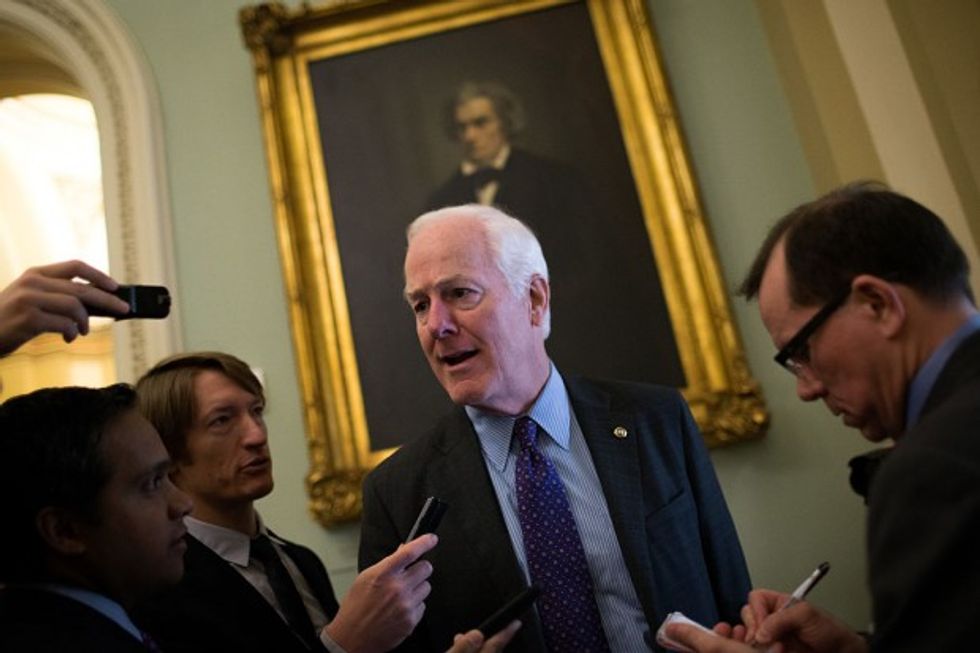 Photo by Drew Angerer/Getty Images
"As our country continues to grieve following last week's tragedy in Dallas, we must come together in support of those who risk everything to keep us safe," the Texas lawmaker said in a statement to the Dallas Morning News.
If signed into law, the Back the Blue Act of 2016 would make it a federal crime to kill a federal judge, a law enforcement officer or a public safety officer. The criminal would be subject to the death penalty and a mandatory minimum sentence of 30 years.
"Law enforcement officers selflessly put their lives on the line every day to protect our communities, and in return they deserve our unparalleled support for the irreplaceable role they serve," Cornyn said. "The Back the Blue Act sends a clear message that our criminal justice system simply will not tolerate those who viciously and deliberately target our law enforcement."
In addition to adding stringent legal ramifications to killing an officer, the legislation would open up federal grant money, giving police departments the finances necessary to improve relations with their local communities — something both Republicans and Democrats have supported. The bill would also expand the self-defense rights of cops.
Earlier in the day, Cornyn honored the fallen Dallas officers, saying the U.S. needs to "consider more ways to support our public servants who are tasked with the daunting responsibility of keeping order, enforcing the rule of law, and protecting our communities."
Cornyn's proposal comes the same day the House passed the POLICE Act, which allows law enforcement and medical personal to access federal funds to train for active-shooter situations.
The legislation is supported by several law enforcement groups, including the National Fraternal Order of Police, the International Association of Chiefs of Police, the National District Attorneys Association, the Major County Sheriffs Association, the Sergeants Benevolent Association and the Justice Department's VALOR program.
It will now go to the Oval Office for President Barack Obama's final approval.
—
Follow the author of this story on Twitter: