Presumptive presidential nominees Hillary Clinton and Donald Trump may not have much in common, but according to the White House Correspondents' Association the Democrat and Republican do have one similarity — their threat toward a free press.
In a column Thursday for USA Today, leaders of the journalism organization said they have been "alarmed" by both candidates' treatment of media members during their 2016 presidential campaigns.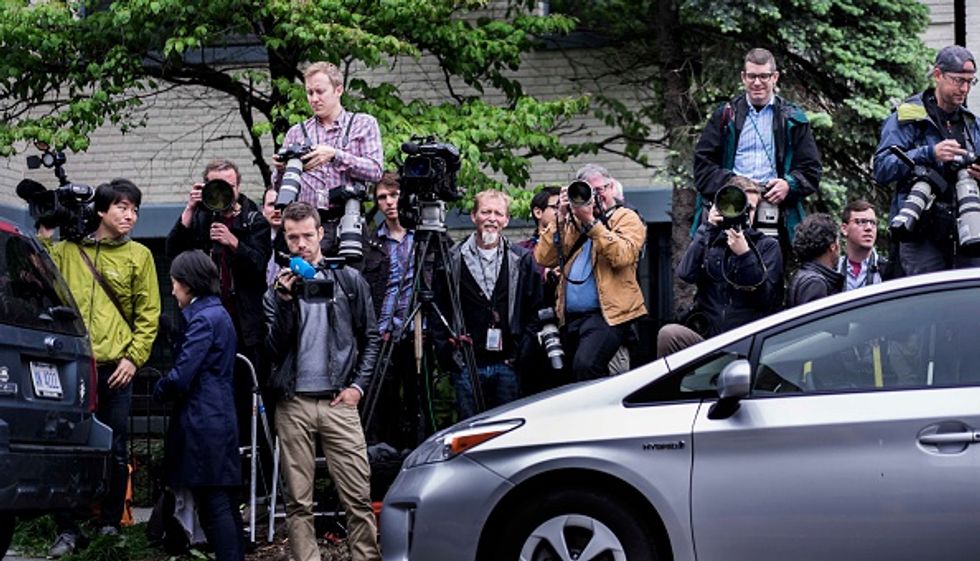 Photojournalists and videographers stand across the street on ladders and along the sidewalk at the National Republican Headquarters on Capitol Hill to document the arrival of Republican presidential candidate Donald Trump. (Getty Images/Melina Mara)
"We believe that whenever media access is restricted, the public's right to know is restricted," wrote WHCA outgoing president Carol Lee and incoming president Jeff Mason. "Transparency is the key to a well-informed electorate, and without a well-informed electorate, our democracy is put in jeopardy."
Trump, according to the two journalists, has "infringed" on the "public's right to know" as he has barred certain reporters from his campaign events simply because he did not like a story or broadcast.
Clinton, they wrote, "deprives the American people of hearing from their potential commander-in-chief in a format that is critical to ensuring he or she is accountable for policy positions and official acts" as she often refuses to answer questions from the press.
"The American people expect that anyone who seeks the highest office in the United States should be put under intense scrutiny," the pair wrote. "If he or she has an issue with that, Americans should take note."
Read more of the column at USA Today here.
—
Follow Kaitlyn Schallhorn (@K_Schallhorn) on Twitter