BATON ROUGE, La. (TheBlaze/AP) -- The man suspected of fatally shooting three Baton Rouge police officers and wounding three others has been identified as a black male named Gavin Eugene Long, according to multiple news reports. He was reportedly killed at the scene.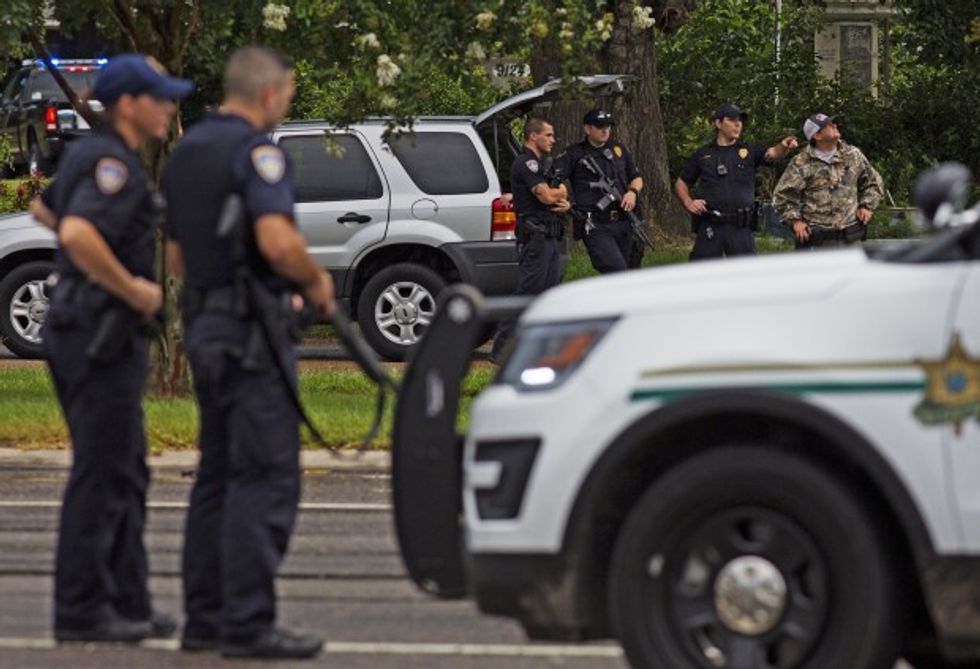 Law enforcement officers man a road block on Airline Highway and Goodwood Blvd. after police were shot earlier in the day in Baton Rouge, La., Sunday, July 17, 2016. Multiple law enforcement officers were killed and wounded Sunday morning in a shooting near a gas station in Baton Rouge, less than two weeks after a black man was shot and killed by police here, sparking nightly protests across the city. (AP Photo/Max Becherer)
Long, a retired Marine of Kansas City, Missouri, turned 29 on Sunday, according to the report.
There were several media reports linking Long to at least two "hate groups," but the claims could not be independently verified. Citing sources, CNN also reported Long was involved with "conspiracy" groups, including a black sovereign citizens movement.
Authorities initially believed that two other assailants might be at large, but hours later said that no other active shooters were in the city. Louisiana police said the suspect killed in Baton Rouge was sole shooter, but they are "not ready to say" he acted alone.
A witness told television station WAFB that he saw a masked man in black shorts and shirt running from the scene where the three officers were killed.
Brady Vancel said the man looked like a pedestrian running with a rifle in his hand, rather than someone trained to move with a rifle.
The Baton Rouge shooting was the fourth high-profile deadly encounter in the United States involving police over the past two weeks. The violence has left 12 people dead, including eight police officers, and sparked a national conversation over race and policing.
The deadly incident also came less than two weeks after a black man, Alton Sterling, was shot and killed by police here in a confrontation that sparked nightly protests across the city that reverberated nationwide.
---