House Speaker Paul Ryan (R-Wis.) believes Donald Trump is "on the same page" as him when it comes to core principles, but says the presumptive GOP nominee is just "not my kind of conservative."
"But I come from a different part and wing of the party," Ryan said in Cleveland Monday, according to The Hill, the same day the Republican National Convention kicked off. "I think he is a conservative. There are different kinds of conservatives, that's for darn sure."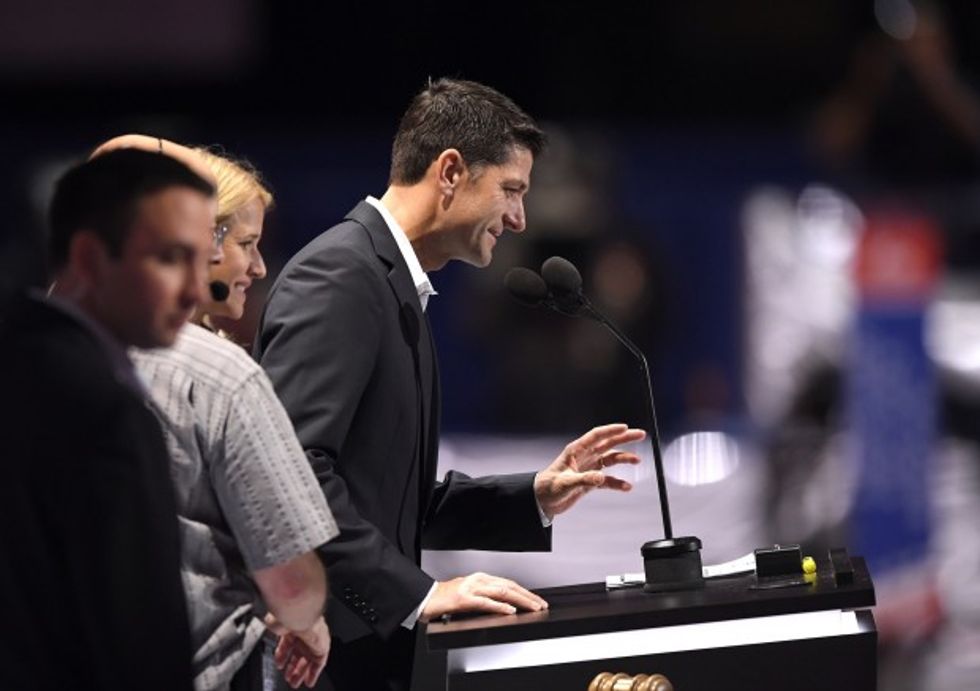 House Speaker Paul Ryan of Wis. stands at the podium with wife Janna during preparations at the Republican National Convention in Cleveland, Sunday, July 17, 2016. (AP Photo/Mark J. Terrill)
Ryan endorsed Trump last month, after first declining to do so. He has maintained distance from Trump, often taking issue with some of the verbiage used by the brash billionaire businessman, specifically when it comes to the U.S.-Mexico border wall, his attacks on the Mexican-American judge handling the Trump University case and a tweet some believed to be anti-Semitic.
Regardless, the high-profile Republican remains committed to supporting Trump, who he believes is "conservative because of his experiences," in order to ensure Hillary Clinton, the presumptive Democratic nominee, does not win the presidency in November.
"What I do know for sure is if we disunify, then we hand the left the country by default for another four years," Ryan, speaking during a breakfast hosted by the Wall Street Journal, said. "I just don't want to be a party to that. I don't want to be complicit to that."
Hours before intense debate broke out between anti-Trump forces and pro-Trump delegates on the floor of the convention, Ryan called for unity among the Republican delegation this week in the Quicken Loans Arena. Extending an olive branch to conservatives wary of Trump, Ryan said Indiana Gov. Mike Pence (R), Trump's running mate, is a "good signal sender" who "helps tremendously" to unite the party.
Describing his relationship with Trump, Ryan said he has a "very frank" bond with the candidate. "There are things I take issue with that I want to make sure it's clear why I do," he said, adding that Trump "does listen" to his comments.
Ryan is slated to address the convention Tuesday night. He said his speech will be a call for putting policy over divisive rhetoric — a staunch difference between his style and Trump's.
"I prefer less personality contests and more ideas contests," he said.
—
Follow the author of this story on Twitter: