The co-author of presumptive Republican presidential nominee Donald Trump's best-selling book "Trump: The Art of the Deal" on Monday excoriated the candidate as "sociopathic" and said the book is "full of falsehoods."
"You know, it's a terrifying thing," Tony Schwartz said during a Good Morning America interview. "I haven't slept a night through since Donald trump announced for president because I believe he is so insecure, so easily provoked and not — not particularly nearly as smart as people might imagine he is."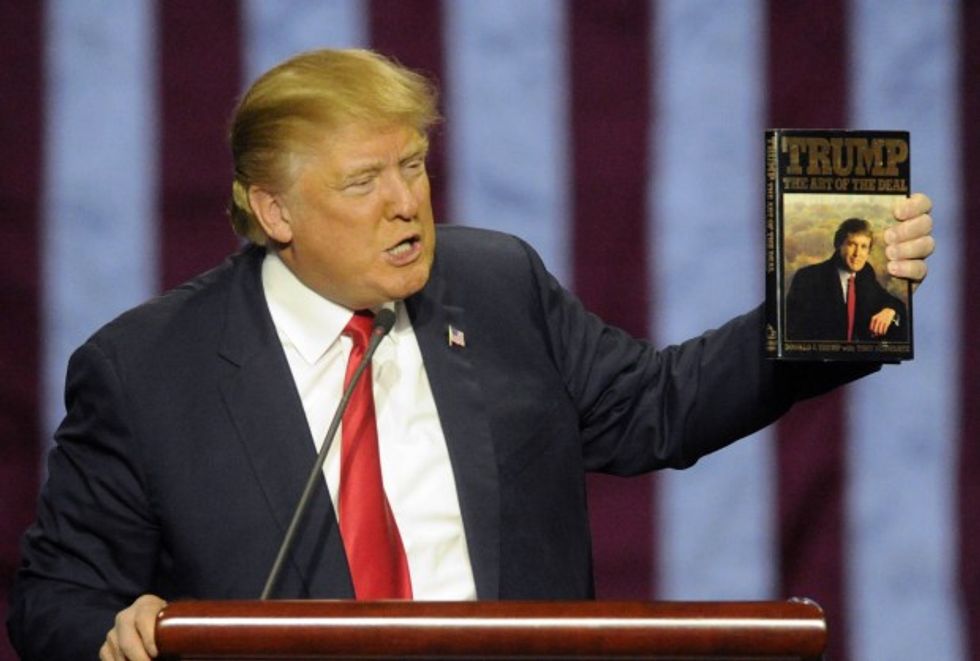 Republican presidential candidate Donald Trump holds up his book 'The Art of the Deal', given to him by a fan as he speaks during a campaign stop Saturday, Nov. 21, 2015 in Birmingham, Ala. (AP Photo/Eric Schultz)
Schwartz said that "I do worry that with the nuclear codes he would end civilization as we know it."
"Really, what I'm talking about is character, and every American ought to be concerned about his character," Schwartz said. "I never in a million years thought that he would run for president. If I had thought that 30 years ago, I wouldn't have written the book."
"If in any way [the book] contributes to him becoming president, I think this is a man who has more sociopathic tendencies than any candidate in my adult life that I've observed," he added. "And so, yeah, I do regret writing the book."
Schwartz said that "for 29 years I didn't think he would, and it didn't seem like it was important to speak out." But the co-author said it's his "civic duty" to do so now since Trump has decided to run for the White House.
"I have nothing to gain from this," adding that he's donated his royalties from the book since Trump announced his candidacy to "non-profits."
Schwartz said that he is the real author of the book's "every word."
"Donald Trump made a few red marks when I handed him the manuscript, but that was it," he said.
Schwartz made similar claims in an interview with the New Yorker published Monday, telling the magazine he "put lipstick on a pig" when he wrote the book.
"I feel a deep sense of remorse that I contributed to presenting Trump in a way that brought him wider attention and made him more appealing than he is," Schwartz told the magazine.
Watch below:
WATCH: "Art of the Deal" co-author says he now regrets writing it and says it's full of falsehoods. https://t.co/4Z8r6i2bzv

— Good Morning America (@GMA) July 18, 2016
—
Follow the author of this story on Twitter and Facebook: