An Ohio police station received two 911 calls over the weekend from a man making threatening statements against officers, WOIO-TV reported.
After the Saturday calls, a man reportedly drove his red pickup truck to the Cuyahoga Falls police station and rammed it into multiple parked police cars. No officers were inside the cruisers.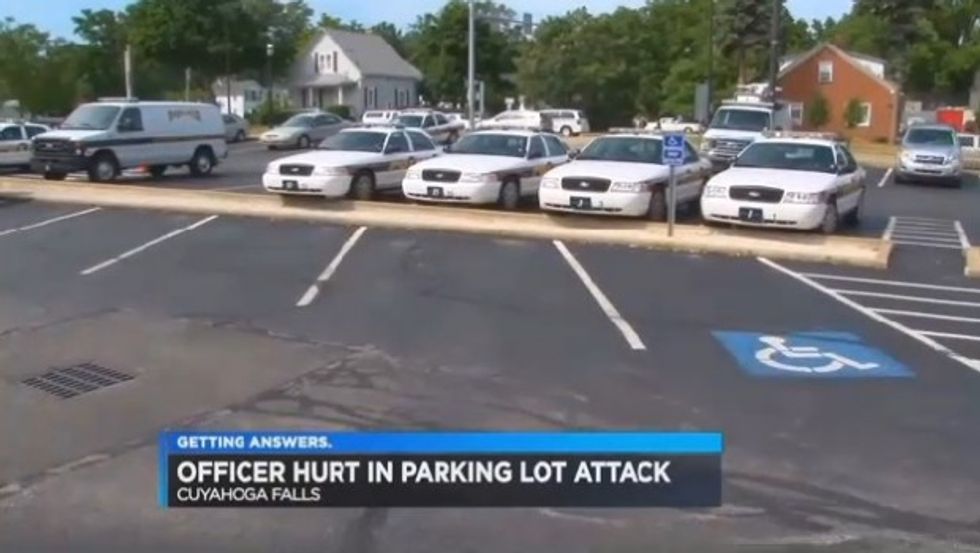 Image source: WOIO-TV
The driver then left the lot in his truck with police following close behind. The brief chase ended when the driver — apparently intentionally — drove head-on into another police cruiser.
Officer Ted Davis and the driver were both hospitalized for injuries sustained from the crash. WOIO reported Davis was "seriously injured" but is expected to make a full recovery. As of Tuesday, the suspect had not been officially charged with anything.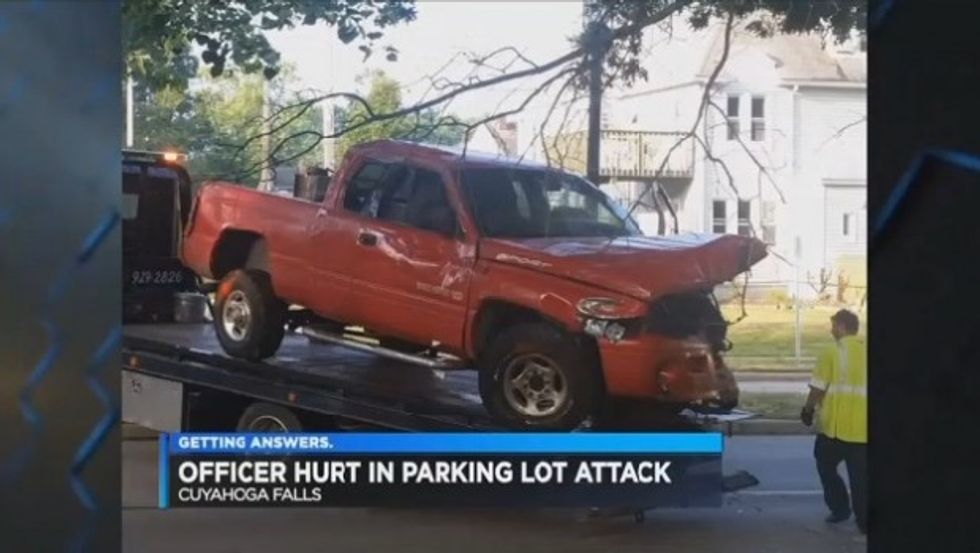 Image source: WOIO
Police Chief Jack Davis told WOIO he believed the suspect was trying to hurt Officer Ted Davis.
"It did not appear to be a motion where was trying to get away or anything like that — he purposely crashed into his car," Jack Davis said.
The pro-cop Facebook group, Ohio Going Blue, posted a "get well soon" message for Davis to its page Sunday.
WOIO obtained the expletive-laced 911 recordings from Cuyahoga Falls police dispatch. In one of the calls, the alleged suspect seemed to refer to police as "illuminati." At another point he threatened to "kill all you motherf***ers," adding, "burn in hell."
But Chief Davis added to the station he doesn't believe Saturday's incident had anything to do with the recent coordinated attacks on police officers across the country.
"To be honest, I think it's an isolated type thing," he said. "I don't think it has anything to do with what's going on in our nation. We hadn't arrested this person, there was nothing real recent with this person and that's really what we're trying to piece together."
"It's one of those things that doesn't make any sense," he added. "We've been spending all day trying to go over a timeline, go over the information. We did perform a search warrant at a home on Saturday evening again just to try to help piece together what was going on with this person."