When Dallas French sat down at an Olive Garden in Little Rock, Arkansas, last week, life was more stressful than usual.
She had traveled two hours from Dover, Arkansas, to get her 4-month-old daughter Ellee seen at Arkansas Children's Hospital after the infant had tested positive for E coli.
So Ellee wasn't in a good mood after riding in the car for hours and getting tested Thursday, and French was worried about what the diagnosis might mean for her baby girl.
Nevertheless, French knew motherhood doesn't stop because of stress, so she prepared a bottle for Ellee while waiting with her husband and mother-in-law for appetizers, the Arkansas Democrat-Gazette reported.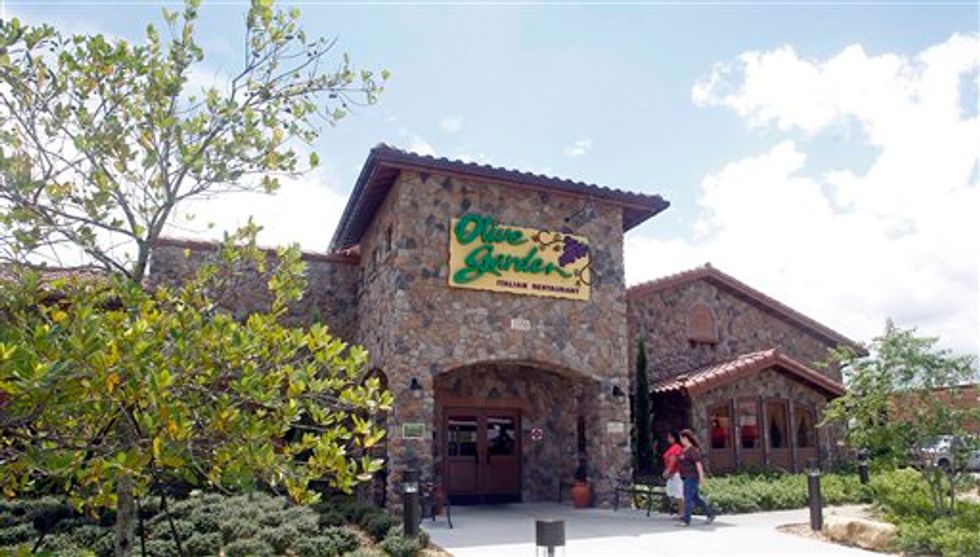 (AP Photo/Alan Diaz)
But just as their food was brought out, French spilled the bottle all over herself and the floor.
The restaurant server could have just called for a clean up. But instead he went above and beyond his duties.
"Here let me feed her while you eat," the server, identified as Robert Davis by the Arkansas Democrat-Gazette, told the worn-out mother.
Davis got into the booth next to the family and reached over to feed Ellee while her mother, father and grandmother ate their appetizers.
"He just stepped in and took care of us. It was just amazing for a stressed-out mom," French said. "It touched my heart."
Ellee had nearly finished the bottle right around the time the family's entrees were ready, so Davis slipped away and brought the food back for them to enjoy. And Ellee already had her meal, too.
"He was precious, and I was just trying to tell him 'thank you,'" French said. "I just wanted him to know that we appreciated everything he did that day."
French later posted a photo of the server feeding Ellee on the Olive Garden Facebook page. Love What Matters also posted the image, where it's been shared over 100,000 times.
(H/T: Arkansas Democrat-Gazette)
—
Follow the author of this story on Twitter and Facebook: