Virginia Rep. Bobby Scott was scheduled to deliver a speech officially nominating Sen. Tim Kaine for vice president at the Democratic National Convention Wednesday night, but party officials scratched the address over fears of boisterous unrest from supporters of Bernie Sanders.
According to CNN reporter Jeff Zeleny, Scott's cancelled remarks were slated to last three minutes. Instead, officials opted just to announce the lone vice presidential candidate's name, which received cheers, but was also accompanied by some booing from delegates on the floor of Philadelphia's Wells Fargo Center.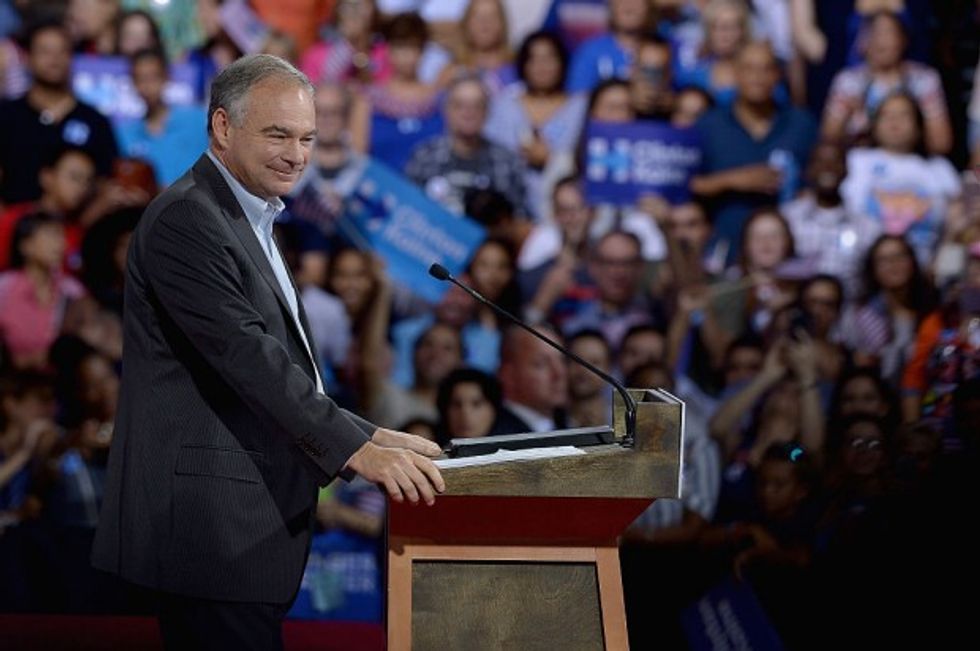 Photo by Gustavo Caballero/Getty Images
In lieu of Scott's speech, convention chair Rep. Marsha Fudge (Ohio) mentioned Kaine's name, then quickly moved into a voice vote to officially nominate Kaine as Democratic presidential nominee Hillary Clinton's running mate. There were some calls heard for a roll call vote, which would give delegates the opportunity to voice their opposition to Clinton's choice.
"They simply mentioned his name, and then they called for a voice roll call vote, and then turned up the music immediately," Zeleny said, adding that the decision is "certainly a sign that all wounds here have not healed."
Kaine has been criticized by some in the far left wing of the Democratic Party who do not feel the Virginia senator is progressive enough. Kaine, who personally opposes abortion but defends abortion rights, holds a reputation as a moderate Democrat and has ties to many of his party's big donors.
Kaine is the former chair of the Democratic National Committee, which has recently come under fire after an internal email leak appeared to reveal a concerted effort to assist Clinton's primary campaign for the Democratic nomination.
Just In: Tim Kaine didn't get a nominating speech because of fear of booing, source tells @jeffzeleny #DemsInPhilly https://t.co/8HtCeDsu9J

— The Lead CNN (@TheLeadCNN) July 27, 2016
—
Follow the author of this story on Twitter: