A CNN commentator lit up social media when she was caught on camera dramatically rolling her eyes at a another commentator's defense of Republican presidential nominee Donald Trump earlier this week.
When host Don Lemon asked pro-Trump commentator Kayleigh McEnany about Hillary Clinton's record of "helping with school and adoptive parents," McEnany replied that Trump "has done great things too."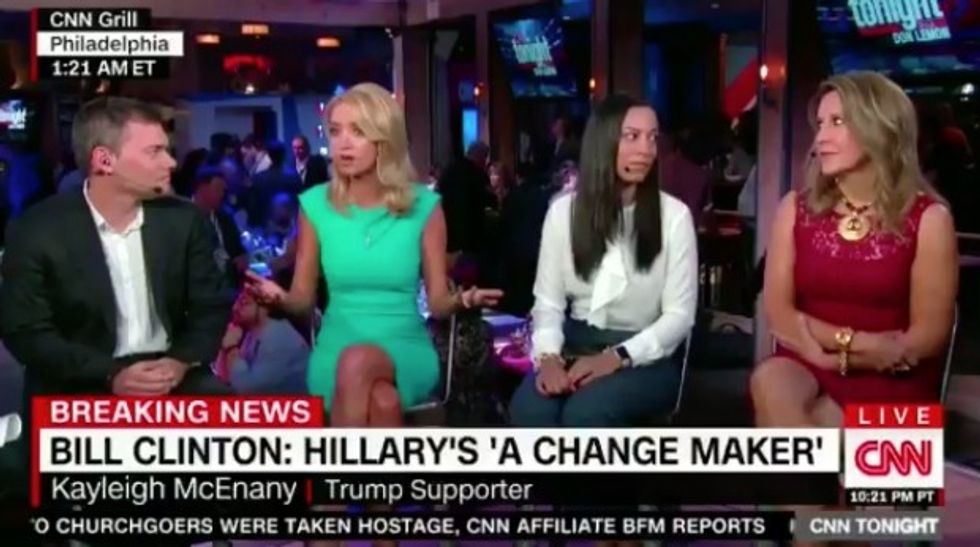 Image source: Twitter/CNN
"Well, that's great," McEnany said. "You know, Donald Trump has done great things in his private time, too, for veterans, all across his foundation. He's done great things, too. We've all done great things in our lives, and I commend her for helping children, that's a commendable thing."
CNN political commentator Angela Rye couldn't contain her disdain for McEnany's take, resulting in what New York Magazine dubbed the "Eye Roll Heard 'Round The World."
Twitter users were quick to comment on Rye's reaction:
That was a hall of fame eye roll on CNN from @angela_rye pic.twitter.com/kEgzy0Kx8i

— Stephen Silver (@StephenSilver) July 27, 2016
YO. @angela_rye's faces on TV are LEGENDARY.... https://t.co/vLZOqnYi4U

— Marc Lamont Hill (@marclamonthill) July 27, 2016
Rye told New York Magazine that she doesn't have a "poker face."
"For me, yesterday, it was such a historic moment. Regardless of whether you're with Hill or you're feeling the Bern, we had to appreciate the magnitude of that moment," she said
"Kayleigh is someone I consider a friend; we get along very well off air. And I absolutely believe that Kayleigh wholeheartedly believes the things she says," Rye said, adding, "I think we can reach a common understanding."
Watch below:
In 2016, We are all @angela_rye's epic eye roll #DemsInPhilly pic.twitter.com/c9YiIRhGNI

— Marcus Gilmer (@marcusgilmer) July 27, 2016
—
Follow the author of this story on Twitter and Facebook: