As the Missouri state Senate convened Wednesday, state senators stood to their feet to recite the Pledge of Allegiance — at least most did.
State Sen. Jamilah Nasheed, a St. Louis Democrat, did not stand, however. Cameras inside the chamber showed her sitting in what she called a show of solidarity with San Francisco 49ers quarterback Colin Kaepernick, who has repeatedly refused to stand during the national anthem prior to NFL football games.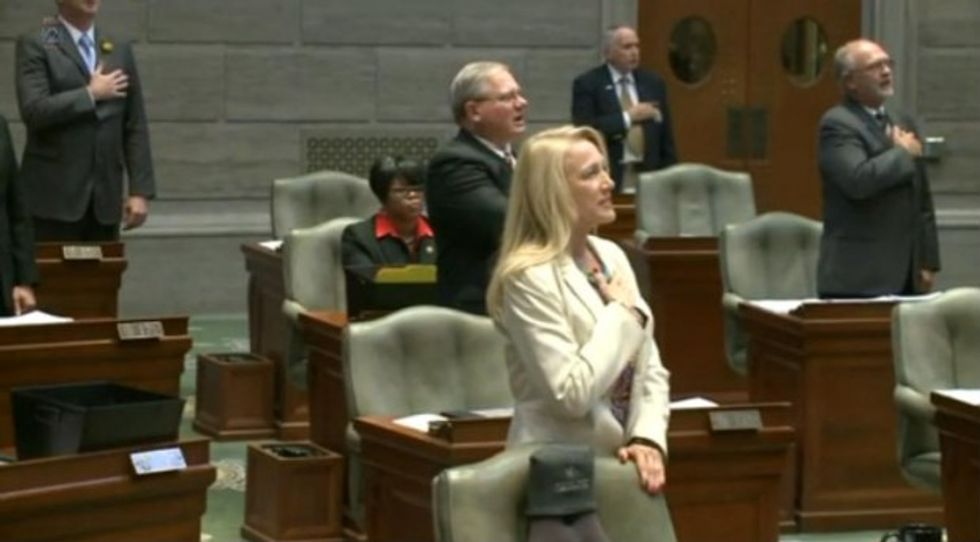 Image source: KTVI-TV
"I decided to not stand for the Pledge of Allegiance today to stand in solidarity with the cause of injustice that Colin Kaepernick has shined a bright light upon. I am not anti-America, and in fact, it is because I love this country that I take this stand," Nasheed said.
"I am doing so not because of past transgressions by America, but to call attention to current injustices here in this state and country," Nasheed added. She went on to list the "current injustices":
• The injustice of police brutality — the refusal to mandate police body cameras;

• The injustice of poverty — the underfunding of our public schools;

• The injustice of voter suppression — passing Voter ID laws;

• The injustice of not having health care — not expanding Medicaid;

• The injustice of unlivable wages — refusing to raise minimum wage and the right-to-work attack on labor;

• The injustice of unequal pay for women;

• The injustice of mass incarceration; and

• The injustice of economic disparity.
"The pledge of allegiance and the national anthem stand not just for what America is, but for what it should be. 'Liberty and justice for all' are not just words — they are our country's ideals. We must commit ourselves to honoring those principles not just by speech, but also through our actions," Nasheed also said, according to KCRG-TV. "This is why I, as a matter of conscience, chose not to stand today."
Missouri Lt. Gov. Peter Kinder, a Republican, acknowledged Nasheed's right to sit during the pledge, but added that he worries about the example she is setting "particularly for our young people." Missouri Gov. Jay Nixon, a Democrat, did not immediately offer any comment.
As KCRG noted, Nasheed was arrested in October 2014 after she and another man refused to leave an area in Ferguson, Missouri, where police reportedly told them multiple times that they were not allowed to protest.
—
Follow the author of this story on Twitter and Facebook: