Former Olympic ice dancing gold medalist Tatiana Navka — who's also the wife of Russian President Vladimir Putin's spokesman — drew international ire over her Holocaust-themed skating routine, ABC News reported.
Navka and actor Andrey Burkovskiy donned striped outfits akin to those worn by concentration camp prisoners — which included gold Stars of David — and skated to a song by an Israeli singer from the Oscar-winning film "Life Is Beautiful," which was about the Holocaust.
It seems the duo used dark makeup to make them appear sickly, but they smiled often during the Saturday performance for "Ice Age," a reality program on Russian state-run network Channel One.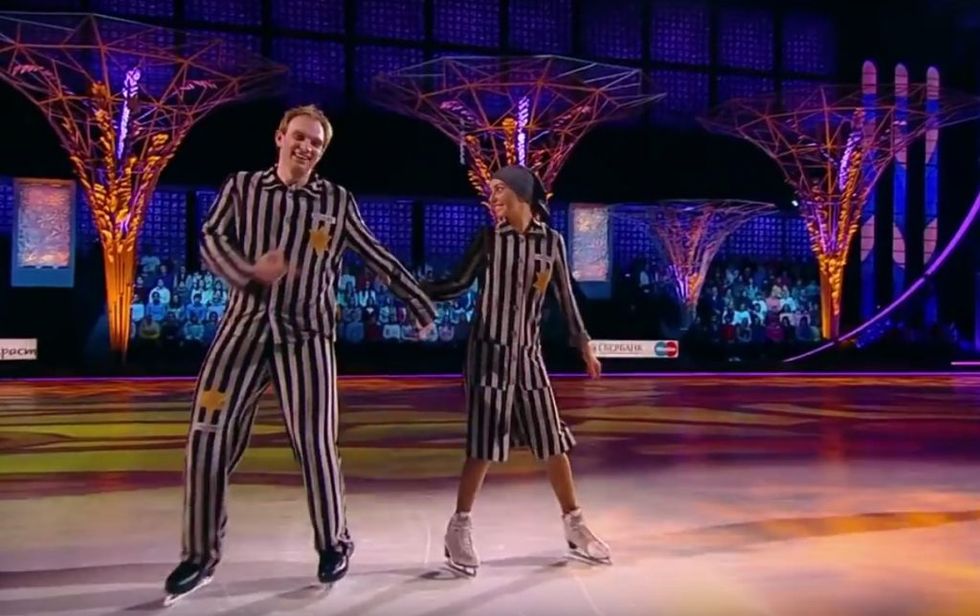 Image source: YouTube
The routine ended with Burkovskiy skating into the darkness as gunfire rings out.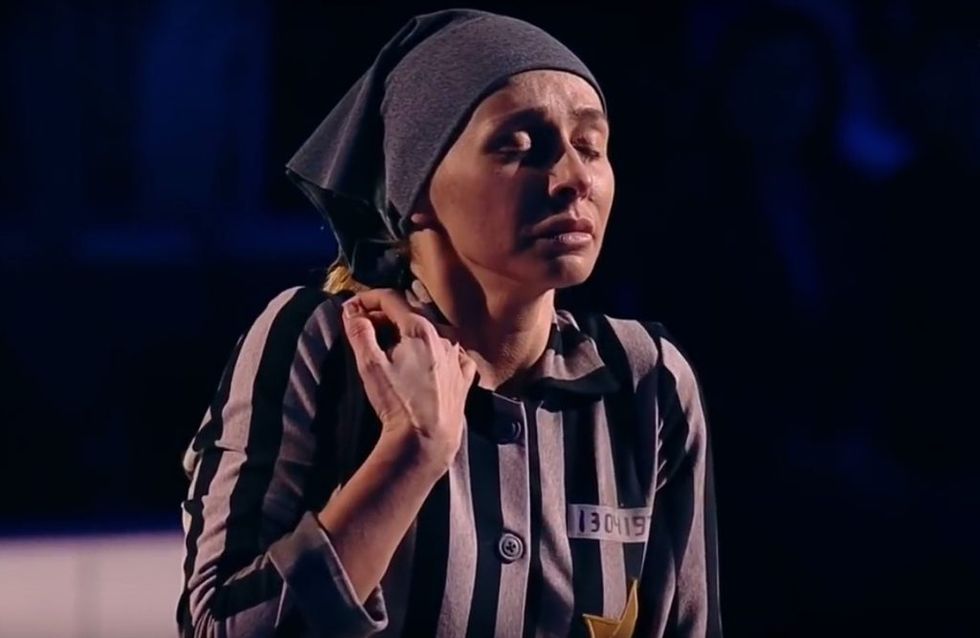 Image source: YouTube
The performance seemed to mirror the theme of "Life Is Beautiful," in which a father uses humor to deflect the Holocaust's horror from his son as they're imprisoned in a concentration camp.
The audience offered hefty applause afterward and judges gave the routine the highest scores of the evening, Heat Street reported.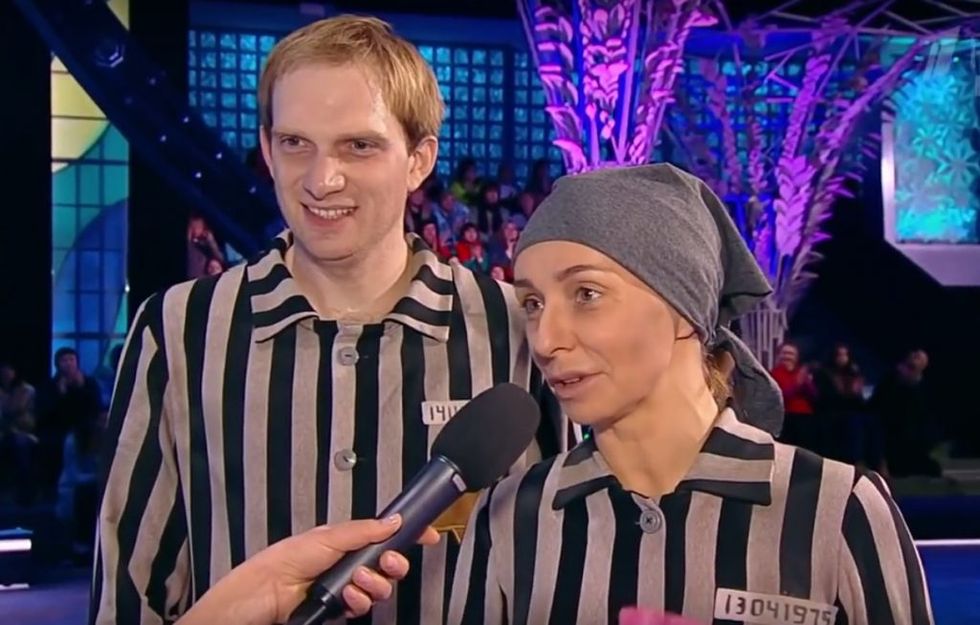 Image source: YouTube
Navaka posted photos of the performance on her Instagram page and revealed what "Life Is Beautiful" means to her, Heat Street added: "Show this movie to your kids. Our children should know and remember that tragic history, which I hope, God willing, they will never experience."
But numerous social media users found the performance tone deaf. Deborah E. Lipstadt, a renowned author and professor of Holocaust studies, was appalled:
HAVE YOU LOST ALL SENSE OF DECENCY? HAVE YOU NO SHAME? The Holocaust on ice, complete with a sound track of barking… https://t.co/IjMrMuph3u

— Deborah E. Lipstadt (@Deborah E. Lipstadt)1480251504.0
As were celebrities:
Oh those whacky Holocaust victims (OH MY GOD OH MY GOD OH MY GOD) https://t.co/mzn441sQZD

— Sarah Silverman (@Sarah Silverman)1480229216.0
This might be offensive if they hadn't take such great care to recreate all the wonderful ice dancing going on at A… https://t.co/zBEDhUrM5T

— Michael Ian Black (@Michael Ian Black)1480228635.0
And from the editor in chief of the Atlantic:
However, an Instagram user said the routine was choreographed by Russian ice dancer Ilya Averbukh, who is Jewish, and added context as an individual born in Russia:
Russia is not America, and the theme of Holocaust is never, never discussed anywhere in the media. When the World War II is discussed, the Jews are omitted. Therefore, it is amazing that two non-Jewish figure skaters paid tribute to the Jewish people that suffered in Holocaust. It is the first time in many years that I see anything about Holocaust on Russian TV, and I am so so thankful. As a country that hated Jews for so long and still has antisemitism, Russia needed a reminder. I admire Tatyana, Andrey, and Ilya. I don't know if I myself had the courage to make this performance about Jews in Russia, so I'm so happy they did. I am so grateful for this!
Another commenter defended the performance, saying she "wept": "People will, and are, saying vile things about this tribute. (I am in USA). They envy what you did. ENVY cannot embrace righteousness. It is impossible! There is no darkness in Light! And since they cannot embrace, they will try to destroy. And as you know, they cannot destroy Love!"
It reportedly wasn't the first time a Russian reality-TV show featured a Holocaust theme, the Jerusalem Post said:
In April, Russia's version of "Dancing with the Stars" featured a dance number starring a Nazi officer searching for a young Jewish girl hiding behind a piano.

The piece began with the officer playing the instrument, stopping suddenly and demanding the girl reveal herself before "shooting" his weapon at her feet.

Taken aback at her beauty, he lowers his weapon and the two begin to dance to "Fly Me to the Moon" by Frank Sinatra.

The piece arrived at a heartbreaking conclusion when an "enemy" assault leaves the Jewish girl dead on the ground while he screams and shoots randomly in no particular direction.