At the height of the controversy over workplace holiday party guidelines at the University of Tennessee — e.g., "ensure your holiday party is not a Christmas party in disguise" — junior Clayton Dorman finally had enough.
"It's my God-given right to be able to have a Christmas party and telling me I can't do that just really sent me over the edge," Dorman told WATE-TV, adding, "I think the guidelines are ludicrous."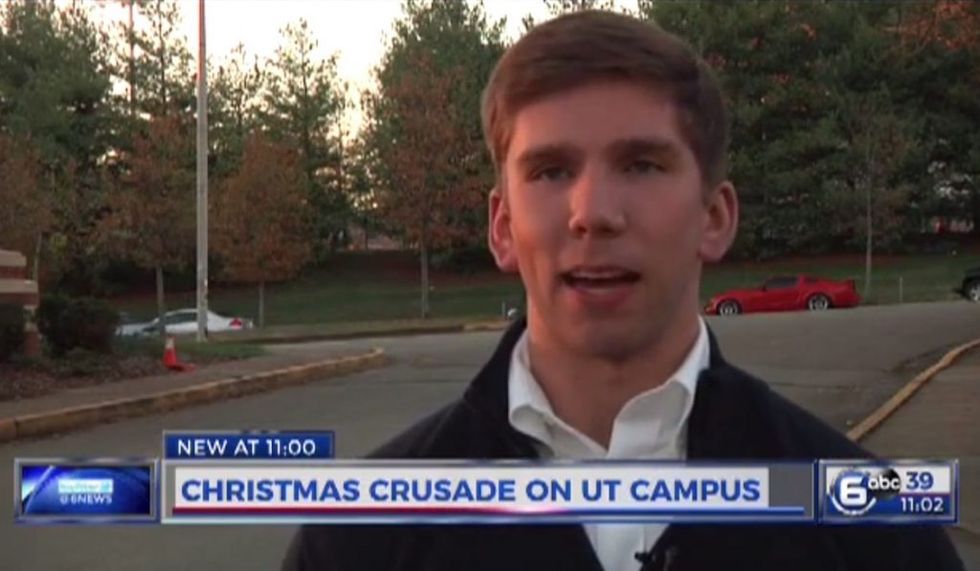 University of Tennessee junior Clayton Dorman (Image source: WATE-TV)
While the guidelines focused on the workplace — and wouldn't seem to affect a student group — the 21-year-old took to Twitter anyway and posted a photo of a trio of guys standing on a ledge at Beta Upsilon Chi, a Christian fraternity house on campus, where Dorman is a member.
Below them is a banner with a star and Christmas tree. On the bottom reads a pointed challenge: "Come and take it."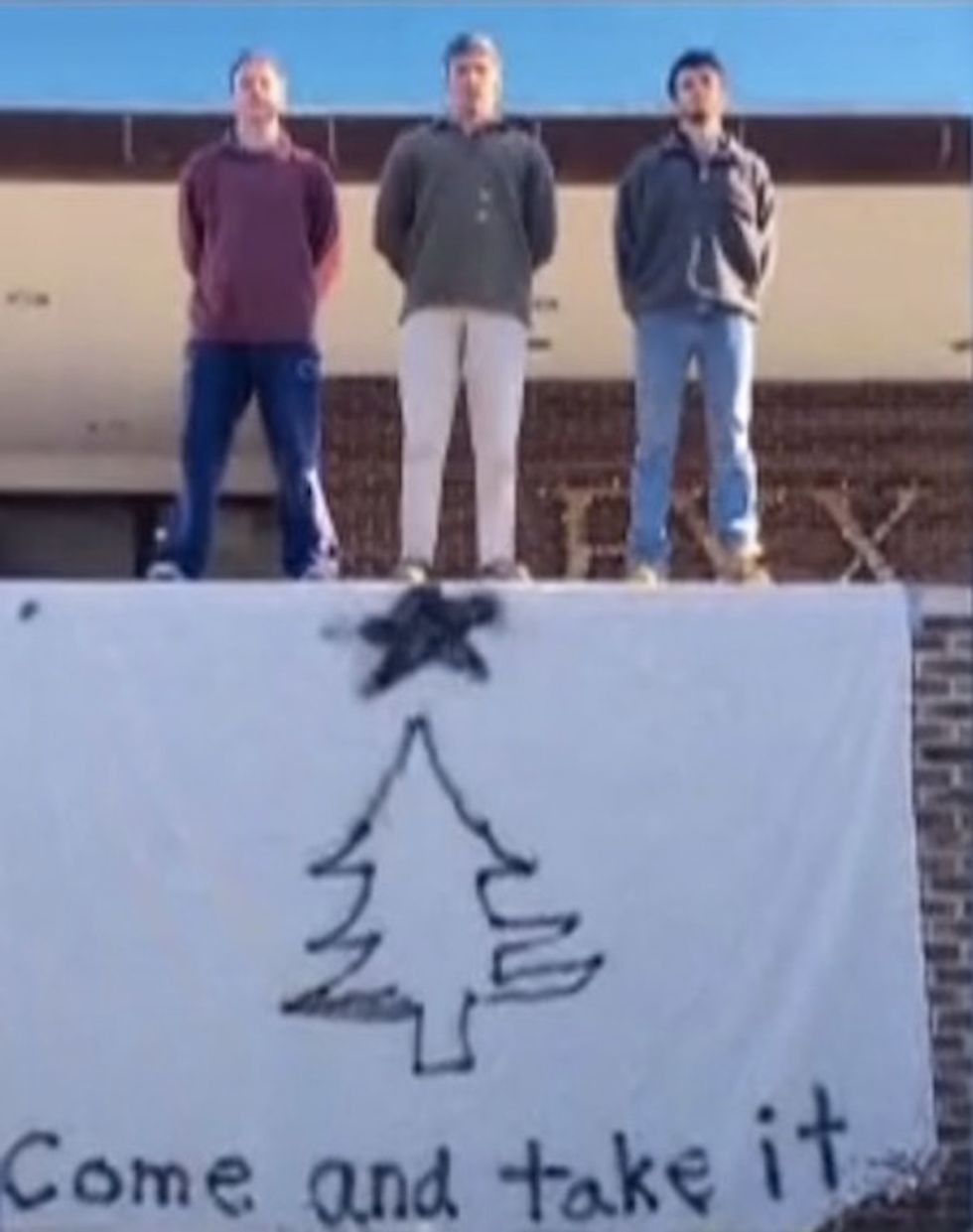 Image source: WATE-TV screen cap
Reaction to Dorman's tweet struck a nerve.
"The response has been more than I can imagine," he told WATE. "I like to imagine that I am the voice for the silent majority."
As it happens, a reader or readers of the banner actually took up the frat on the banner's challenge. Dorman told the station that when he went to study in his room and then came out, the banner was gone. Soon his tweet was taken down as well.
Amid the hubbub over guidelines to make holiday parties as inclusive as possible, some students and state lawmakers have called for Chancellor Jimmy Cheek's resignation, WATE said. But other students and faculty have come to his defense — and are favoring inclusion: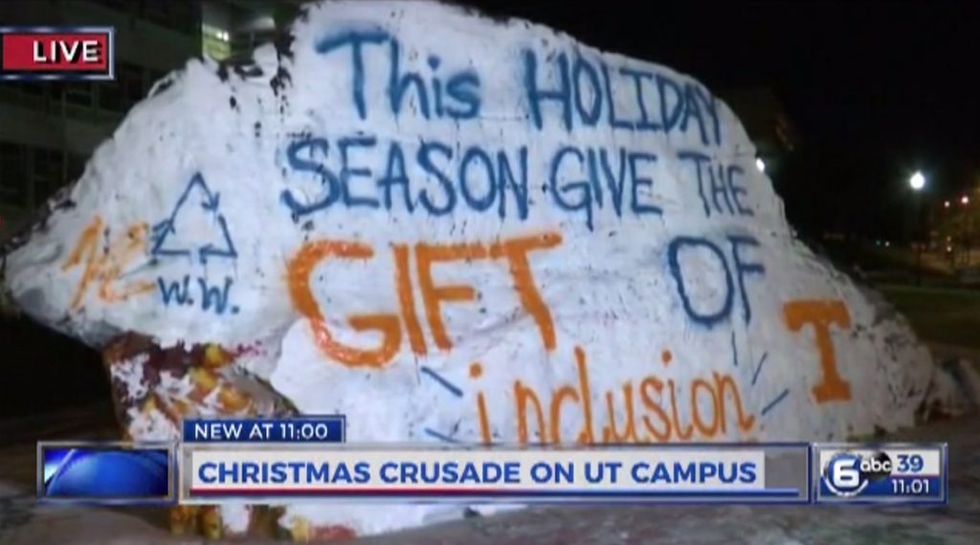 Image source: WATE-TV
The holiday party guidelines were still on the school's website Friday, WATE reported — but a Wednesday afternoon check revealed they apparently have been removed.
On the other end of the opinion spectrum, one leader of a Christian campus ministry said he's encountered no pressure water down Christmas.
"I don't feel persecuted at all. I don't feel like my rights are infringed upon at all," Pastor John Tirro of the Tyson House told WATE. "We had a Christmas party on Wednesday, and we're going to have worship on Sunday."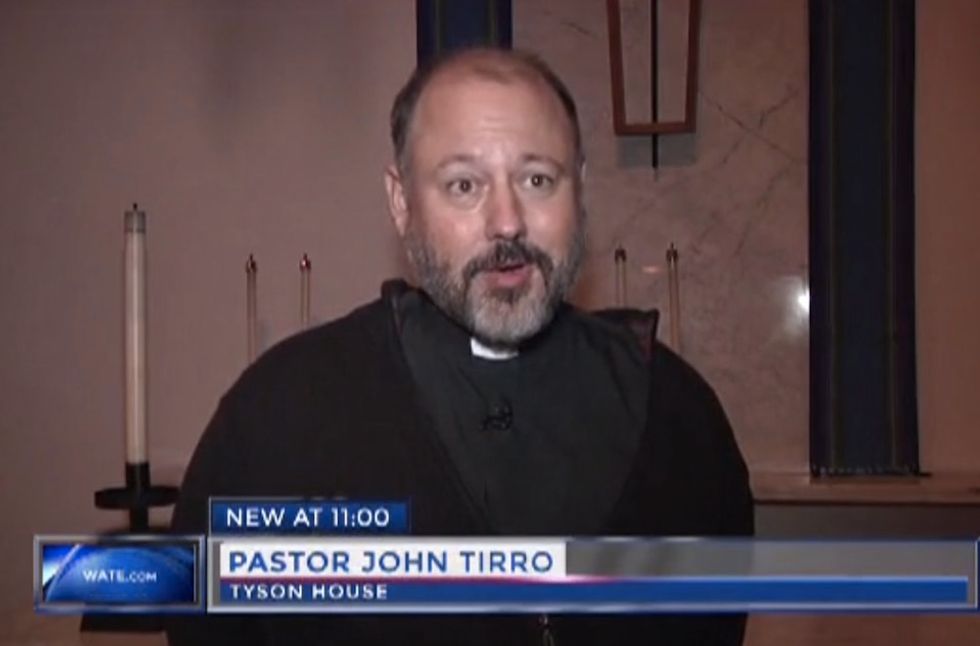 Image source: WATE-TV
In fact, Tirro penned a letter to lawmakers who've criticized the holiday party guidelines. "Please calm down, have a cookie, and know that Christmas is safe and well at the University of Tennessee," he wrote, the station said.
"We've got crosses everywhere, and we talk about Jesus all the time, and nobody sets us on fire, and nobody threatens us with losing our jobs," Tirro added to the station.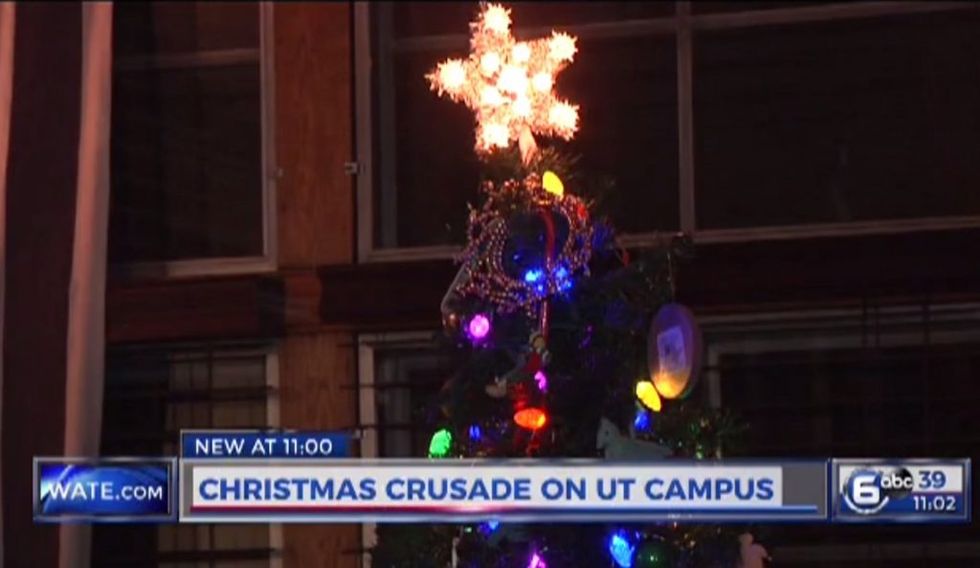 Image source: WATE-TV
UT's Office for Diversity and Inclusion, which issued the holiday party guidelines, also came under fire recently for introducing gender-neutral pronouns — that directive was also removed from the website.