Kay Dickinson kept her gun in the bedroom of her Wilmington, North Carolina, apartment — right on top of a Bible on her headboard, WWAY-TV reported.
But the StarNews reported that over the course of the year that she'd owned her gun, she'd never fired it.
What happened to Dickinson Monday night changed all of that.
She came home around 11 p.m. after work, turned the key to her door and then a man she'd passed turned around, grabbed her from behind and forced her inside her apartment, the StarNews reported. And he had a gun, Dickinson said.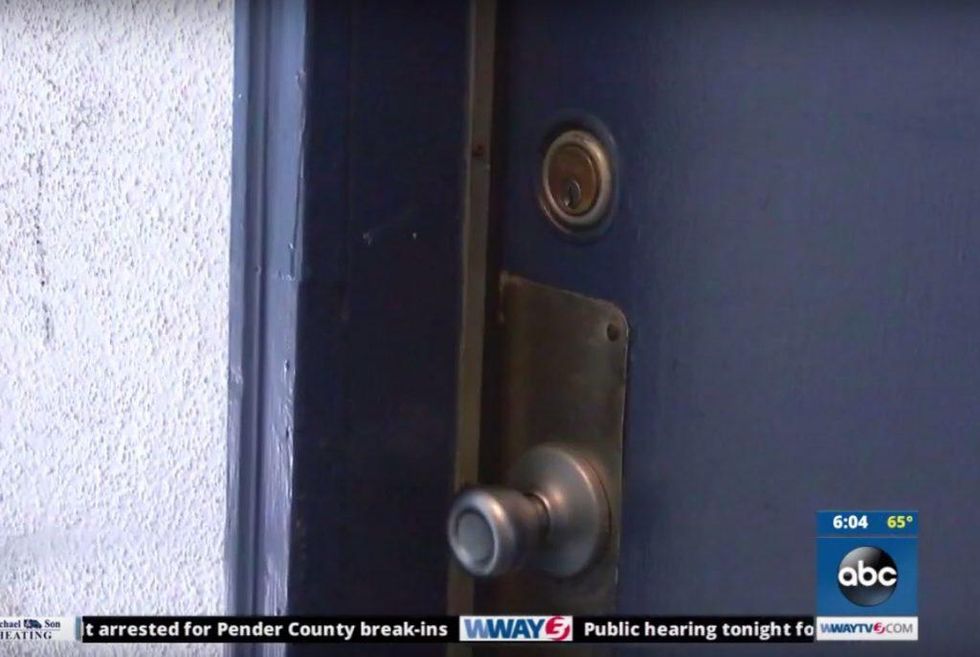 Image source: WWAY-TV
"We had a tussle, and he choked me and gagged me, and I dropped everything right there in the kitchen," she told the StarNews. "He knew my name, he knew my boyfriend's name, and he was like, 'Give me the money.'"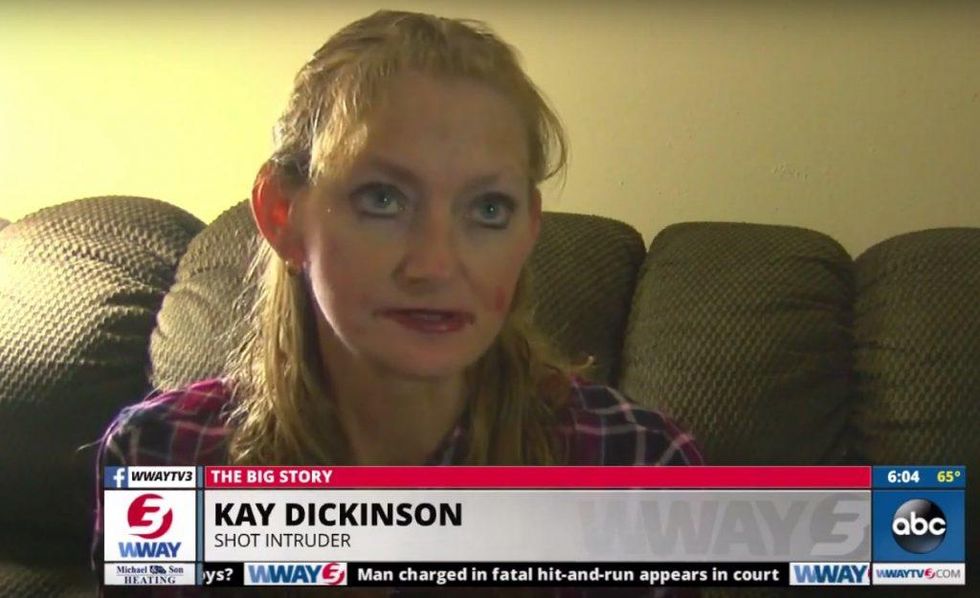 Image source: WWAY-TV
"When he had me pinned up against the stove, all I could think about was my knife block, how easy it would be to turn around and grab a knife and stab him because I just wanted him off of me," she added to the paper. "I was thinking, 'This man is going to kill me.' I really did. And when he took me to the bedroom I was thinking, you know, 'Is he going to rape me?'"
In the bedroom, he tied Dickinson's hands behind her back with a belt and wrapped a cellphone charger cord around her mouth, the StarNews said. But while the intruder searched her apartment, the paper said Dickinson managed to wriggle her hands free.
"I got loose from the belt," she told WWAY. "And I had a gun sitting on a Bible on my headboard. I jumped up on the bed, grabbed the gun, turned around and just pulled the trigger."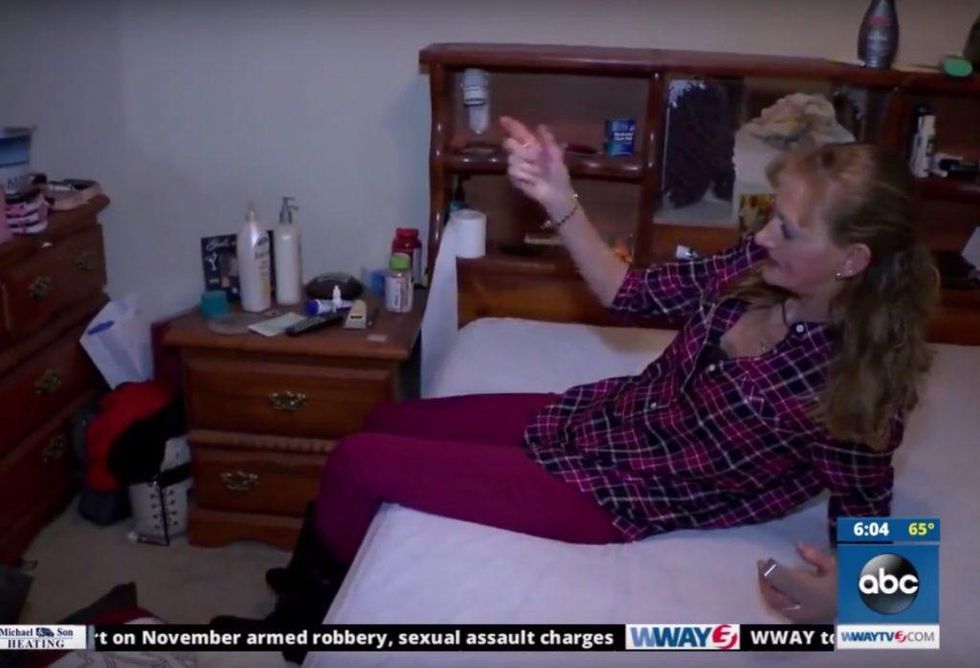 Image source: WWAY-TV
Dickinson fired one shot, and it hit the intruder in the chest, the StarNews said. He headed down the hall but fell down in her doorway where he soon died.
Police told the paper the intruder was Willie Franklin Stith III, 35 — who'd garnered for himself quite the rap sheet.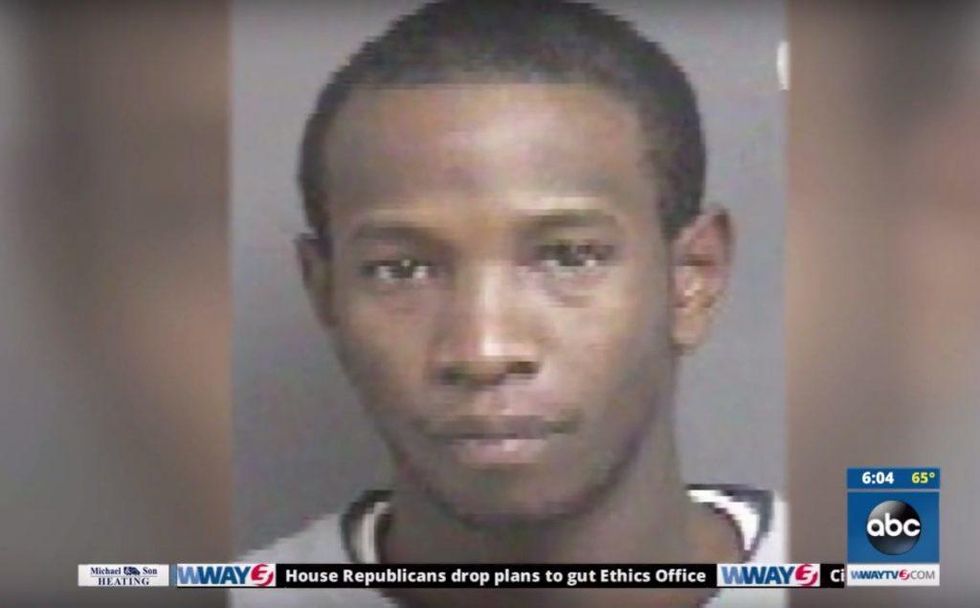 Willie Franklin Stith III (Image source: WWAY-TV)
Records showed more than a dozen convictions for him between 1998 and 2002, the StarNews reported, including second-degree burglary, possession of stolen goods, larceny, breaking and entering vehicles and assault on a public official.
More from the StarNews:
Stith was featured in a 2008 StarNews story about local authorities using federal sentencing guidelines to keep armed offenders off the streets. After police searched Stith's home in 2003 and found heroin, a pistol and a shotgun, Stith pleaded guilty in U.S. District Court to possession of a firearm by a convicted felon and was sentenced to 10 years in federal prison.

Incarceration records show that Stith was released from a Franklin County prison in September 2006 after three years and three months, and then went to federal prison until he was released in September 2015.

State records do not list him as being on probation or parole.
Wilmington Police Department spokeswoman Linda Rawley told the StarNews no charges have been filed in the shooting. A New Hanover County District Attorney spokeswoman told the paper that the office won't decide on whether to file charges until after the police investigation.
Dickinson told the paper that she called 911 as soon as Stith fell to the floor.
"I didn't know if he was alive or dead," she told the StarNews. "He was grunting, but I didn't know ... I had my hands up when the police officer came to the door, and they took me out of here pretty quick."
Dickinson was treated at a hospital for bumps and cuts on her head, and her finger she hurt hurt while firing her gun got wrapped up. Police interviewed her through the night, the paper said, and her boyfriend took her home around 6 a.m. Dickinson managed an hour's sleep, the StarNews said.
Her boyfriend, Lawrence Murphy, called Dickinson's actions heroic.
"Well ... if somebody come in your house the way they did hers ... " he told WWAY, "I think you know that she did what she felt like she had to do to survive."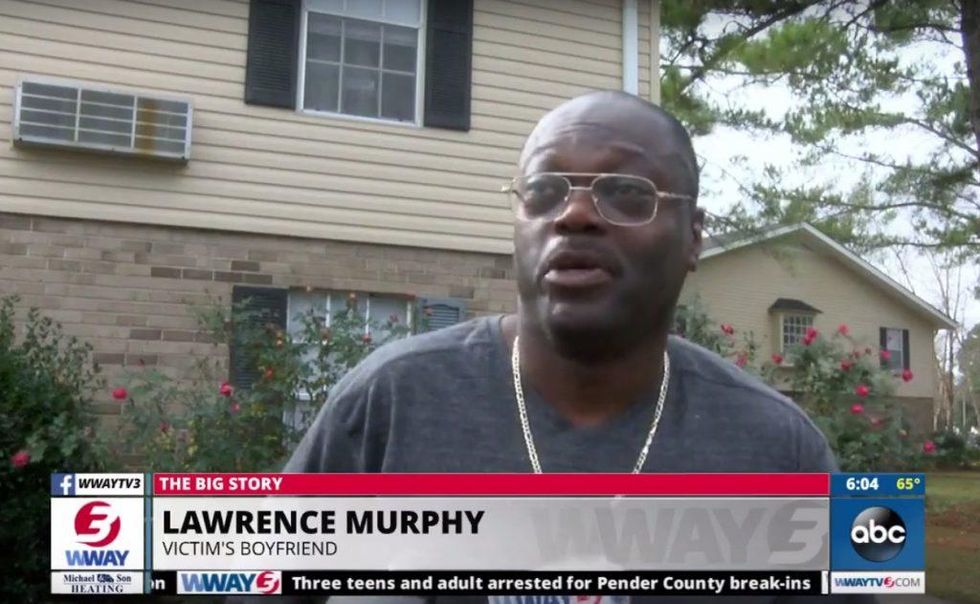 Image source: WWAY-TV
While Dickinson told the station she hopes to find a new place to live, she won't soon forget the moment she looked at her gun on top of the Good Book.
"As soon as he took me in the bedroom, I looked over and the gun was sitting there, and I was like, 'There's a reason why that gun is sitting there,'" Dickinson told WWAY. "I was just hoping he wouldn't see it."
(H/T: Bearing Arms)