South Carolina parents are fuming after their children's sixth grade school teacher handed out a worksheet titled "The Five Pillars of Islam."
Students at Alston Middle School in Summerville, South Carolina, were assigned the worksheet, which tested their knowledge of the Quran, WCSC-TV reported.
One section of the worksheet instructed students to match certain passages from the Quran with the Pillar it most closely supports. One of the questions in that section quoted a verse from the Quran, which reads: "Allah: There is no god but Him, the Living, the Eternal One. Neither slumber nor sleep overtakes Him." The correct corresponding pillar was for that particular passage was the first Pillar of Islam, which states, "Proclaim there is no god but Allah, and Muhammad is his Prophet."
Another section had students fill in the blanks. One statement, once completed, referred to Islam as a "religion of peace." Another blank instructed students to say how Muslims feel that "a few people of my religion committed terrorist acts." Pupils were also asked to circle whether Muslims "do" or "do not" believe in "terrorists' idea of a 'holy war.'"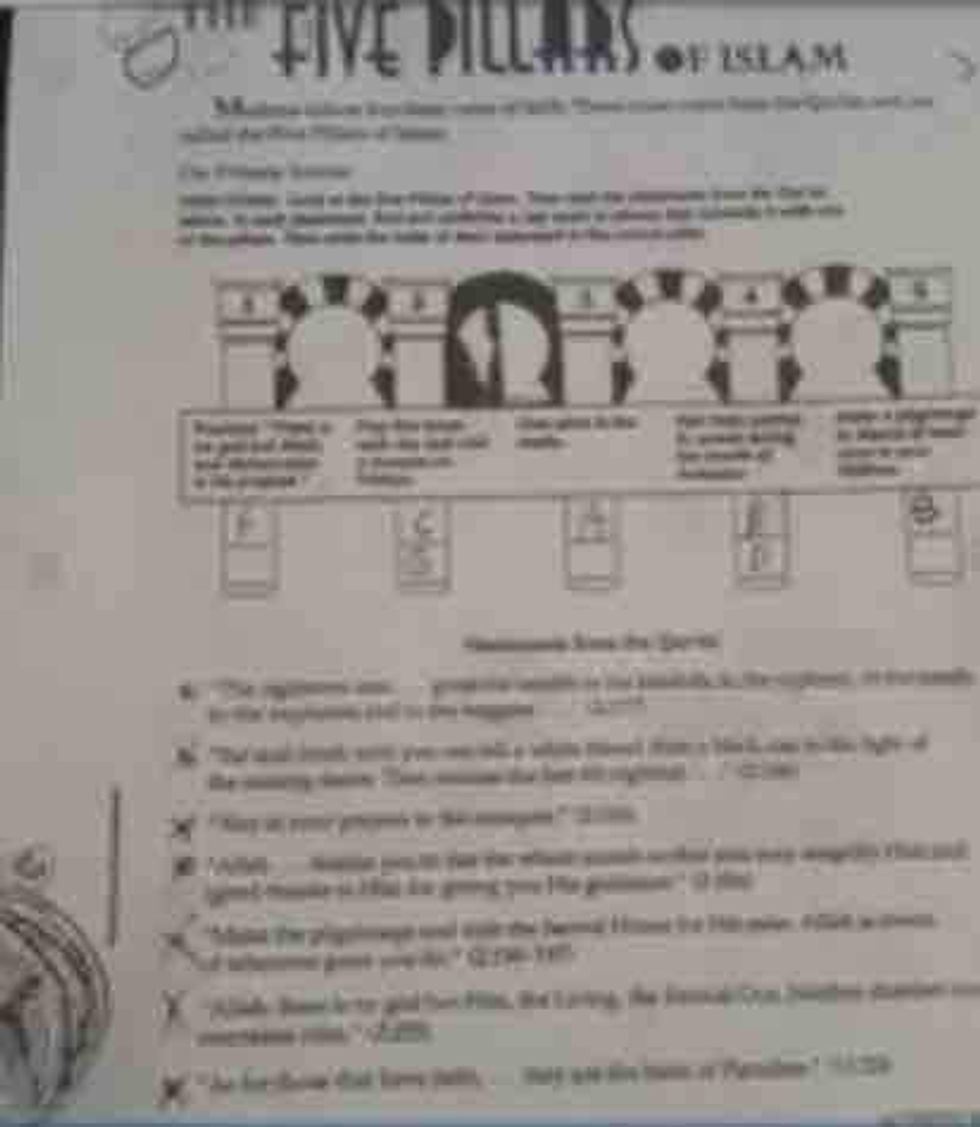 Image source: WCSC-TV
But one mother, who the station did not identify, said she believes the school should have asked parents' permission before giving the assignment. The same mother insisted that she's not the only angry parent, although she didn't say how many others took issue.
"Our concern is that if they need permission to teach sexual education, they should be getting permission to teach religious values," she said.
Meanwhile, Dorchester District II spokeswoman Patricia Raynor told WCSC-TV that the assignment was intended only as a "teaching tool" and not to promote any particular religion over another. Raynor said the worksheet was handed out as part of the students' study of a civilization, adding that one of the next assignments covers Christianity as it relates to the ancient civilization of Rome.
Raynor added that the same curriculum is taught "in all school districts in South Carolina."
The South Carolina Department of Education's sixth grade social studies curriculum standards, provided to WCSC-TV by Raynor, states that "in Modern World History, students will describe the proliferation of religious ideas, including the expansion of Islam, the competition between Protestants and Catholics throughout Europe and the spread of Buddhism through East and Southeast Asia."
Raynor said the district is willing to "work with our families" if a parent does not want their child to learn about a specific topic.
Live5News.com | Charleston, SC | News, Weather, Sports