It all started when Cody Albrecht — a student at Bethel University, a Christian school in Minnesota — showed up to class wearing a Chicago Blackhawks sweatshirt last month.
The act may not have been a big deal, except that Albrecht donned the hockey team shirt following a break in his "Social Perspectives, Human Worth and Social Actions" class, which had just screened "Dakota 38" — a documentary about 38 people from the Dakota tribe who were hanged, the largest one-day execution in American history, student newspaper The Clarion reported.
What's more, the class instructor — James Jacobs — is Native American.
The use of Indian mascots for sports teams has been an ongoing national issue, with some saying the logos are offensive and others disagreeing.
Apparently, Albrecht realized his sweatshirt was causing tension in class, and The Clarion said fellow classmates recalled that he offered to turn his shirt inside out.
The incident didn't sit well with Jacobs, who posted about it on Facebook. While he later took down the post, the College Fix said it obtained a copy — dated April 19 — and published a screenshot. It reads: "So your college professor is a Native American. A Native American who has spoken multiple times about the offensiveness of Indian Mascots. Yet you come to class with an Indian mascot sprawled across your shirt… Bold move sir."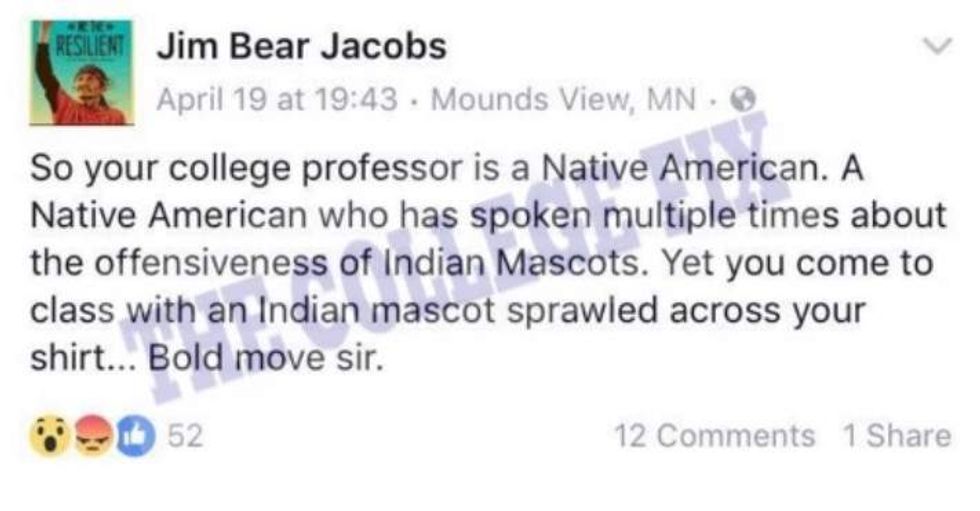 Image source: The College Fix, used by permission
About a week later, Jacobs posted about the incident a second time on Facebook — and this post was still up Tuesday morning.
Jacobs explained that he put up his first post — in which Albrecht wasn't named — only because he "didn't expect the university to get involved. It has been my experience with other institutions in the past that situations like this would be minimized, so I really didn't expect anything to come of it."
He said that since his first Facebook post, "the student has made a public apology in class and expressed what they had learned from this process." But Jacobs acknowledged that after the apology, others outside the class learned the student's identity and "sent the student some strong messages."
"If you're on campus and know of this situation please don't send the student discouraging messages," Jacobs said. "They have truly matured and learned from this experience and we have taken big steps in the reconciliation process."
In his apology, Albrecht noted an email he received from the social work department and a private reconciliation between him and Jacobs, The Clarion reported. In Jacobs' second Facebook post, he wrote that he and the student "had a lengthy conversation about it and the student really listened to why those images are offensive and hurtful."
Jacobs declined The Clarion's request for an interview, the paper reported, and said "all parties involved agreed it wouldn't be beneficial to the reconciliation process at this point."
But others indeed had some things to say.
On Jacobs' second Facebook post, commenter Tina Joy wrote that Jacobs deleting his initial post "should be indication enough that you were wrong in posting. This 2nd post is merely a justification of your behavior. You acted unprofessionally, ignorantly, and dehumanizing towards the student."
Jacob Schneider, commenting on The Clarion's Facebook page, asked, "Is this satire? I'm so confused. The guy wore a Chicago Blackhawks sweatshirt to class and had to make a public apology....?"
Albrecht also commented, noting he was disappointed that The Clarion article was published but that it's "something that I have to own." He said that wearing the sweatshirt was "not worth the damage and the hurt/torment that I could cause so many others who are so deeply impacted by this logo and what it represents."
"Professor Jacobs and I both did things wrong in this situation, but the reconciliation effort between him and I and the rest of the class was beautiful, Christlike and was filled with Christ love," Albrecht said.
TheBlaze on Tuesday didn't immediately hear back from Jacobs after asking him if he regrets his initial Facebook post.