Republican President Donald Trump bathed the White House in blue light Monday night to honor fallen cops for Peace Officers Memorial Day.
Trump's action began Police Week, which honors 118 officers who died and 66 who were injured in the line of duty in 2016 — a 40 percent increase over 2015, the president said.
#PeaceOfficersMemorialDay and #PoliceWeek Proclamation: https://t.co/o4IXVfZuHw https://t.co/UMJ6hklx4a

— Donald J. Trump (@Donald J. Trump) 1494899263.0
The significance of Trump's gesture stands in opposition to former President Barack Obama, who was asked by the Federal Law Enforcement Officers Association Foundation last July to light the White House blue after the deadly attack on police in Dallas, the Washington Examiner reported.
Obama had flags flown at half-mast for police, the paper reported, but didn't shine the blue light on the White House.
The former president did, however, illuminate the White House in rainbow colors after the Supreme Court declared same-sex marriage legal in June 2015.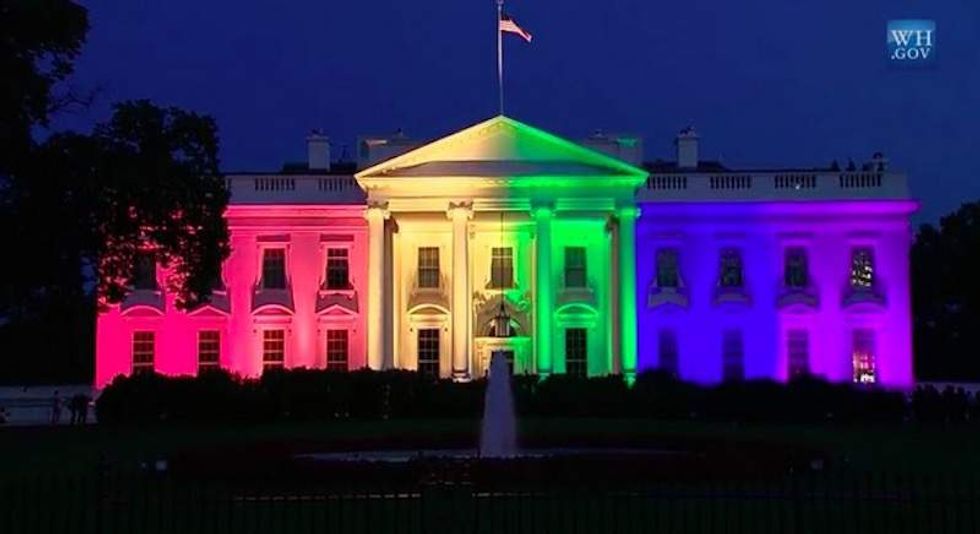 Image source: YouTube screenshot
The relationship between Obama and law enforcement was tense at best. Just before Obama was set to leave office in January, a national police leader — commenting on Obama's history of not backing cops — told TheBlaze that "no one is sorry to see this guy go."
Trump, on the other hand, makes no bones about his admiration for police and has long pledged to hold them in high esteem.
"Police officers are the thin blue line whose sacrifices protect and serve us every day," Trump said in his Police Week proclamation, "and we pledge to support them as they risk their lives to safeguard ours."