At the 2017 California Democratic convention over the weekend, the anger over President Donald Trump was palpable.
Speaking at the convention, outgoing California Democratic Party chairman John Burton reportedly led the crowd in a "f**k" Trump chant while holding up two middle fingers, according to video and pictures taken at the event.
The Associated Press confirmed the accounts. From its report:
In a sign of the vigor of the party's distaste for the president, outgoing party Chair John Burton, a longtime Democratic lawmaker and powerbroker known for his blunt and profane manner, extended two middle fingers in the air as the crowd cheered and joined him.

"F--- Donald Trump," he said
Outgoing @ca_dem chair @Johnburton gets standing O w final words to his party, finger upraised: "F@ck Donald Trump!" https://t.co/VIqNQlhDJc

— Carla Marinucci (@Carla Marinucci) 1495305467.0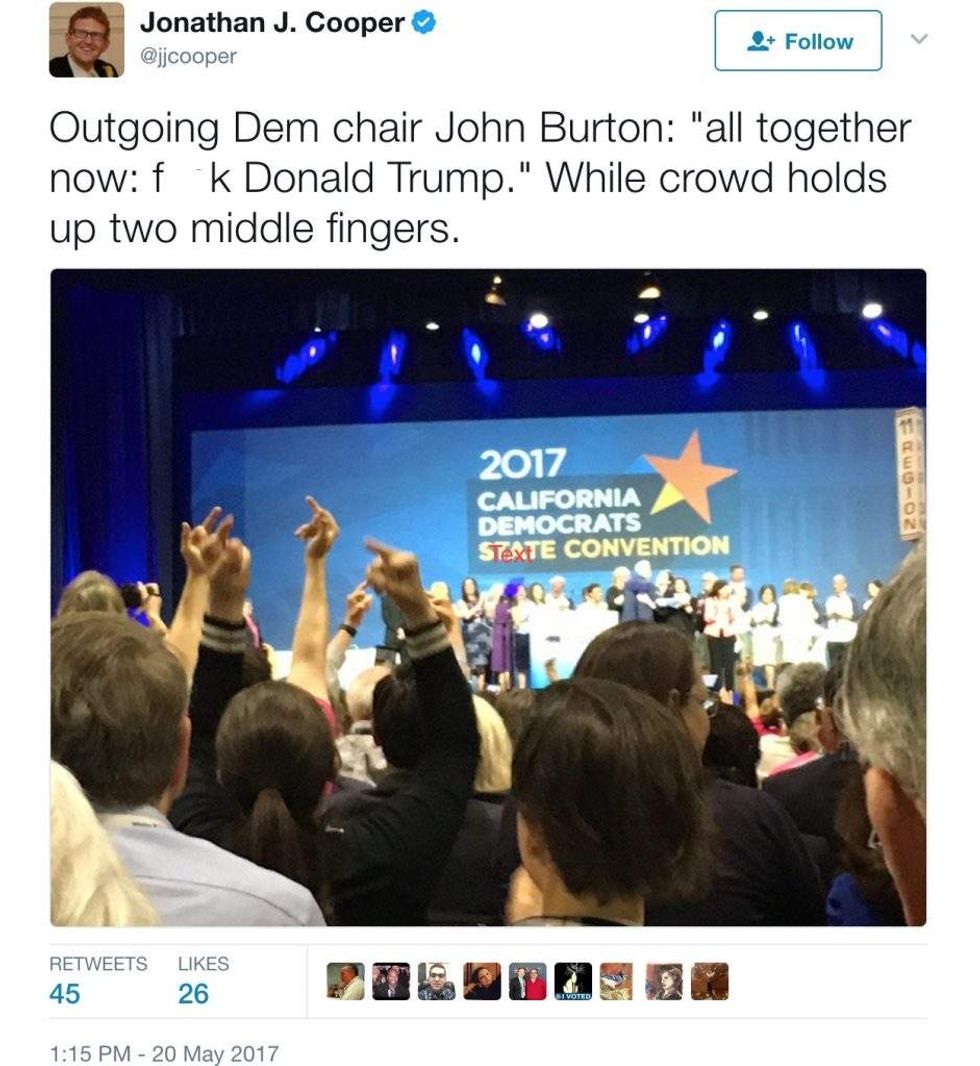 Image source: Twitter screenshot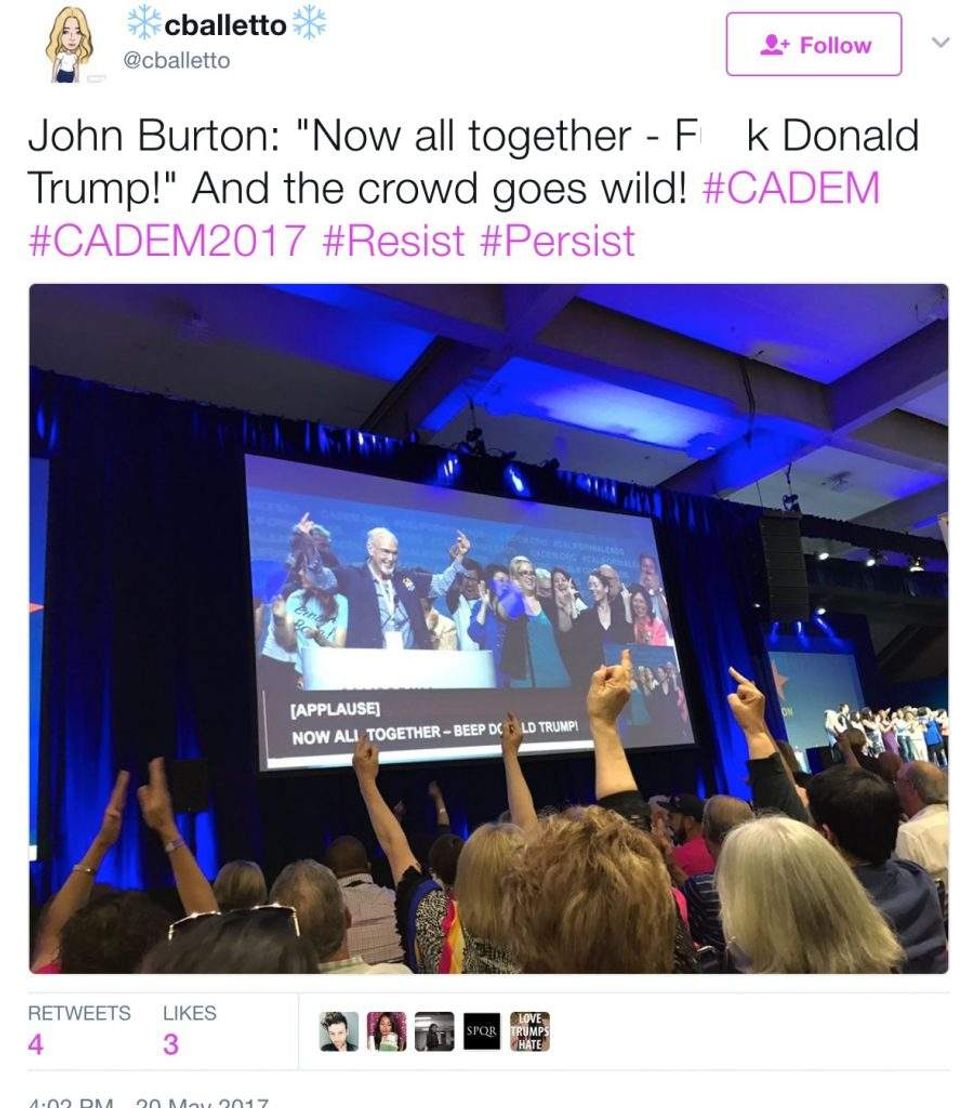 Image source: Twitter screenshot
A reporter for the Sacramento Bee called Burton's outburst a "mic drop" moment for 84-year-old politician.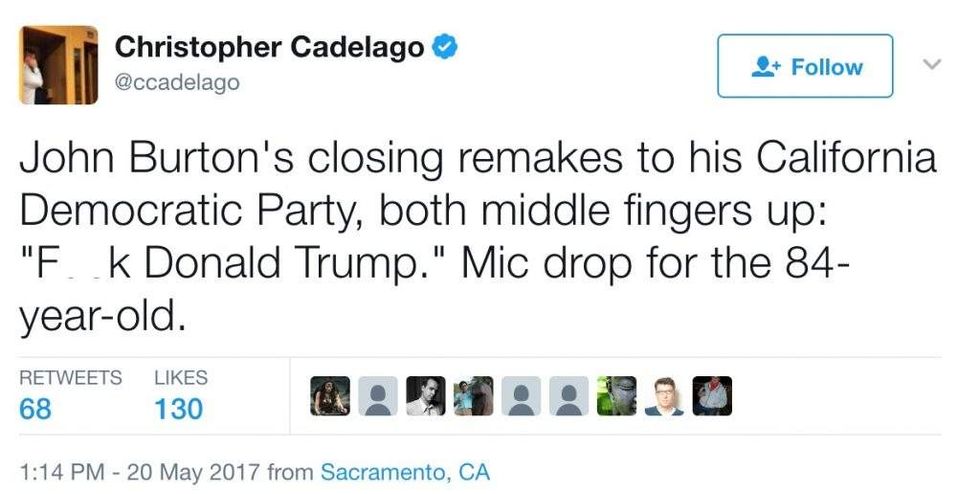 Image source: Twitter screenshot
Burton, who has been the leader of the California Democratic Party since 2009, was previously a member of the U.S. House of Representatives, representing California in two districts. He also served in the California General Assembly on two separate occasions.
During the convention, Burton was also caught on camera telling protesters to "shut the f**k up and go outside" prior to Democratic National Committee chairman Tom Perez taking the stage, according to a reporter.
'Shut the fuck up and go outside,' #CADem17 chair John Burton tells protesters b4 @TomPerez speaks pic.twitter.com/aKwhXl9n1u

— David Siders (@davidsiders) May 20, 2017
A separate picture also appears to show House Minority Leader Rep. Nancy Pelosi (D-Calif.) and former Labor Secretary Hilda Solis, who served under former President Barack Obama, laughing on stage while Burton has his middle fingers in the air.
Outgoing CA Dem Chairman John Burton gives fingered salute to #President @realDonaldTrump at CA Dem Convention… https://t.co/Dt6GSf6Mw6

— Jay L. Clendenin (@Jay L. Clendenin) 1495305630.0