Former world heavyweight boxing champion George Foreman leveled a big-time haymaker, in a manner of speaking, to former 49ers quarterback Colin Kaepernick and other like-minded athletes who won't stand for the national anthem before games and refuse to visit the White House after championships.
Foreman said in an interview Monday with the Offended America Podcast that "a lot of us died in war so that [Kaepernick] could have that privilege" of taking a knee when "The Star-Spangled Banner" is played.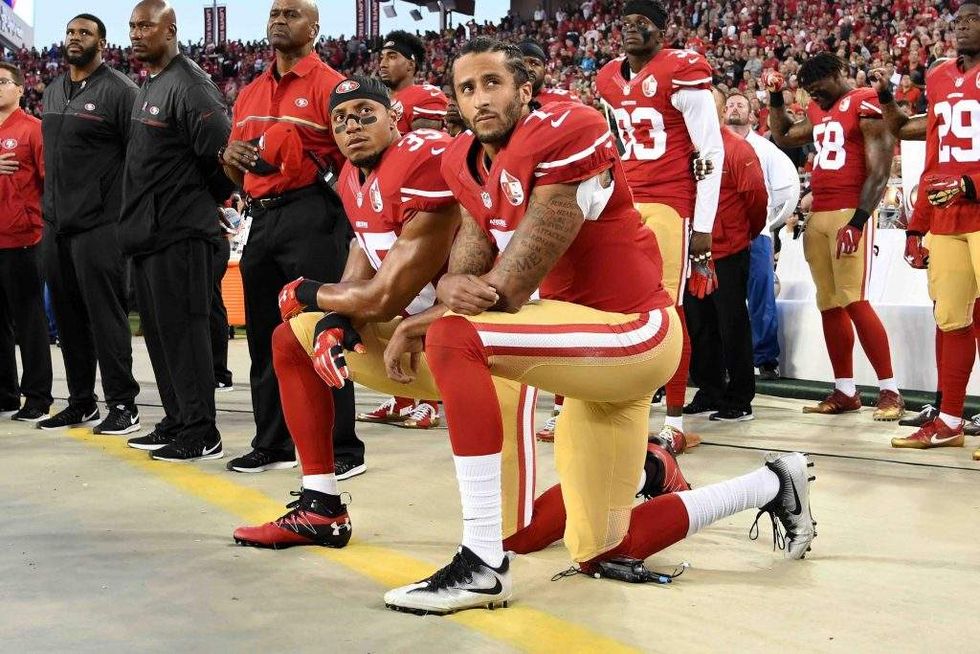 Former San Francisco 49ers quarterback Colin Kaepernick marked the Fourth of July holiday by criticizing the U.S. and quoting a socialist African leader. Kaepernick stirred up controversy last year by refusing to stand for the national anthem before the games. (Thearon W. Henderson/Getty Images)
"The greatest day of my life was when I put on my colors, representing the United States in the Olympics," Foreman said, recalling his boxing gold medal in 1968. "I love the United States. I love the flag. But there are a lot of people who haven't found that reason. They don't strive. They haven't been brought up with people who were patriotic to even point them in the right direction."
He also called NBA star Kevin Durant and other athletes "sore losers" for saying they won't visit the White House because Republican President Donald Trump sits in the Oval Office.
For his part, Foreman is a big Trump supporter — and won't soon forget how Trump supported him after he came out of retirement and then at age 42 challenged Evander Holyfield for the title in 1991 in Atlantic City, bringing a lot of money Foreman's way with pay-per-view receipts.
"I was broke, too. Bankrupt," Foreman said. "But [Trump] put me back. He's part of writing those checks so I could be back on the wealthy side again."
In the end, Foreman's legend simply dwarfs what most of today's superstar athletes are about — and he knows it.
"I don't pay much attention to what kids do," he noted during the podcast. "One thing about 'young' is that you just say anything and do anything — then you get old and you say, 'I wish I hadn't said that.'"
Check out the interview below. The relevant portion begins just after the 22-minute mark:
(H/T: Young Conservatives)