A liberal organization has vowed to pressure Fox News' advertisers after the online publishing side of news organization ran a story on Friday linking one of the women accusing Roy Moore of sexual misconduct to Hillary Clinton's campaign.
What happened?
On Friday, FoxNews.com published a story linking a Roy Moore accuser to Hillary Clinton's campaign.
One of the women accusing Republican Senate candidate Roy Moore of sexual impropriety reportedly worked as a sign l… https://t.co/GCNgxA4FCN

— Fox News (@Fox News) 1510353791.0
From the story:
Deborah Wesson Gibson, who told The Washington Post that she briefly dated Moore when she was 17 and he was 34, founded the language interpreting company, Signs of Excellence, and has worked for a number of democratic campaigns, according to Alabama Local News.

The company's Facebook page shows Gibson working for and posing with several Democrats at political rallies including 2016 presidential nominee Hillary Clinton, former Vice President Joe Biden, former Sen. Patrick Murphy, D-Fla., and Sen. Bill Nelson, D-Fla.
However, the story was posted without a byline. Bylines inform readers who the author of a story is. Posting a story without a byline typically means the publication doesn't want to put an author's name on it because they know it could receive blowback.
How did people react?
To say the story wasn't received well would be an understatement.
Fox News is disgusting https://t.co/I5ob50Z5e2

— Dan Pfeiffer (@Dan Pfeiffer) 1510356189.0
Somebody should start a running lists of Fox News article nobody will put their byline on. https://t.co/IBmfo9n1Jh

— Clara Jeffery (@Clara Jeffery) 1510356947.0
Whoever ordered this up at @FoxNews ought to have the guts to be on the byline. #ALSen https://t.co/omk8bNo2fd

— Eric Bradner (@Eric Bradner) 1510357434.0
But a boycott?
Yes. Shannon Coulter, a co-founder of the #GrabYourWallet campaign, wrote on Twitter Friday after the story was published that she would be adding Fox News' advertisers to her list of companies to boycott. She created the movement last year as a way to keep a running list of companies that support the Trump family and to know which companies to boycott.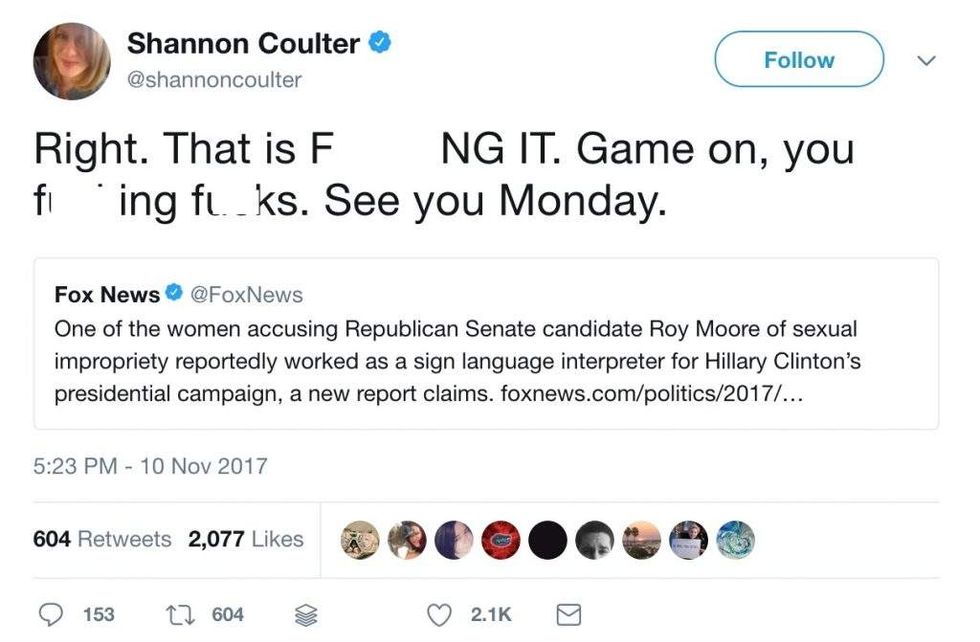 Image source: screenshot
I'm going to add all of @FoxNews' advertisers to the #GrabYourWallet list and we're all going to call and email and… https://t.co/G4buRcGvdO

— Shannon Coulter (@Shannon Coulter) 1510357125.0
She later added in separate tweets:
The biggest mistake advertisers can make right now is to assume people's actions against Fox News are partisan. It doesn't have a thing to do with politics. We are not boycotting the advertisers of National Review or The Weekly Standard. This is about decency and respect. Today Fox News sent a very clear signal it intends to use its incredibly large and powerful platform to create narratives & angles designed to undermine the women speaking out against Roy Moore. No.

Three hours ago, I would have parsed the differences between the various Fox shows and hosts and who said what on which one. No more. It's a morally bankrupt propaganda machine for the worst, most damaging parts of our culture. Despite overwhelming evidence in the culture at large that this is anything but a partisan issue, Fox News is callously attempting to make it one. No. This is the line. Fox News crossed it.