© 2023 Blaze Media LLC. All rights reserved.
Chase Bank does about-face, apologizes for Gen. Flynn credit card cancellation letter, says it 'made an error'
Chase Bank on Tuesday told TheBlaze it has apologized for the credit card cancellation letter that retired Gen. Michael Flynn — former national security adviser under former President Donald Trump — posted on his Telegram social media page Sunday.
Chase's Aug. 20 letter reads, in part, "we decided to close your credit cards on September 18, 2021 because continuing the relationship creates possible reputational risk to our company."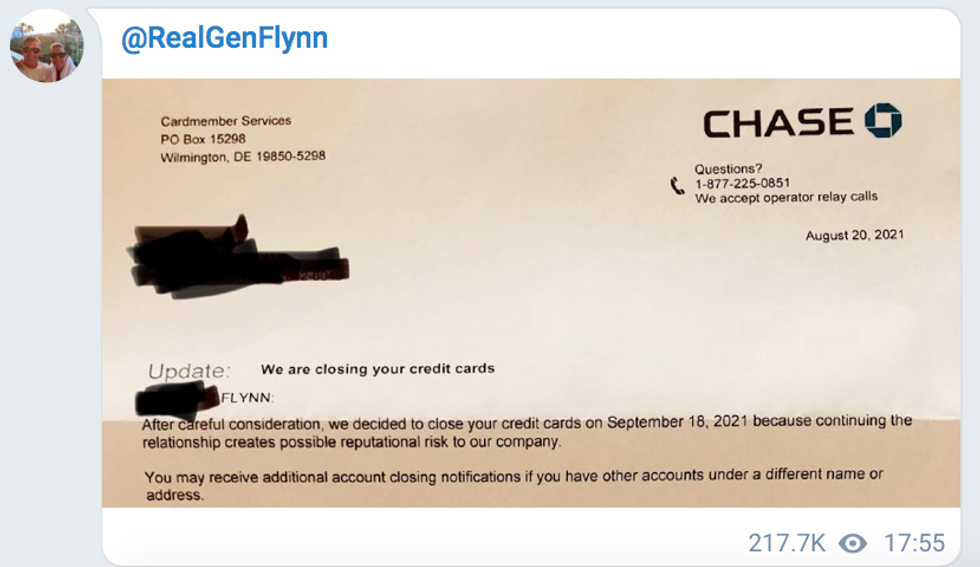 Image source: Telegram
Chase Bank also told TheBlaze that "we made an error" in reference to the cancellation letter.

What's the background?
Flynn on Sunday posted on Telegram the above image of the Chase letter with the addressee text crossed out — as well as a stinging retort directed at the bank:

Image source: Telegram
"Chase Bank has gone full blown woke!" Flynn wrote. "They need to deal with their own reputation instead of persecuting my family and I. [Department of Justice] dropped my case for their own egregious government misconduct, appears you weren't that lucky with the DOJ. I guess my America First political views don't align with yours. Your loss."
Flynn's reference to Chase's "own reputation" presumably is connected with a DOJ press release link he posted next stating that "JPMorgan Chase & Co. Agrees To Pay $920 Million in Connection with Schemes to Defraud Precious Metals and U.S. Treasuries Markets."
On Monday TheBlaze asked Chase to comment on Flynn's implication that the bank canceled his credit cards, and a Chase spokesperson replied, "We are declining to comment." But on Tuesday the bank reversed course and contacted TheBlaze with a statement of apology and admission of error.
'Her'
It's also worth reading the full Tuesday statement to TheBlaze from the Chase spokesperson: "We've contacted our customer to let her know that we made an error and we apologized for any inconvenience this caused."
So if Flynn complained about the credit card cancellation letter, who is the "her" that Chase refers to as the "customer" it contacted with an apology?
Well, Chase would not comment to TheBlaze about that, but there are some clues.
Flynn in his Telegram retort to Chase doesn't say the Chase letter was sent to him personally. He only accuses Chase of "persecuting my family and I."
In addition, the recipient's name and address are blacked out in the image of the letter Flynn posted. All that remains is the surname "Flynn" in the greeting section. But TheBlaze magnified the blacked-out sections and used the iPhone photos app to adjust the contrast and filter out the black — and noticed the letters to the left of "Flynn" don't appear to be part of the names "Mike" or "Michael." However, they may be part of the name "Lori," who is Flynn's wife.
TheBlaze on Tuesday asked Chase if the "her" in its statement refers to Lori Flynn, but the bank has not yet commented on that question.
Flynn calls out 'Chase Bank cancel culture nonsense'
Flynn sent the following message Monday to his 282,000 Telegram followers: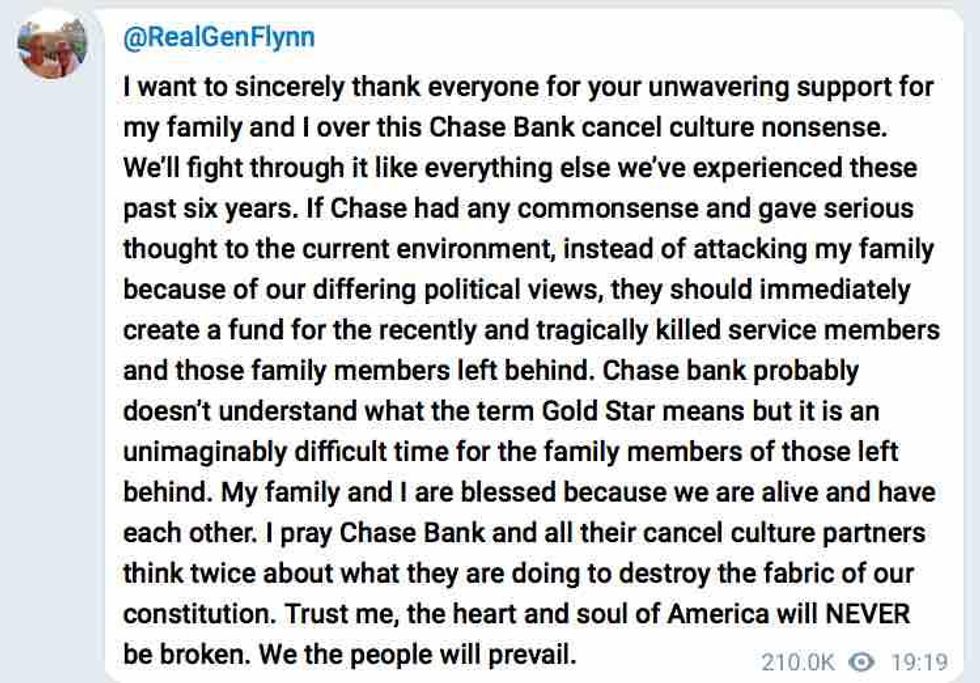 Image source: Telegram
"I want to sincerely thank everyone for your unwavering support for my family and I over this Chase Bank cancel culture nonsense," he wrote. "We'll fight through it like everything else we've experienced these past six years. If Chase had any commonsense and gave serious thought to the current environment, instead of attacking my family because of our differing political views, they should immediately create a fund for the recently and tragically killed service members and those family members left behind. Chase bank probably doesn't understand what the term Gold Star means but it is an unimaginably difficult time for the family members of those left behind. My family and I are blessed because we are alive and have each other. I pray Chase Bank and all their cancel culture partners think twice about what they are doing to destroy the fabric of our constitution. Trust me, the heart and soul of America will NEVER be broken. We the people will prevail."

Anything else?
Flynn had pleaded guilty to lying to the FBI over conversations he had with a Russian envoy, but he then withdrew his guilty plea and asserted his innocence after his new legal team produced evidence suggesting he was targeted. Trump gave Flynn a full pardon last November.
In December 2020, U.S. District Judge Emmet G. Sullivan — who was presiding over the criminal case against Flynn — dismissed the case while emphasizing that Trump's pardon doesn't mean Flynn is innocent.
And this past March, another Flynn brother — John "Jack" Flynn — and his wife filed a $75 million defamation lawsuit against CNN, alleging the cable network falsely accused them of being supporters of the QAnon movement.
Want to leave a tip?
We answer to you. Help keep our content free of advertisers and big tech censorship by leaving a tip today.
Sr. Editor, News
Dave Urbanski is a senior editor for Blaze News.
DaveVUrbanski
more stories
Sign up for the Blaze newsletter
By signing up, you agree to our
Privacy Policy
and
Terms of Use
, and agree to receive content that may sometimes include advertisements. You may opt out at any time.