Progressive radio host David Pakman appeared to suggest on Monday that the victims of the Covenant School massacre would not have died if they had prayed more.
"Very surprising that there would be a mass shooting at a Christian school, given that lack of prayer is often blamed for these horrible events," Pakman said in a now-deleted tweet.
"Is it possible they weren't praying enough, or correctly, despite being a Christian school?" he added.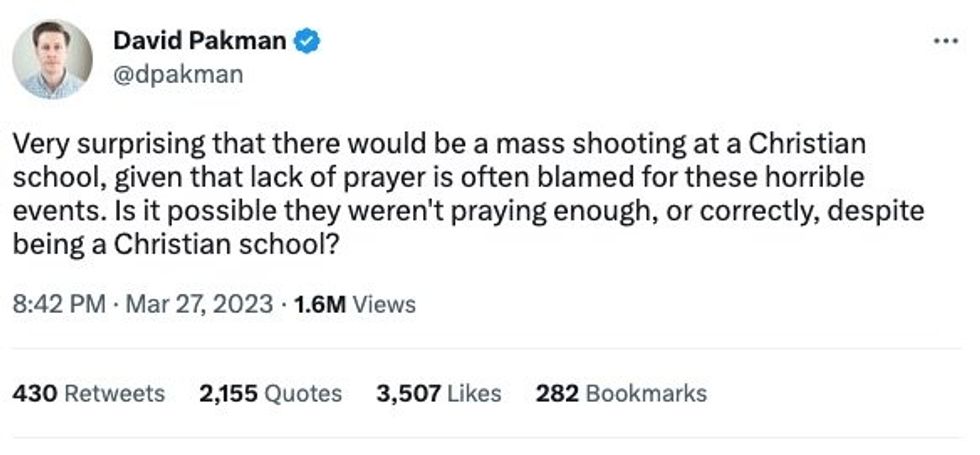 The point of the tweet, Pakman later claimed, was to mock Republicans for offering "thoughts and prayers" after shooting massacres as opposed to advocating for gun control.
"I'm not mocking the faith of the slain children, I'm mocking the absurdity of every Republican who sends thoughts and prayers and does nothing else to actually stop the scourge of gun violence," Pakman claimed on Tuesday in response to outage against him.
However, those who cite prayer after massacres do not argue that a "lack of prayer" would have prevented the massacres. Rather, they invoke prayer as their response to the atrocity.
Despite his defense, there were a glaring lack of references to Republicans in his initial tweet. If the point of his tweet was to score political points against Republicans, why not actually include "Republicans" in the tweet?
Indeed, people did not believe Pakman's defense.
Not only was it pointed out that Pakman said nothing about Republicans, but his exact words were "is it possible they weren't praying enough." The "they" was understood to refer to those at the Covenant School, a Christian school, because there is not another antecedent to which the "they" could possibly refer.
Anything else?
Before deleting the viral tweet, Pakman expressed surprise that he had generated intense backlash against himself.
"Some people are upset with me about this tweet," he said, in a now-deleted tweet.
Interestingly, Pakman appeared to suggest, in another now-deleted tweet, that he only deleted his viral tweet because he was being attacked online — not because he is sorry.

Like Blaze News? Bypass the censors, sign up for our newsletters, and get stories like this direct to your inbox. Sign up here!