A group of teenagers were arrested after vandalizing and stealing property from a local elementary school in Florida, according to Fox News.
Two 14-year-olds, a 15-year-old, and a 16-year-old teen ransacked Spruce Creek Elementary in Port Orange, Florida, approximately 60 miles outside Orlando.
While it is not entirely known what exactly was taken, investigators, who have yet to complete an inventory of all the stolen items, say that the damage is in excess of $30,000 and could climb once the investigation is completed.
The teenagers flipped over desks and tables, in addition to knocking over filing cabinets and stealing items from multiple portable classrooms.
According to the Port Orange Police Department, the adolescents also broke into two storage sheds during the 2 a.m. rampage, even trying to enter the main building of the school by smashing windows at the entrance.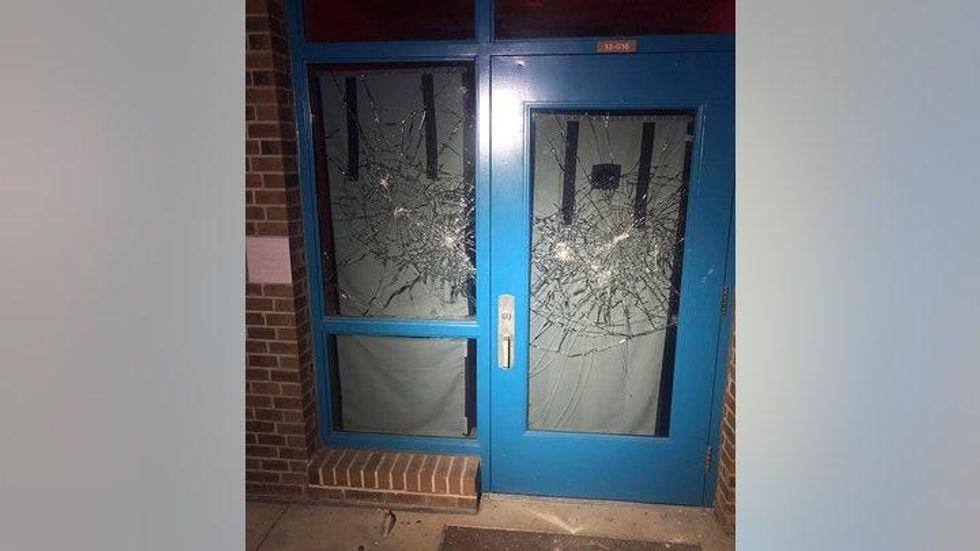 Image courtesy Fox News via Port Orange Police Department
The suspects were recorded on surveillance video outside one of the office gates wearing hooded sweatshirts and masks. One of the teens appeared to be holding a fire extinguisher.
Additional photos show a portable classroom with overturned student desks, tables, and what appears to be a teacher's desk opened and tossed, with papers sprawled out all over the floor.
The four teens face charges for trespassing upon school grounds, as well as the more serious charges of felony criminal mischief (vandalism) and burglary. For felony criminal mischief, penalties could range from one to five years in prison and/or a fine of $5,000 or more, according to CriminalDefenseLawyer.com.
Spruce Creek Elementary has children enrolled from preschool to fifth grade, with approximately 700 students. According to a school info page, about half of the students attending the school are considered economically disadvantaged.
Like Blaze News? Bypass the censors, sign up for our newsletters, and get stories like this direct to your inbox. Sign up here!