Arizona police found a baby in a locked room with dangerous illicit drugs after a traffic stop
The Yavapai County Sheriff's Office said that a Prescott police officer performed a traffic stop of 31-year-old Amber Dawn Lee on Wednesday.
The officer said that Lee was excessively nervous, and so a K9 police dog was used to investigate around the woman's vehicle. That's when the officer discovered 200 fentanyl pills in her backpack and more pills in her shoe.
Officers then obtained a warrant to search the woman's residence.
Partners Against Narcotics Trafficking personnel knocked at the home and announced their entrance into the house. Once inside, they said they discovered an 18-month-old child sleeping in a locked room with 500 pills of fentanyl and a pound of methamphetamine.
Police said that they also arrested 37-year-old Robert Dunmire of Dewey, another resident of the home, after he got into an altercation with officers.
YCSO said the child was placed into the custody of the Department of Child Safety.
The two were booked into Yavapai County Jail and charged with numerous counts including child abuse and possession of narcotics.
A Facebook post from YCSO appeared to show what looked like drugs in baggies on a table with a box of diapers.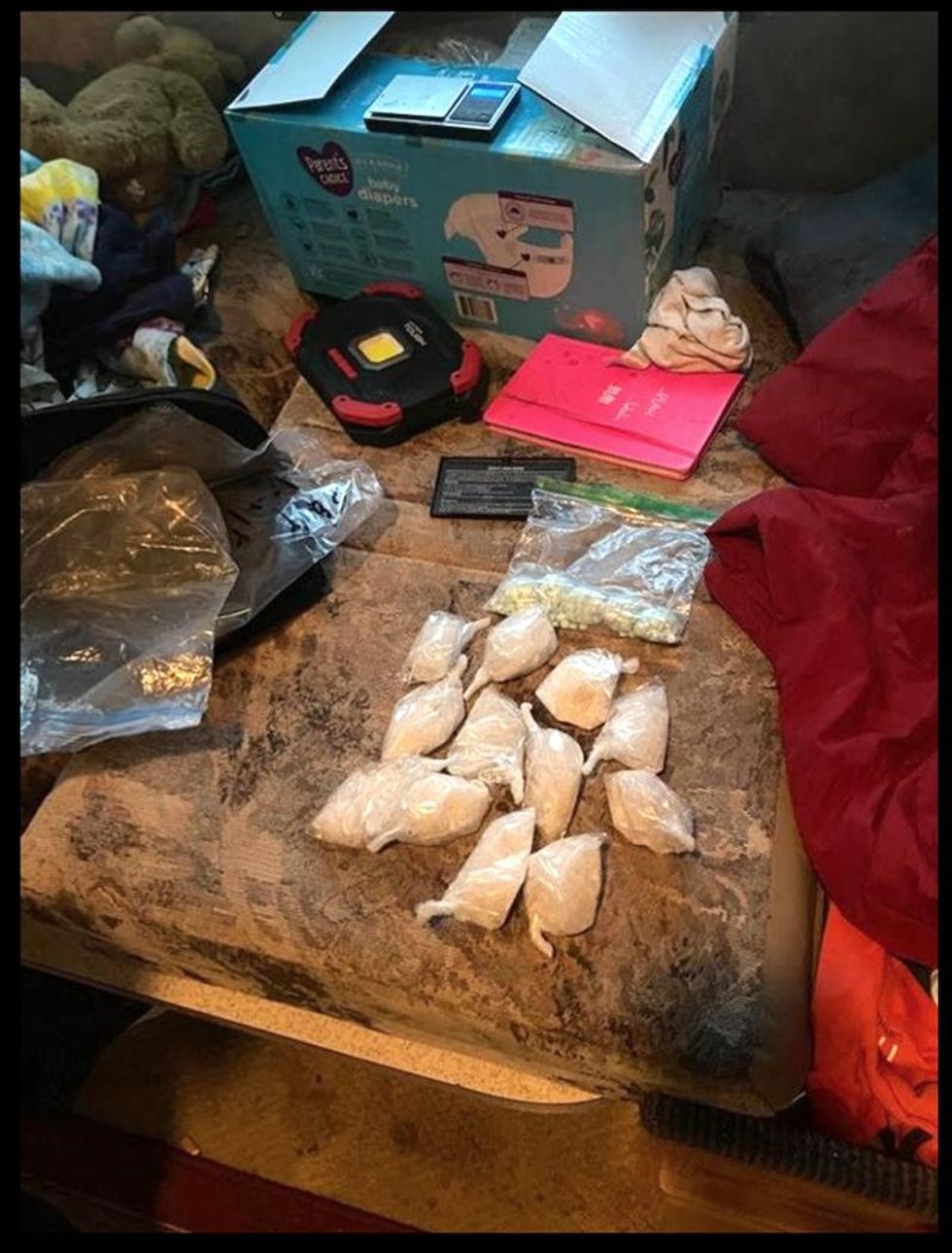 Image Source: YCSO Facebook post screenshot
The opioid crisis has been growing and taxing law enforcement resources across the country.
In one startling incident from February, five adults were found dead from overdosing on fentanyl in an apartment in Denver, Colorado. The only survivor was a 4-month-old baby whose parents perished in the harrowing case.
"Drug distributors and drug cartels are lacing everything with fentanyl right now. No drug is safe right now," said district attorney Brian Mason. "This scene last night looked like a mass homicide scene."
Here's more about the worsening fentanyl crisis:
Texas Sheriff: Fentanyl is POURING across our 'OPEN BORDER' www.youtube.com