A middle school choir teacher in Minnesota recently taught a class full of sixth-graders about various "types of oppression" by separating students into "privileged" and "targeted" categories, during what the school called a "social-emotional lesson."
The revelation is just the latest example of educators and administrators force-feeding critical race theory and progressive political ideology to young, impressionable students — often while the social engineering campaign goes completely unnoticed by parents.
What are the details?
Far from receiving musical instruction, students at Sunrise Park Middle School near St. Paul, Minnesota, recently received a heavy dose of intersectional brainwashing from their choir teacher, Odelis Anderson, according to lesson plan documents obtained by TheBlaze.
In an introductory note, Anderson told students, "Last week, we talked about how hard it is to talk about race, and the level of difficulty is different for different people. For people who are privileged, it's much easier to talk about race and other issues. For people who are not privileged, it's much harder. Today, we will look at different types of oppression, and whether each of us is in the privileged group or the targeted group."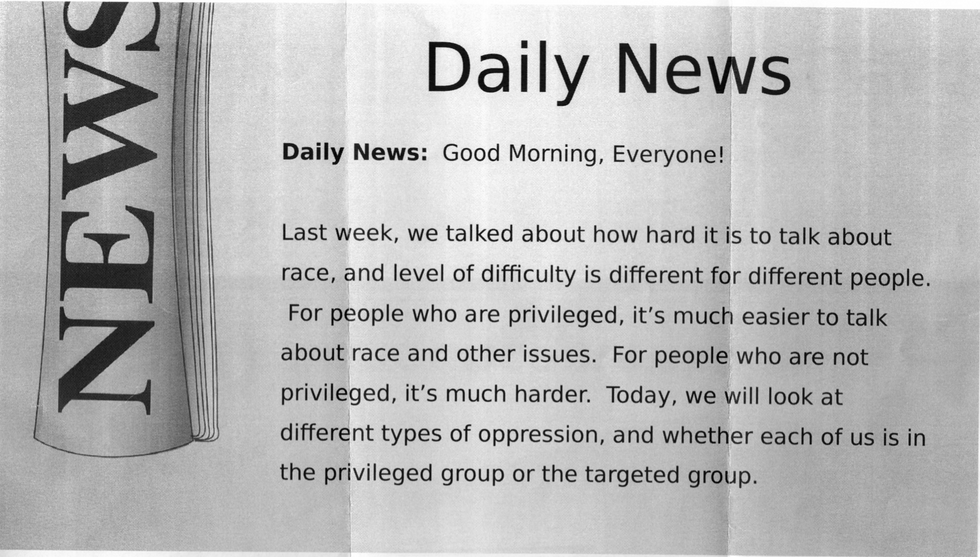 Image Source: Screenshot of Sunrise Park Middle School lesson plan
Then, according to the lesson plan, which the school confirmed as real in an email to TheBlaze, students were asked to view a chart describing different types of oppression as well as "privileged groups" and "targeted groups" and assess which category they belonged in.

The chart listed five types of oppression for the students' consideration: Racism, sexism, religious oppression, heterosexism, and xenophobia.
The "privileged groups" outlined in the chart consisted of individuals who are white, male, Christian, heterosexual, and were born in the United States. The "targeted groups" described individuals who are any ethnicity besides white, who are female, who are Muslim or have any religious affiliation besides Christianity, identify as LGBT, and were not born in the United States.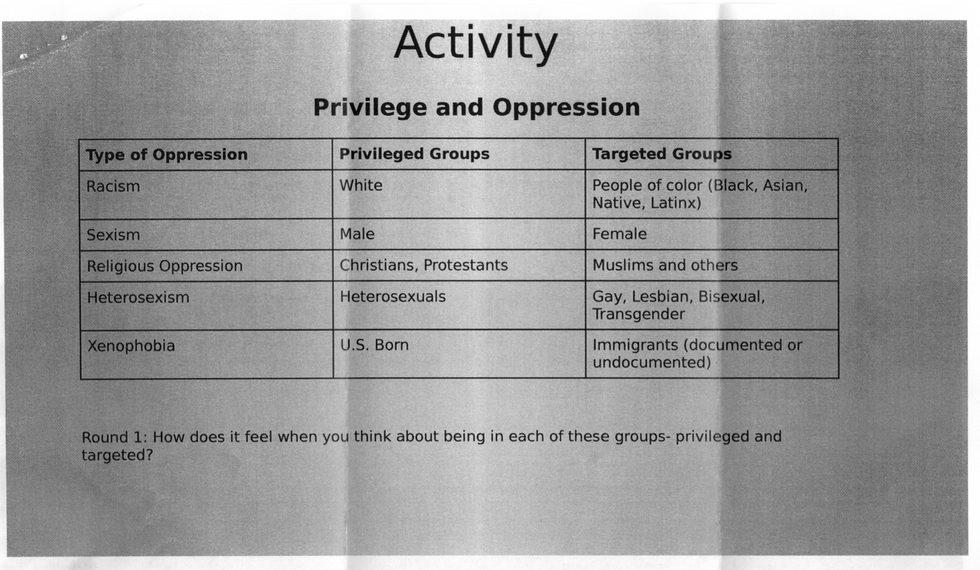 Image Source: Screenshot of Sunrise Park Middle School lesson plan
Anderson, whose LinkedIn profile touts her commitment to offering "socially diverse and just education to ALL learners," presented the lesson to students over video conference last month. The school's overarching district, White Bear Lake Area Schools, offers distance learning options amid the coronavirus pandemic.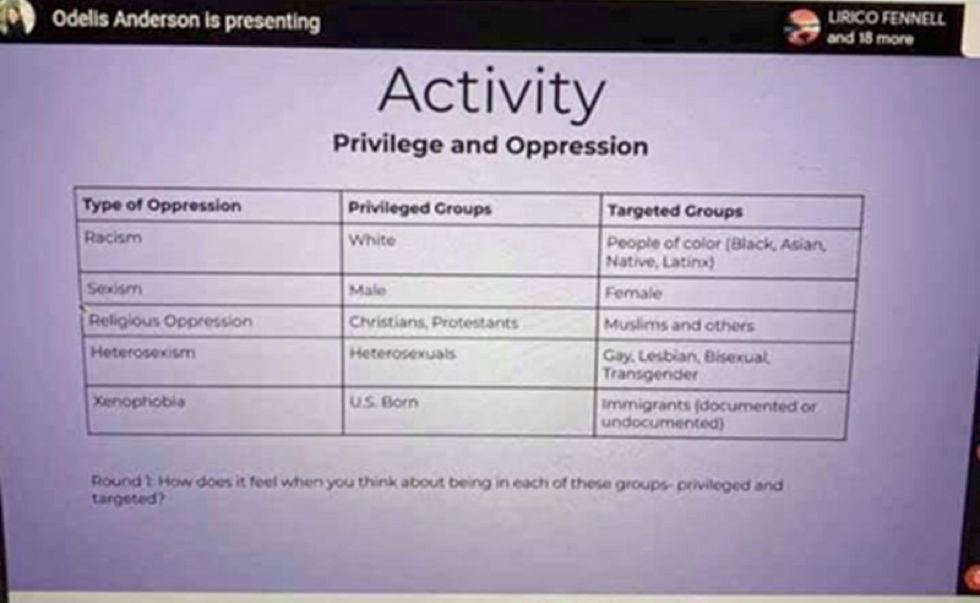 Image Source: Screenshot of Sunrise Park Middle School lesson plan
TheBlaze reached out to Anderson with a request for comment about the lesson plan, but she has yet to respond.

What else?

In an email exchange with TheBlaze, White Bear Lake Area Schools director of communications Marisa Vette confirmed the details of the lesson plan in full.
In the email, Vette explained that the purpose of the lesson was "to help students understand that everyone is different and everyone experiences the world differently," adding, "We wanted our students to listen to each other's perspectives and put themselves in others' shoes."
She also noted the activity is a part of a series of "social-emotional lesson[s]" conducted by the school during the homeroom hour "a couple times a week," in which students are instructed about a number of topics, "including self awareness, social awareness, relationship skills, and responsible decision making."
With the homeroom hour being dropped amid the school's distance learning program, teachers have conducted the lesson during their first-period classes, she explained. Thus the reason for choir class featuring the "social-emotional" content.
"It is our responsibility to ensure that each of our students' needs are being met," added Superintendent Wayne Kazmierczak in a statement. "We know from listening to our students that our continued and sustained commitment to educational equity is a critical part of how we achieve our stated district mission and close gaps that currently exist in our student outcome measures."