© 2023 Blaze Media LLC. All rights reserved.
Tennessee GOP accused of racism after expelling two black lawmakers
The expulsion of two Democratic lawmakers from the Tennessee House on Thursday quickly became about race.
The Tennessee House voted to expel Reps. Justin Jones (D) and Justin Pearson (D) for breaking chamber rules to participate in a gun control protest at the state Capitol last week. But the third member of their group, Rep. Gloria Johnson (D), narrowly survived her expulsion vote despite facing the same accusations.
The optics of the result — Johnson, a white woman, surviving her vote while two non-white men were expelled — has become the dominating narrative.
"You cannot ignore the racial dynamic of what happened today. Two young black lawmakers get expelled and the one white woman does not? That's a statement in itself," Pearson said after his expulson.
On CNN, Johnson agreed. "I'm a 60-year-old white woman and they are two young black men."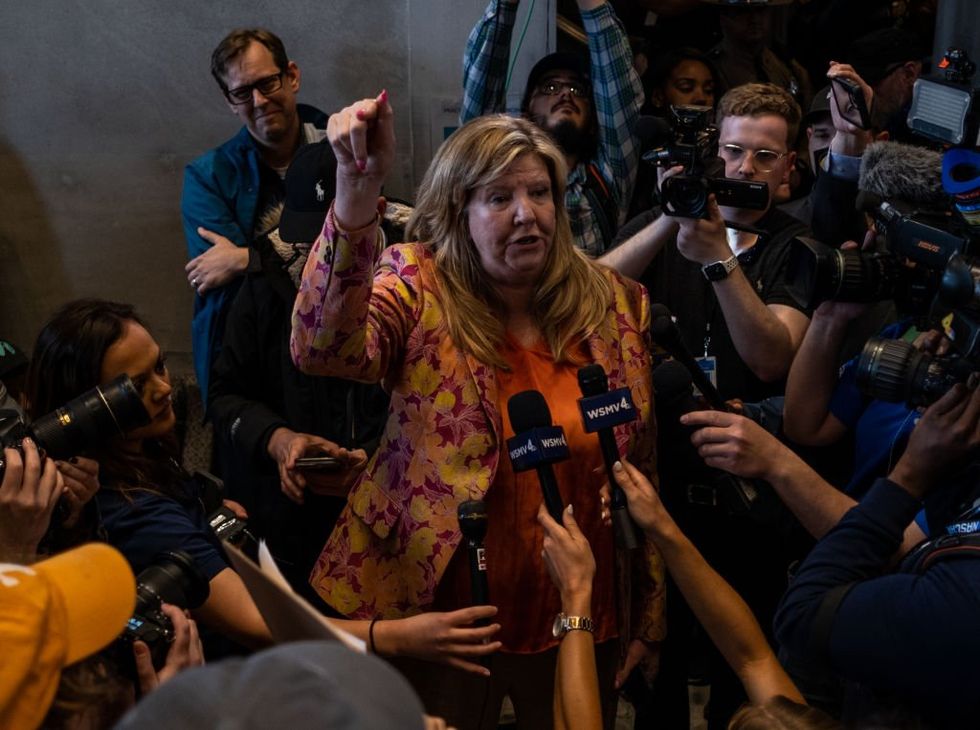 Rep. Gloria Johnson. (Seth Herald/Getty Images)
Jones later said on MSNBC that he was expelled because some of his Republican colleagues viewed him as "an uppity Negro."
Perhaps no one gave a more stinging rebuke than Elie Mystal. He claimed on MSNBC that the expulsion of Pearson and Jones, and not Johnson, demonstrates that white people "hate" black people.
"What the racism comes from is hatred of black folks," he said. "This is just one of those rare situations where white people are getting to see it out in the open, just how desperately they hate us, just how much they do not believe that we should be allowed to be equal citizens in this country."
So why wasn't Johnson expelled?
The resolution to expel Johnson failed by a single vote; seven Republicans joined their Democratic colleagues to oppose Johnson's expulsion.
What likely swayed those Republicans is that Johnson appears to be not guilty of the conduct that her expulsion resolution claimed. On the day of the protest last week, she merely stood with Pearson and Jones. The expulsion resolution claimed she "shouted."
"She did not yell. She did not pound the desk. She did not hold a megaphone, she did not have a button on. She did nothing. She walked from there to there," explained House Democratic Caucus Chairman John Ray Clemmons.
Pearson and Johnson became only the third and fourth members of the Tennessee state House to be expelled since the Civil War.
Tennessee House: 2 of 3 Democratic lawmakers expelled over gun control protest | LiveNOW from FOXwww.youtube.com
Like Blaze News? Bypass the censors, sign up for our newsletters, and get stories like this direct to your inbox. Sign up here!
Want to leave a tip?
We answer to you. Help keep our content free of advertisers and big tech censorship by leaving a tip today.
Staff Writer
Chris Enloe is a staff writer for Blaze News
chrisenloe
more stories
Sign up for the Blaze newsletter
By signing up, you agree to our
Privacy Policy
and
Terms of Use
, and agree to receive content that may sometimes include advertisements. You may opt out at any time.