"There are people all over this world who think Americans are too slow to awaken," Marianne Williamson shouted in her usual monotone.
"And you know what?" she yelled, "They're right about that. But I'll tell ya somethin' else. If you look historically, while it is true that sometimes Americans are slow to wake up, once we do wake up, we slam it like nobody's business. I'm running for president because it is time for this generation of Americans to slam it! And kick ass!"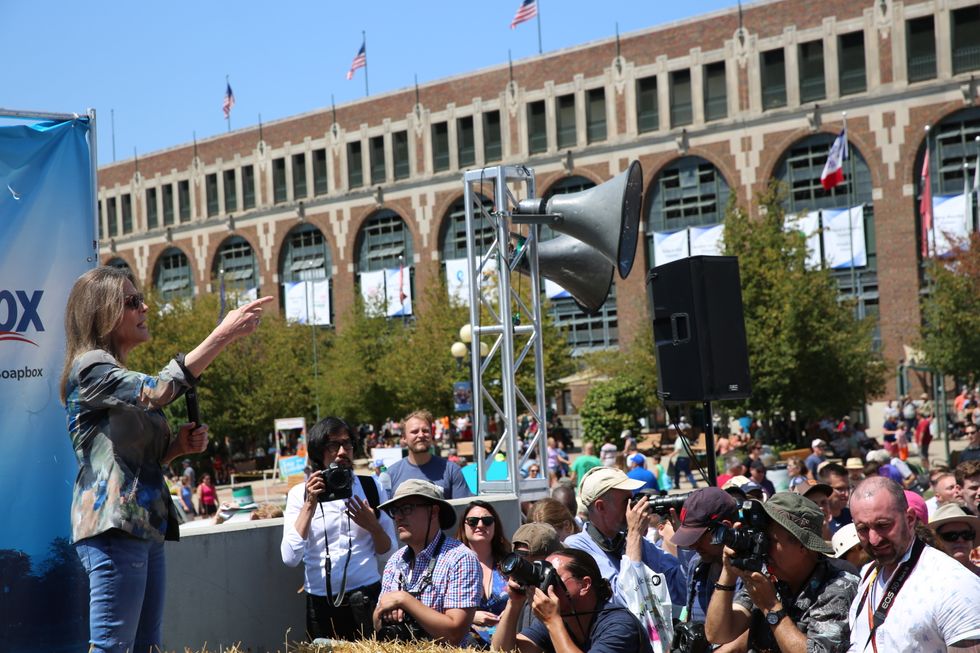 Photo by Sean Ryan
It will go down as the most WWE-style political speech I have ever heard. How great. Williamson seemed to live on drop-the-mic moments. And passersby at the Iowa State Fair enjoyed her Mountain Dew intensity.

She had been an enigma since announcing her bid in late January. Somehow, her New Age Stevie Nicks routine had caught on. It was charming. Something about her willingness to defy politics by embedding within it.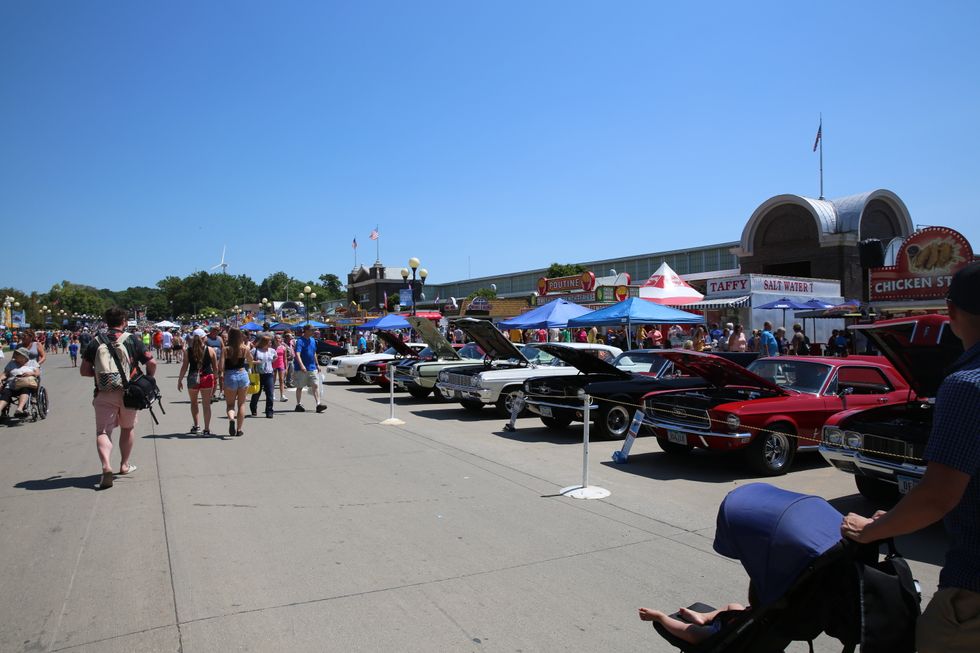 Photo by Sean Ryan
By the end of the night, roughly 103,000 people will have attended day two of the 2019 Iowa State Fair. That's nearly half the population of Des Moines, where the 11-day event has been held since 1886. In every sense, the fair represents America. A miniature world with rules of its own. Fried everything, even Oreos and ice cream. Over 70 on-a-stick foods available, including pork chops. Games of every sort. Gigantic stuffed-animal prizes. Livestock. Goats, bulls, sheep, rabbits. Roller coasters. Catapulting rides. Boats, cars, campers. Concerts. And, politics.

In the middle of the 445-acre fairgrounds, a stage about the size of a driveway, spruced with bales of hay. Each presidential candidate has 20 minutes to talk as part of the Political Soapbox, a tradition that began in 1954 when Dwight D. Eisenhower gave a politically charged speech to onlookers and passersby.
Eisenhower, five-star general, president of Columbia University, military governor, Army chief of staff, allied commander, and two-term President of the United States of America.
Williamson, author, activist, New Age guru.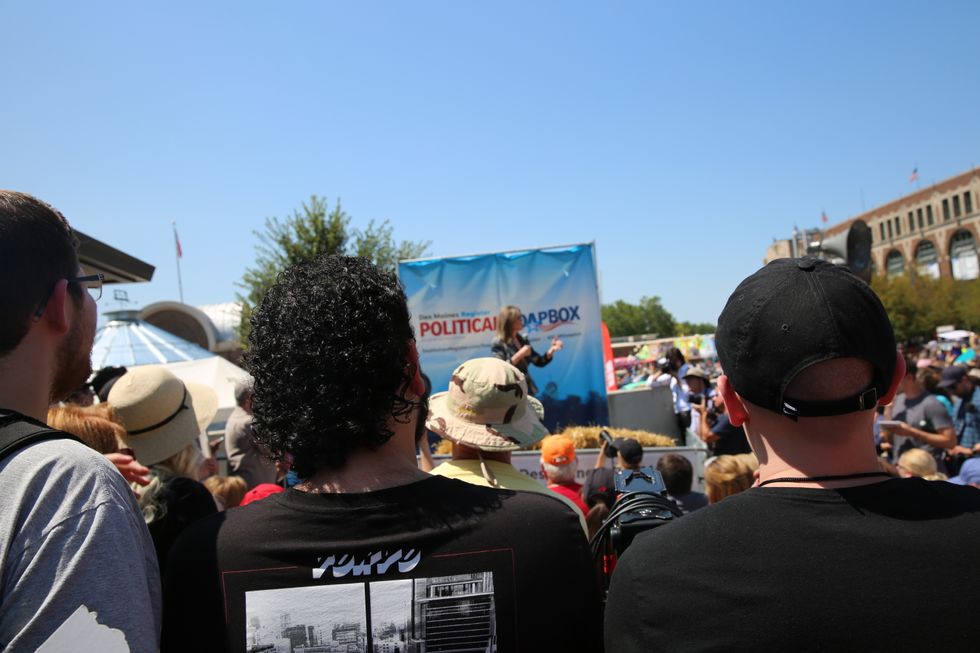 Photo by Sean Ryan
This isn't meant to disparage Williamson. The opposite. Her presidential bid was deeply American. We have no royalty. Just people. Just Americans. And greatness in America takes innumerable forms. Our country is a real-life Cinderella. Because each of us has the potential to transcend the ordinary.

Across from the Soapbox, the grandstand looms high, all country music and animal sounds, a Coors Light logo over the entrance. Williamson had an eagle look to her gaze, but those days were about to end. You could feel it. Williamson's campaign couldn't stand much longer, about to vanish. She even pled with the audience at the end of her soapbox. It was a good plea. She made some good points.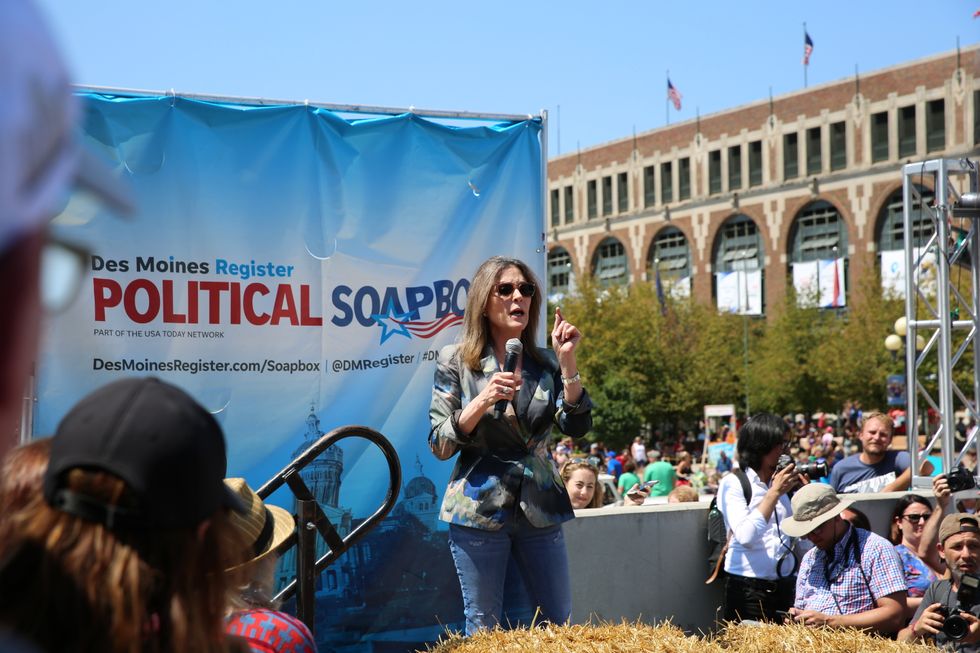 Photo by Sean Ryan
But things were warming up, and she didn't have enough of the suction energy to become president.

That morning, butterflies danced across the country roads like ultraviolet paper. Many died. Violently. Hurled into windshields and bumpers at a high rate of speed. Imagine flying all the way from Canada only to splat into a Volkswagen around a bunch of corn. It's a good image for the Iowa campaigns, for the whole presidential race, and for the whole country, as we collide beautifully forward, desperate for the next tear-jerk or catastrophe or illuminated crossroads.
New installments to this series will come out every Monday and Thursday morning. For live updates, check out my Twitter or email me at kryan@mercurystudios.com