© 2023 Blaze Media LLC. All rights reserved.
Howard U student says security guard 'just walked away' from motionless brawl victim after attack on campus by mob of 'DC locals': Report
A Howard University student said in an interview with WRC-TV that a security guard "just walked away" from a motionless brawl victim after recent attack on campus by a mob of "D.C. locals."
What are the details?
That student and another Howard student spoke to the station about the violent incident, but WRC did not name the students or show their faces over safety concerns.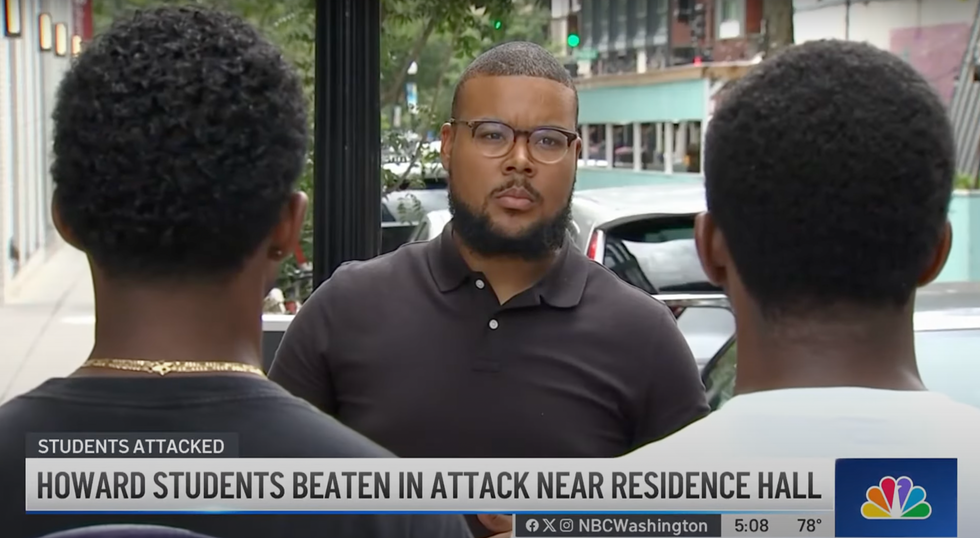 Image source: YouTube screenshot
One of the students told the station "a bunch of D.C. locals" attacked him and a few other students outside two residence halls.
"It was like maybe 5, 10, 20," the other student added to WRC. "And one lunges at me, so I square up. They just started kicking us, punching us. We were getting jumped."
One of the students added to WRC, "I was prepared to die. When I was on the ground getting stomped out, I just stopped feeling the pain at one point."
While the two students escaped, the station said one of their friends was stabbed.
"He got stabbed in the back, and he got just beat on by like 30 people," one of the students told the station. "It was him by himself."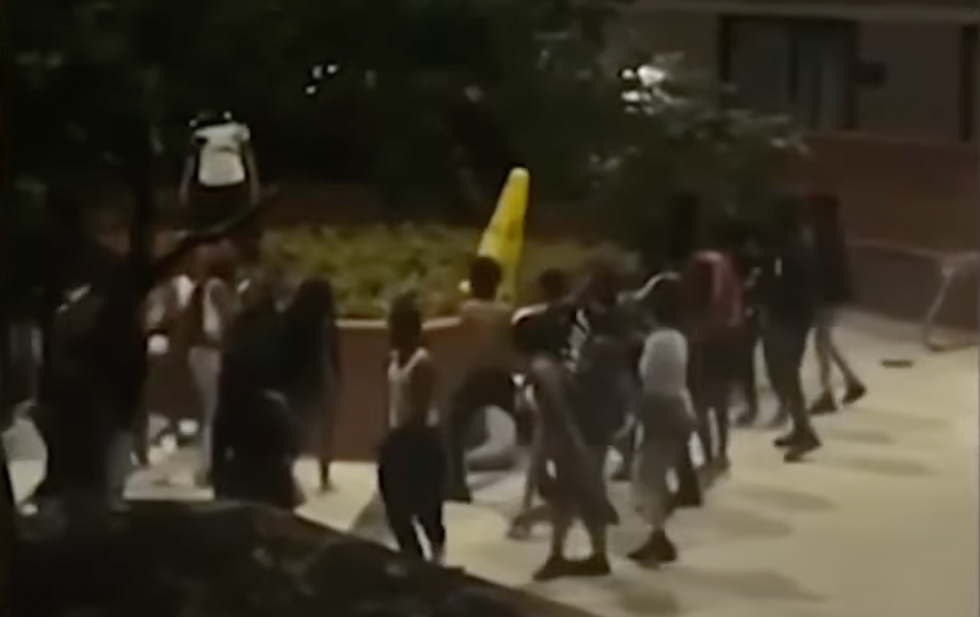 Image source: YouTube screenshot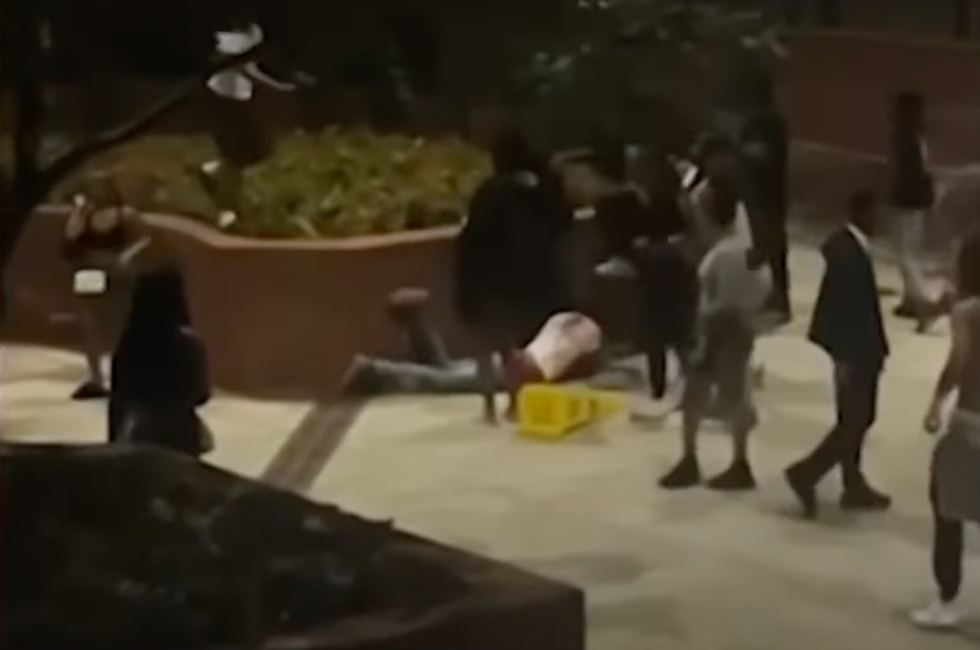 Image source: YouTube screenshot
The student added to WRC that "security looked at him on the ground, watched his body go limp, and just walked away. Didn't call anybody; didn't do anything."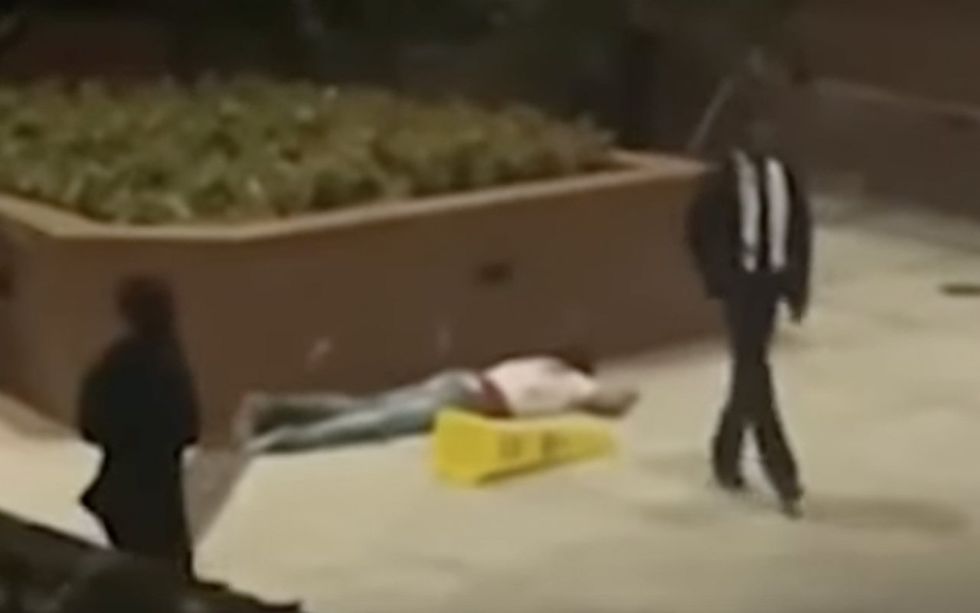 Image source: YouTube screenshot
The station didn't indicate what happened to the brawl victim seen lying on the ground in the video.
The campus police chief said at least one juvenile suspect was arrested with a handgun, the WRC reported, adding that the chief announced internal and external investigations. WRC said a university police lieutenant has been suspended, and a third-party security contractor has been removed from campus.
Howard U. students beaten in brawl near residence halls | NBC4 Washington youtu.be
Anything else?
While a number of outlets said the brawl took place early Monday morning, a Howard spokesperson provided TheBlaze with an official university communication indicating the incident occurred early Sunday morning.
Here's part of what President Wayne A. I. Frederick wrote to the university community after a Tuesday town hall about the violence:
Through our ongoing partnership with the Metropolitan Police Department (MPD), we have been made aware of the increasing incidents of misconduct by juveniles who are visiting various parts of the Washington, D.C. area, including in and around the Howard campus, to engage in unruly behavior and capture such behavior on video to share on social media. Last Saturday evening, up to 50 juveniles gathered at Banneker Park which is directly across the street from our campus. The youth were asked to disband after their behavior became of concern to local law enforcement. They then gathered at a restaurant on Georgia Avenue and Barry Place where a physical altercation occurred. We do know that no Howard University students were involved in the altercation, but we still do not know if students were in the restaurant or recording the incident nearby.

Several hours later, on Sunday morning, we learned that a large group of juveniles gathered outside of one of our residence halls, Howard Plaza Towers, and physically assaulted several Howard University students. Through our investigation of this incident and our response to it, we learned that our public safety response did not meet our standards of support and assistance. We have since taken action to hold those persons accountable and have removed one individual from campus and suspended another pending an internal investigation.
According to WTOP-FM , Tashni-Ann Dubroy — Howard's executive vice president and chief operating officer — said during the town hall that the school has been "tracking these juveniles, not only on our campus, but also throughout the district as well, over the summertime. They're part of a fight club. They go to restaurants to instigate fights."
Founded in 1867, Howard University is listed by the U.S. Department of Education as one of the nation's many historically black colleges and universities.
Like Blaze News? Bypass the censors, sign up for our newsletters, and get stories like this direct to your inbox. Sign up here !
Want to leave a tip?
We answer to you. Help keep our content free of advertisers and big tech censorship by leaving a tip today.
Sr. Editor, News
Dave Urbanski is a senior editor for Blaze News.
DaveVUrbanski
more stories
Sign up for the Blaze newsletter
By signing up, you agree to our
Privacy Policy
and
Terms of Use
, and agree to receive content that may sometimes include advertisements. You may opt out at any time.