Rep. Nancy Pelosi (D-Calif.) has repeatedly condemned demands that 89-year-old Sen. Dianne Feinstein (D-Calif.) should resign.
"I've never seen them go after a man who was sick in the Senate," Pelosi said last month after several Democratic lawmakers called on Feinstein to resign.
But according to reporting from Politico, Pelosi may not solely have Feinstein's best interests in mind.
What is Pelosi's possible motive?
When Feinstein returned to the Senate last week — after a months-long battle with shingles that was reportedly worse than Feinstein's office first admitted — one of the people at Feinstein's side was Nancy Corinne Prowda.
Prowda is Pelosi's eldest child, and she has remained near Feinstein's side since.
The arrangement is perhaps rooted in Pelosi's desire to care for her longtime friend. They are, after all, giants in the history of San Francisco politics.
But according to Politico Playbook, the arrangement, among those who are in the know, "has also raised uncomfortable questions about whether Nancy Pelosi's political interests are in conflict with Feinstein's personal interests."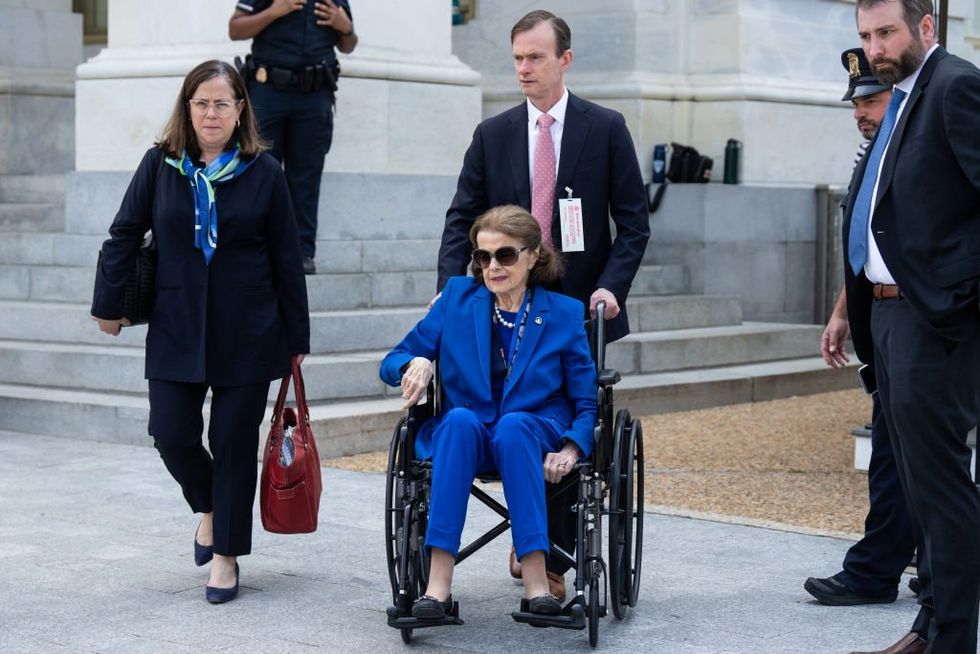 Nancy Corinne Prowda (left) accompanies Sen. Feinstein as she leaves the U.S. Capitol building on May 11, 2023. (Bill Clark/CQ-Roll Call, Inc via Getty Images)
The problem for Pelosi is that she has endorsed Rep. Adam Schiff (D) to succeed Feinstein, who is set to retire next year if she doesn't resign before then. But if Feinstein does resign, Gov. Gavin Newsom (D) would pick Feinstein's replacement until the election, which would most likely be Rep. Barbara Lee (D), who is also running for Feinstein's seat. Lee, not Schiff, would likely get the nod because Newsom has pledged to select a black woman for the seat.
"If DiFi resigns right now, there is an enormous probability that Barbara Lee gets appointed — thus, it makes it harder for Schiff," said "one Pelosi family confidant" who spoke to Politico's Playbook.
"It's very tricky, and political, because they want her to stay," the source added. "The political thinking is that if DiFi stays as long as possible, it helps Schiff as well."
Offices for both Pelosi and Feinstein confirmed Prowda's closeness to Feinstein. But a spokesperson for Pelosi denied the former House speaker has ulterior motives.
"Anyone who knows Senator Feinstein knows that her service in the Senate is entirely her own decision, and Speaker Emerita Pelosi would never suggest otherwise," said spokesman Aaron Bennett.
Anything else?
Feinstein's return to the Senate has made headlines for unfortunate reasons. Not only was her condition worse than first reported, but Feinstein appeared unaware of where she was when she returned.
Then, earlier this week, Feinstein appeared to forget that she had been absent from the Senate for months.
Like Blaze News? Bypass the censors, sign up for our newsletters, and get stories like this direct to your inbox. Sign up here!