© 2023 Blaze Media LLC. All rights reserved.
'Put the taxes in the bag': Teacher gloats about not getting fired despite 'indoctrinating' students
A Baltimore, Maryland, educator bragged on social media about keeping her teaching job despite "indoctrinating" students using taxpayer money, Fox News Digital reported.

In the video, Alexa Sciuto, a Spanish teacher at Pine Grove Middle School in the Baltimore County School District, gloated that her public school position is funded by taxpayers while dancing and lip-synching, "F*** up on your b****."
Sciuto faced criticism from a TikTok user after she posted a video of decorating her classroom with LGBT+ pride material.
The user wrote, "None of this is what education is supposed to be about. Reading. Writing. Arithmetic. Why are you so f***ing hellbent on indoctrinating our children?"
The teacher responded to the comment by posting a video captioned, "I just got fired for indoctrinating my students."
Sciuto then wrote "sike" and stated that she was actually "still employed." The educator cheerfully danced next to the captions, "Y'all will never take me alive" and "put the taxes in the bag."
The video also featured an arrow pointing to a gif of money labeled "your taxes."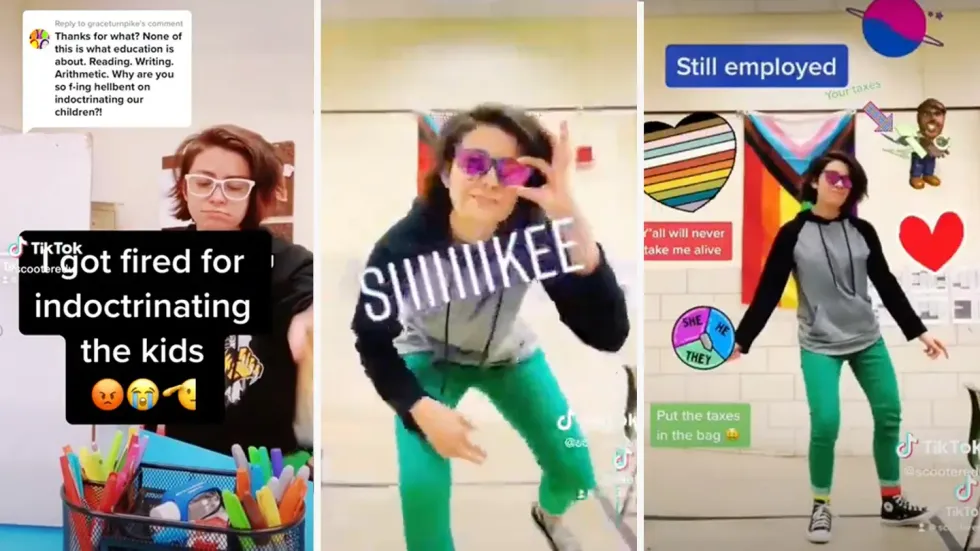 Image Source: TikTok video screenshot
According to Fox News Digital, Sciuto claimed that "professionalism is a patriarchal and White supremacist myth."
In another TikTok post, Sciuto mocked parents concerned about woke ideology in the public school system.
In the video, Sciuto showed the numerous flags in her classroom and sarcastically stated, "This is a public school. The LGBT community has gone too far."
The teacher then grabbed the Maryland state flag and said, "What the hell even is this? I can tell you one thing – I do not want my children exposed to whatever this flag represents."
"Homeschool your kids before it's too late," Sciuto added.
The teacher deleted her TikTok account on Monday morning.
Sciuto posted a Reel to Facebook in October, which was also deleted on Monday, captioned, "Public teachers r indoctrinating r kids with new pronouns."
"It's me!" Sciuto stated while lip-synching along to a song. "I'm the problem."
In addition to being a public school teacher, Sciuto performs stand-up comedy. In a Facebook post advertising her stand-up, the educator boasts, "Come see what LibsOfTikTok, Newsmax, and at least two Maryland Municipalities tried and failed to dox HEADLINE."
In another advertisement, Sciuto stated, "I made a bunch of alt right ding dongs angry with rainbow decor, including some B listers such as Chaya Raichik (cartoon villain who runs @LibsOfTikTok on Twitter) and Eric Bolling, host of The Balance with Eric Bolling on Newsmax. Ben Shapiro hasn't seen me yet, but when he does rest assured he'll flip his yarmulke."
Baltimore County School District did not respond to a request for comment, Fox News Digital reported.
Want to leave a tip?
We answer to you. Help keep our content free of advertisers and big tech censorship by leaving a tip today.
Candace Hathaway is a staff writer for Blaze News.
candace_phx
more stories
Sign up for the Blaze newsletter
By signing up, you agree to our
Privacy Policy
and
Terms of Use
, and agree to receive content that may sometimes include advertisements. You may opt out at any time.