© 2023 Blaze Media LLC. All rights reserved.
Social media offers science lesson after transgender woman tweets about first 'period': 'I have literally never felt pain like this'
Social media user iamdeeluu raised eyebrows on Sunday after tweeting about what she described as her very first menstrual cycle.
The user, however, is a transgender woman — a biological male — and does not have a uterus, which is instrumental in completing a menstrual cycle.
What are the details?
The user tweeted, "Ok I'm a trans woman who's experiencing her first period cramps and WHAT THE F***????? I have literally never felt pain like this. Why do we let people live like this??????????"
At the time of this reporting, the tweet has been liked more than 91,000 times.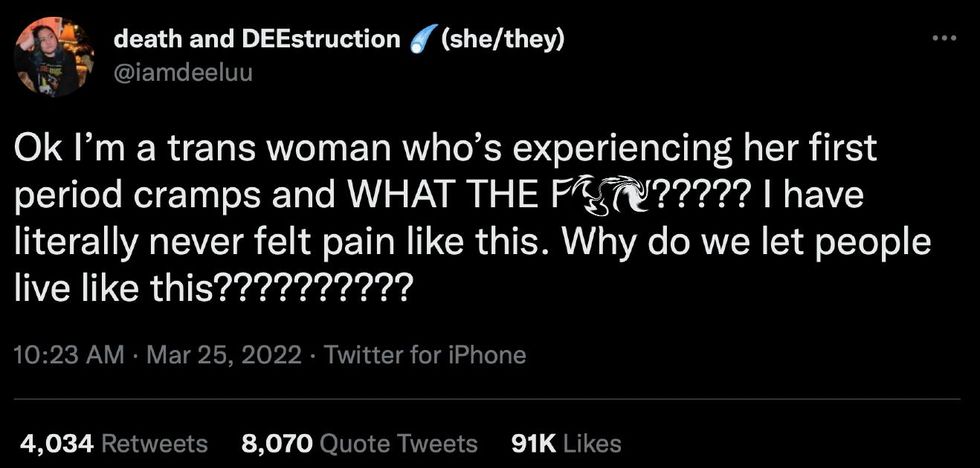 Image source: Twitter screenshot
What was the response?
Media Research Center's Brittany Hughes fired back, "No you're not" and shared a screenshot of what causes cramping during a woman's menstrual cycle.
The graphic said, "During your menstrual period, your uterus contracts to help expel its lining. Hormonelike substances (prostaglandins) involved in pain and inflammation trigger the uterine muscle contractions. Higher levels of prostaglandins are associated with more-severe menstrual cramps."
One user simply wrote "No" and shared a graphic of a woman's uterus.
Another user said, "PMS and hormonal cramping is NOT the same as period/uterine cramping. You are having cramps from all the hormones, don't call it a damn period because it is not."
"That's just constipation," one user quipped, prompting a second user to take the constipation route — sharing a photo of a laxative — and writing, "If you are having cramps but you lack a uterus that contracts in order to help expel its lining, you should try this! Works wonders!"
Another user wrote, "From shedding the lining from the uterus you don't have?"
"I'm not trolling here...please see an oncologist," another user added. "If you are having that much pain in that region then you cannot mess around. My first symptom of Leukemia was this and I went early enough that it saved my life. Please, I beg, see a doctor asap[.]"
One user simply wrote, "That is not biologically possible," while another chimed in, "What you are describing is pain of IBS, it's not a period pain, you would really freak out if you started passing blood clots. You have no idea about the reality of menstruating."
Want to leave a tip?
We answer to you. Help keep our content free of advertisers and big tech censorship by leaving a tip today.
more stories
Sign up for the Blaze newsletter
By signing up, you agree to our
Privacy Policy
and
Terms of Use
, and agree to receive content that may sometimes include advertisements. You may opt out at any time.